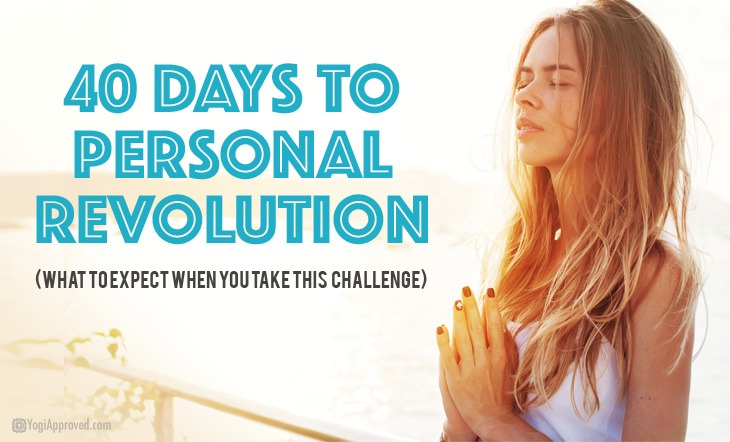 40 Days to Personal Revolution: What to Expect When You Take This Yoga Challenge
I recently completed a program called "40 Days to Personal Revolution" at my local yoga studio. This program has challenged, inspired, and surprised me in more ways than I can count. It was an incredible journey of personal growth that I recommend to any and every yogi. Read on to find out why, and learn what to expect from this 40-day challenge for personal growth, discovery, and transformation.

What is it?

Baptiste Institute's 40 Days to Personal Revolution is a breakthrough program to radically change your body and awaken the sacred within your soul. Through yoga, meditation, diet and personal inquiry, you are given the tools to set yourself free to live the healthy life you have always wanted. Tapping into ancient wisdom and his own personal experience, Baron Baptiste has created a relevant and practical program that will lead you home to mental clarity, lightness of body and illumination of spirit that comes with whole-life health.

The program consists of a physical yoga practice, daily meditation, a juice cleanse in week four, and weekly meetings with the yogis who are also taking part in the program.

The program is based on Twelve Laws
Over the course of the six weeks, the Twelve Laws are divided into two a week. There is a specific theme assigned to each law, and it is up to you to create three intentions for yourself. These intentions help guide you during your yoga practice. They especially help when motivation levels are low – these intentions will keep you motivated and inspired throughout this incredible journey.

Listed below are the Twelve Laws, in addition to an outline of my Week 1, so you can get a feel for how the 40 Days to Personal Revolution program is structured:

Week One:
Theme: Presence
Law #1: Seek the Truth
Law #2: Be Willing to Come Apart
My Intentions:
1. Presence
2. Self-Development
3. Commitment

Week Two:
Law #3: Step Out of Your Comfort Zone
Law #4: Commit to Growth

Week Three:
Law #5: Shift Your Vision
Law #6: Drop What You Know
And continuing in the same structure all the way through Week Six.

My experience overall

In order to be successful in the program, you need to allow yourself to drop all of your judgments and preconceived notions. Personally, this was the most challenging aspect of the experience, due to how constricted I find myself by routine. I didn't realize this until I participated in the program, which is fundamentally what makes the experience so incredible: you become aware of any aspects of your life that may be affecting you negatively because the program encourages you to reflect on these things every day. This inspires a desire for change within yourself to become a more balanced, aware, and empowered individual.

Committing the little spare time that I have in a week to a daily yoga practice allowed me to gain a greater appreciation for the art of yoga. I learned how to listen to my body and complete the practice at my own pace. I made a point not to quit when frustration spoke louder than my drive or my intentions, and this was the core of my personal growth throughout the program. It's all about addressing the individual weaknesses that break you down in your daily life, and actively strengthening yourself against those things so you can evolve.



My goal for the entire program was to break down my wall of fear. During week three, I experienced a breakthrough on my yoga mat. After a particularly warm discussion with my personal revolution group, tears suddenly starting flowing down my face, and I felt a sense of freedom that I have never felt before. Those tears washed away any sort of fear or anxiety inside me. I learned to respond versus react, and to also remember that I am a warrior.

It was an amazing experience completing the program with 20 other people and seeing each of us go through our own personal breakthroughs. The Personal Revolution program taught us how to exist on our own terms, and showed us how to be a bright light that shines even when it is dark.

How can you participate in the program?

If your yoga studio is Baptiste certified, then the program is sure to happen at least once or twice a year. If time is a constraint, or you would rather set your own pace, you have the option of purchasing Baron's book, 40 Days to Personal Revolution at your local bookstore to complete the challenge at home.

The 40 Days to Personal Revolution program, at its core, teaches you to take the time to extensively reflect on all aspects of yourself – your consciousness, your thought patterns, your yoga practice, and your life overall. We have the ability to do whatever we want when we believe we can. Often, our own minds are what hold us back, preventing us from doing what we want because we fear the unknown. The uncertainty can be scary, but it is what's on the other side that is worth fighting for.
"Don't wish for it. Work for it." –Baron Baptiste
If you're interested in learning more about this program, you can visit their website.

This article has been read 30K+ times. Bada bing!