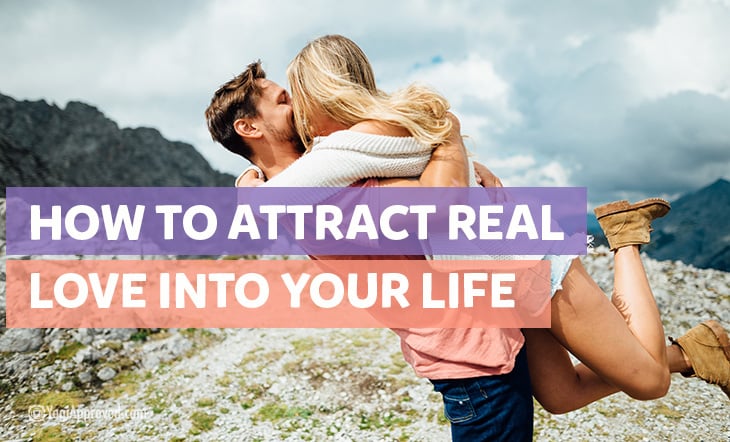 This Is the Secret to Attracting REAL Love Into Your Life
Are you sick of trying your luck on dating websites? Over going out to bars in search of romance? Maybe you feel like you've exhausted all your dating resources and have nowhere left to turn to find the true love you seek. Or maybe you just haven't found Mr. or Mrs. Right . . .
Well then this article is for you. And if none of these apply to you, I'd urge you to read on too, because the following method can be applied to any area of your life!
All these platforms for dating are focused on things outside of yourself; they are focused on the exterior. You put yourself out there — you are the lure being cast into the ocean of possibilities — and your hope is to get a few bites.
But instead of getting stuck in this lame fishing analogy, why not remove yourself from the hook? Why not instead look at the only part of this dating/fishing scenario that you can actually control: yourself.


How the Law of Attraction Applies to Love
Since everything is made up of energy, and that energy has a magnetism, then it makes sense that like attracts like. What you put out there is what you're going to get back. When you're constantly searching and seeking out that Mr./Mrs. Right, you're operating from a place of lack.
You're saying to the Universe loud and clear, "I don't have xyz, so I'm going to keep trying and forcing and hoping to find it." What does the Universe hear? It hears, "I don't have." And, as it always does, the Universe will provide precisely what you focus on, which in this case is lack – nothing, nada, zilch.
I'm not condemning dating websites or any other methods of dating. We all know people who have found someone by these means. What I am saying is that there's a different approach, a simpler method, one that's tried and true: it's activating the Law of Attraction.

The Universe is a vacuum.

Begin by asking yourself how you'd act if you already had the love of your life in your life. Ask yourself how you'd dress, how you'd treat others, how you'd view the world and yourself. You start by acting the part. You gain a sense of confidence and self-assurance. You find a new, brighter attitude and outlook.
Once this starts to really take root in your day-to-day, people will take notice! Not just friends, family, and co-workers, but everyone, including those potential future lovers. Your attitude, the way you're now acting and living, is a direct statement made loud and clear to the Universe.
Now you're saying, "I am in the flow! I am capable and confident of living the life I want and of finding the love I want!" And once again, the Universe will deliver.
Want to learn more about the Law of Attraction and how to apply it in your life? Read 5 Powerful Steps to Activate the Law of Attraction and Manifest Your Dreams


Practice, Pretend, Prepare
Practice, pretend, prepare: three very simple words with a heavy, heavy meaning. Practice living the life you want, with the love you want. Pretend as if you already have that love. And finally, prepare for the real thing, because it is already speeding your way.
And one day, as you keep the faith and maintain that awesome new outlook on life, that love will fall right into your lap, probably when you least expect it. But the best part is, you'll already be prepared because you've been busy practicing and pretending as if your Mr. or Mrs. Right has been here the whole time!
In love, Ashton.
Did you like this article? Please share, and help spread the love! Do you have some advice for those looking for love? Let us know in the comments below 🙂
This article has been read 10K+ times. Bada bing!