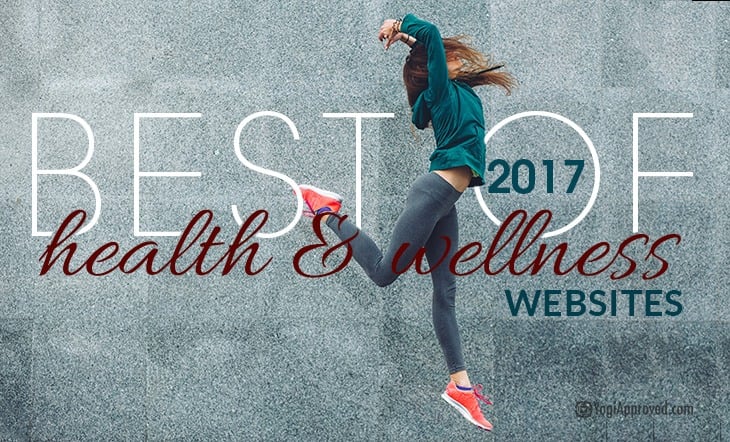 These Are the Best Health and Wellness Sites of 2017
The editors at YouAligned.com strive to bring you inspiration for your yoga journey and overall well-being. Yoga is our passion. Your health and wellness is our obsession.

Each year, we compile a list of the best yoga blogs and online publications. In addition to yoga, we are also a health and wellness publication, and take your well-being very seriously.

That's why we've compiled a list of top health and wellness sites to help you find the resources you need for your healthy lifestyle. These websites reflect the health and wellness movement – in how we eat, think, and live.

The Best Health and Wellness Sites and Online Publications of 2017
In no particular order, here are our picks for the best online health and wellness sites of 2017:

mindbodygreen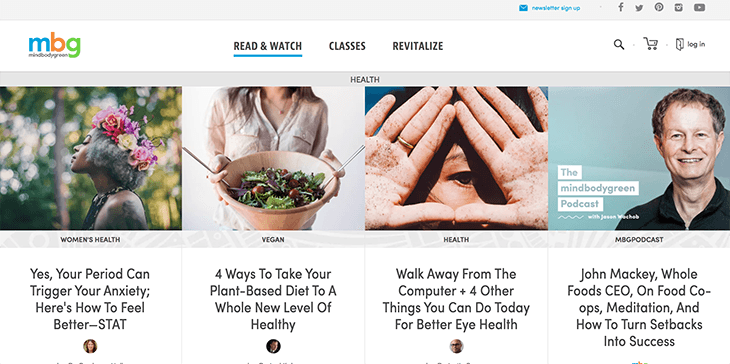 Mindbodygreen focuses on your overall well-being by giving you tools to improve yourself and your life – mentally, physically, spiritually, emotionally, and environmentally. Their site also focuses on aspects of your yoga practice and imparts the notion that a more holistic approach to a healthy life is the key. Mindbodygreen.com

You'll love it if: You are seeking overall wellness tips with trending topics that aren't afraid to push boundaries.


Yoga Journal


The powerhouse of yoga publications, Yoga Journal has been bringing amazing yoga content to yogis for over 40 years. The site's main focus is to help you grow your practice with articles, photos, and videos. But YJ also has a great lifestyle section with lots of helpful and informative articles on health and wellness. YogaJournal.com

You'll love it if: You are a dedicated yogi that also appreciates a good dose of wellness articles in the mix.


The Chalkboard Magazine


With a sleek design and articles on everything from how to get better sleep to juice cleansing, this online publication will have you living health and wellness from the inside out. Chalkboard Mag makes health and wellness accessible, beautiful, and stylish. Learn about beauty products that are good for you (and nature), healthy recipes, and even emotional wellness tips. The Chalkboard Mag

You'll love it if: You have an appreciation for style and you enjoy perusing wellness trends (especially trends that feature celebrities).


Clean Eating Magazine


Clean Eating Magazine is all about food. From chocolate almond butter cups to eggs benedict, you can find your dream meal here – with a focus on healthy, clean ingredients. Get informed on a wide range of important topics, from gene-edited foods, natural remedies for allergies, healthy meal plans, and more. Clean Eating Magazine

You'll love it if: You see yoga as one piece of the puzzle on your path to health and wellness – and the rest of the puzzle can be summed up with "you are what you eat."


Well+Good


Well+Good is a lifestyle and news publication devoted to the wellness scene. With a focus on lifestyle, you can find articles on cutting-edge nutrition, natural beauty, healthy relationships, and more. Well+Good

You'll love it if: You're looking for a trusted source on nutrition, fitness, healthy travel tips, and even fashion trends for the wellness-aware.


Conscious Lifestyle Magazine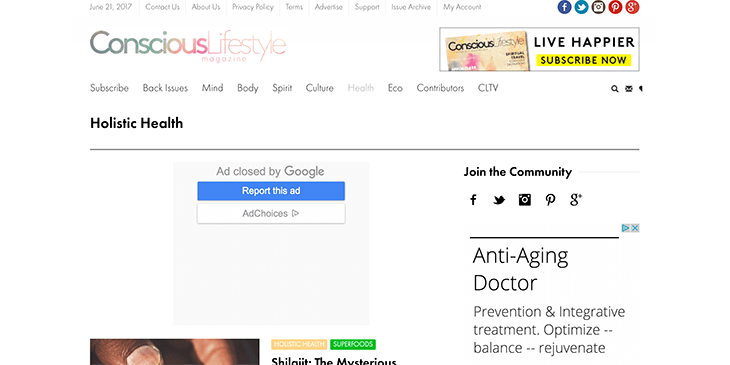 From dream interpretation to Himalayan superfoods, and crystal healing to rewiring your brain, Conscious Lifestyle Magazine covers it all! This online publication will appease the thoughtful, curious, seeking yogis out there – and provide a whole new perspective on wellness. Conscious Lifestyle Magazine

You'll love it if: Yoga keeps you grounded, but you are curious about deeper, mind-expanding topics, and want to stay up-to-date on everything related to health and wellness along the way.


Greatist


Greatist is a health and wellness website that understands the secret to good health: people stick with what they love. They aim to help readers find health options that are realistic and sustainable. You don't have to choose between being happy and being healthy (you can be both!). Greatist

You'll love it if: You're looking for sustainable, balanced health and wellness information to help you reach your health goals and enjoy life along the way.


alive


Based in Canada, Alive Publishing Group has been a leader in health and wellness for over 40 years. With content on food, family, lifestyle, health, and fitness, alive empowers readers to live well, naturally. Learn about everything from reinventing your favorite decadent foods with healthy ingredients to DIY energy snacks, traditional Chinese medicine, and more. alive

You'll love it if: You are looking for a wealth of information on natural health and wellness for everything from family to beauty.


Mantra Yoga + Health Magazine


Mantra Mag is available online or in print and is focused on inspiring individual and global transformation to make a positive difference. In addition to their quality content, we love this publication's beautiful aesthetic. MantraMag.com

You'll love it if: You are looking for real people talking honestly about real issues on a range of topics – including yoga, health, relationships, and lifestyle.


Yoga Lifestyles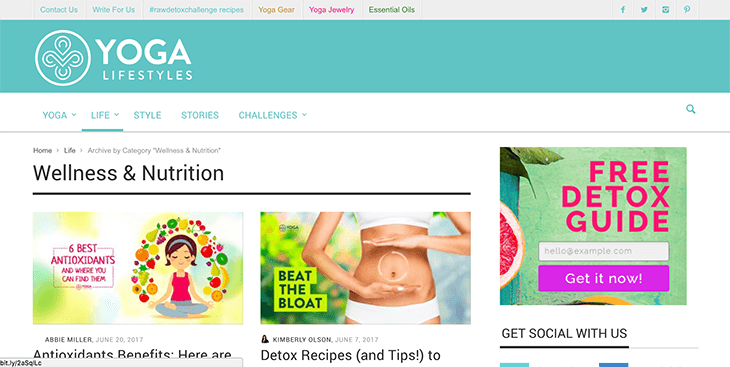 Yoga Lifestyles covers yoga, lifestyle, wellness and nutrition. Whether you are interested in plant-based proteins or Ayurvedic meal plans and recipes, this site is relatable, easy to navigate, and informative. Yoga Lifestyles

You'll love it if: You're a yogi who wants easy information on wellness and nutrition with a lighthearted touch.


SheKnows


SheKnows is a women's health and wellness website that features articles on parenting, fertility, pop culture, nutrition, and more – all geared towards women. We love that you can even find information on women's reproductive rights and mammogram technology on their site. SheKnows

You'll love it if: You're looking for community and a place to learn about health and wellness topics for women in particular.


YouAligned.com


If you're reading this, then you have found us! YouAligned.com brings you inspiring, trending, and informative content to help enhance your yoga practice and your healthy life off the mat. We provide product reviews, free yoga classes, recipes, articles, tutorials, and more. Our new streaming site, YourStudio™ gives you access to amazing video bundles to deeply enhance your yoga practice and healthy lifestyle. YouAligned.com

You'll love it if: You're a beginner or seasoned yogi looking to empower yourself with a healthy lifestyle, inspiring yoga practice, and positivity.

Find Your Own Health and Wellness Path
Health and wellness is a journey defined by its ups and downs – this path requires patience, curiosity, open-mindedness, and even conviction. This list of the best health and wellness sites is just a starting point. Find the right resources and tools for you – and remember that investing in your health and wellness is always an excellent choice. Until next year . . .

This article has been read 60K+ times. Hot damn!