4 Yoga Poses for a Firm, Strong, and Sexy Butt (Video)
Every girl's dream is to have a nice, round, firm ass (or at least that's my dream).

And if you're a guy reading this, then I'd guess you also like looking at all of the above.

See here's the thing – our butts are like the face of our backside body. They immediately show whether we take care of ourselves, the confidence with which we live, and to be frank . . .

Just how many squats we truly do (or don't do).

Fortunately for women, the majority of our clothing allows us to show off our, shall we say, finer assets. We get the opportunity to say to the world yes, I worked hard for this butt, how you like me now?!

And as someone who truly detested the idea of squatting ever, I've now jumped on the bandwagon of booty toning exercises. But while this article will definitely help you get a firmer yoga booty, it also includes important information to help you further your body intelligence.

I've talked about this in previous posts, but if you're new here – let's quickly refresh. I'm a former gymnast, cheerleader, and now yoga teacher, and because of all my prior flexibility/strength type work + an untamed ego, I caused my own sciatica, which you can read about here (http://youaligned.com/yoga/5-yoga-poses-to-soothe-your-sciatica/).

And developing sciatica stopped me dead in my tracks.

I gave up my yoga practice for 2 months – like cold turkey, didn't even unroll my mat.

With a lot of TLC + professional help, I've learned how to safely move so as not to irritate the sciatic nerve. But it's still a challenge.

Fast forward 6 months after my sciatic breakdown . . . I'm now experiencing knee pain and intense sensitivity. Per usual, the moment I'm aching or breaking somewhere, I run to the chiropractor for physical help and a dose of body knowledge.

And here's what my trusty doc said – "YOUR BUTT IS WEAK."

Excuse me – what, can you repeat that please?!

You think my ass is weak. The ass that's supported me through years of sports and physical challenge, the ass that appears to be super firm and muscular — this ass?

And here's how he explained it to me:

The majority of people who suffer from lower back pain and/ or knee pain is a sign of a weak glute muscle – one that's not being activated.

If you suffer from lower back pain, you may want to read this article on yoga poses for low back pain.

So even though we do butt-toning exercises, the muscular activity can easily be shifted to the anterior chain (quadriceps, abs – basically the front side body). This activation of the front side and not recruiting the backside body was/is my weak butt problem.

So yet again, I've discovered another crux within the body. And I blame sitting all damn day at my desk job.

To come full circle and make sense of all this information, here's what I hope you take away from this butt toning article:
Your ass is beautiful, no matter what – like no matter fucking what
Your butt can be discreetly 'sleeping,' which makes the rest of your body overcompensate, which can then cause injury (typically lower back and knees)
You can wake your butt up – it's not in a permanent slumber!
By incorporating the below exercises, you will activate the glute muscles, awaken those babies, and tone it all up at the same time.
Below are 4 yoga moves to firm your beautiful booty:



If you can't tune into the booty toning video right now, below is a quick recap of the 4 exercises we do:

Booty Toning Tip: For each move, bring your attention to the glute muscle that's being worked. Make sure it's active, awake, and engaged! Make that booty work for ya!
One-Legged Bridge Pose
Begin with your knees bent and heels planted close to the glutes
Hug one knee into the chest and and interlace your hands around the top of the shin
On an inhale breath: drive your planted heel into the ground as you lift the hips
On an exhale breath: lower the body to a hover
Repeat this action 10x, holding the last rep for 10 breaths at the top
Switch sides and repeat
Tabletop Fire Hydrant Pose
Start on all fours with shoulders stacked over wrists and hips over knees
On an inhale breath: lift one knee up and out to the side, aligning the knee with the hip, the ankle with the knee, and keep the toes flexed
Hug the belly up and in, engage the arms, and keep the hips square/neutral to help stabilize
Stay for 5 rounds of breath
Switch sides and repeat
Belly Backbends
Begin lying down with your belly on the ground
Extend the legs back and the arms forward to create one long line of energy
On an inhale breath: lift the arms, chest, legs, and feet
On an exhale breath:lower to a hover
Inhale to lift up high, exhale to a hover
Continue this action for 10 breaths, holding the last rep for 10 breaths at the top
Romanian Deadlift Sequence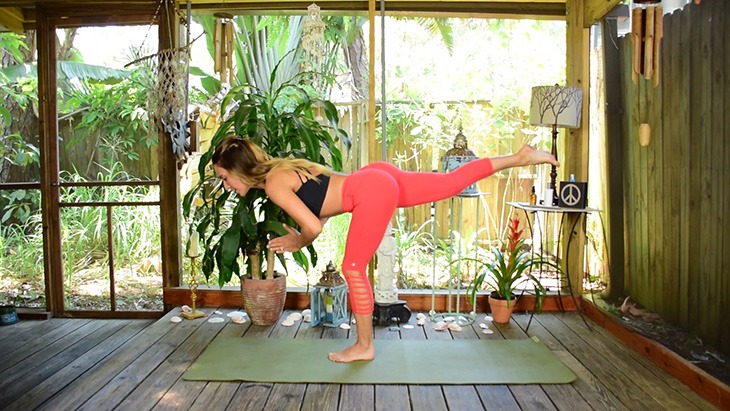 Start in a standing position
Bring one knee into the chest and your hands to heart center (keep hands here for the entire sequence)
On an exhale breath: extend the lifted leg straight behind you, as you lower the chest down towards the ground
On an inhale breath: use your booty to lift the torso and hug the knee back into the chest
Repeat the sequence 5x, then find standing figure 4 at the end
Switch sides and repeat

Ok yogis! What do you think?

Can you start to incorporate these simple butt awakening / booty toning exercises into your current practices? Or at the very least – learn to give your butt some confident, you can do it, you're incredibly beautiful vibes?

I think you can. Actually, I know you can.

Let's Talk – What's your relationship like with your butt (and please be honest)? Is your butt awake or sleep? If it's asleep, did you appreciate these exercises? And if it's already awake, what butt exercises are you doing (please spill your secrets)?

As always, all feedback, questions, suggestions, or general yoga butt love is welcome in the comments below.

Until next time – xoxo.

This article has been read 10K+ times. Bada bing!