Our 5 Favorite Wellness Spas In America's Southwest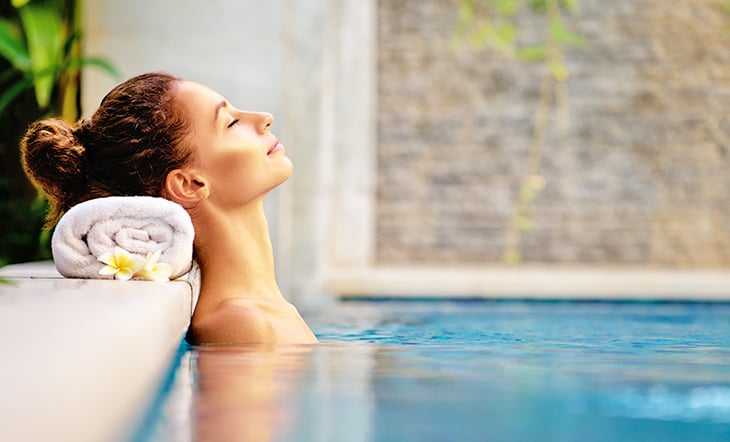 Let the phrase wellness spa wash over you. Close your eyes, take a deep breath. Can you smell the lavender and eucalyptus? Can you taste the citrusy spa water and feel the cool cucumbers on your eyelids?
Now envision your ideal wellness spa . . . in the enchanting North American desert. They say the desert holds a special kind of beauty and magic. It's a place of healing, discovery, and adventure. With majestic saguaro cactuses and otherworldly ocotillo, a spa getaway set in a dreamy desert landscape sounds like the perfect form of self-care.
All five wellness spas included on this list are set in a gorgeous little slice of desert paradise, and each offer their own unique spin on wellness, spa life, amenities and architecture.
From meditation gardens and sound healing to natural hot springs and hydrotherapy treatments, these wellness spas set the standard for self-care. Read on to see our top picks!
9 Natural Wonders of North America You Simply Must Visit


What Differentiates a Wellness Spa From a Typical Spa?
A typical spa offers all the lovely amenities that you would expect from a spa: varying forms of massage, facials and other skincare treatments, and often additional beauty services such as manicures and pedicures, etc.
Spa resorts are higher-end resorts that have a range of spa-based offerings. These were the predecessors of the wellness spa, an offshoot of spas that deep dive wellness-based practices and offerings to elevate the benefits you receive.
A wellness spa typically offers most of what the traditional spa menus include, but employs a staff of wellness experts that create a more robust and often personalized wellness experience. Wellness spas incorporate additional treatments that can include water therapy, red light therapy, Ayurvedic treatments, personalized wellness assessments, retreats, and more.
Infrared Therapy: 8 Health Benefits + What You Need to Know
Nutrition, yoga, meditation, sound healing and wellness classes are all a greater focus in wellness spas. You will find a selection of all of the above in the wellness spas listed below.


Our 5 Favorite Wellness Spas in North America's Southwest
The spa picks listed are in order, starting with our number one wellness spa pick, and also ordered from least to most expensive.

1. Civana Wellness Spa
Cave Creek, Arizona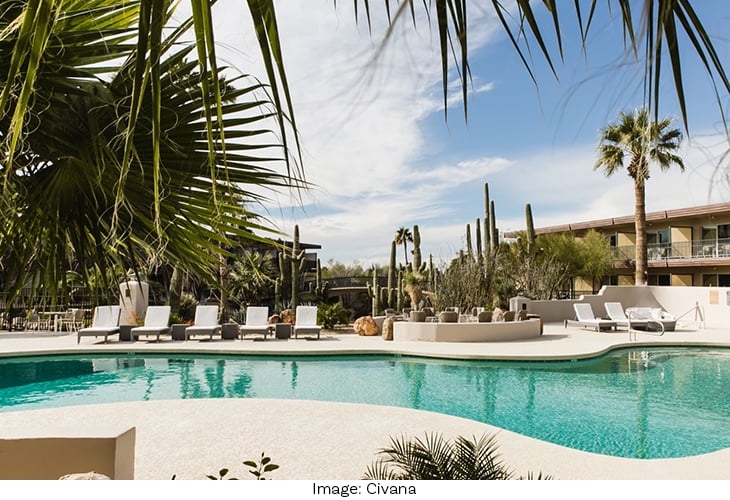 Nestled in the hills just beyond the posh North Scottsdale corridor, Civana Wellness Spa is a desert oasis of enchanting walking paths, cactus gardens, breathtaking views and a calm, inviting atmosphere. Beyond the aesthetic appeal, Civana boasts a world-renowned spa experience with a broad range of Ayurvedic treatments, incredible massage treatments and a hydrotherapy circuit complete with sauna.
Civana Wellness Resort and Spa also offers a diverse range of over 70 movement and wellness classes to choose from each week, including many forms of yoga, guided meditation, and sound healing. There are several healthy restaurant options to choose from and all offer delicious fare.
Ready for a retreat? The Chopra Wellness Retreat, designed by renowned wellness expert and author Deepak Chopra himself, is exactly what the doctor ordered.
Learn more about our top pick for magical desert wellness spas here.
2. Ten Thousand Waves
Sante Fe, New Mexico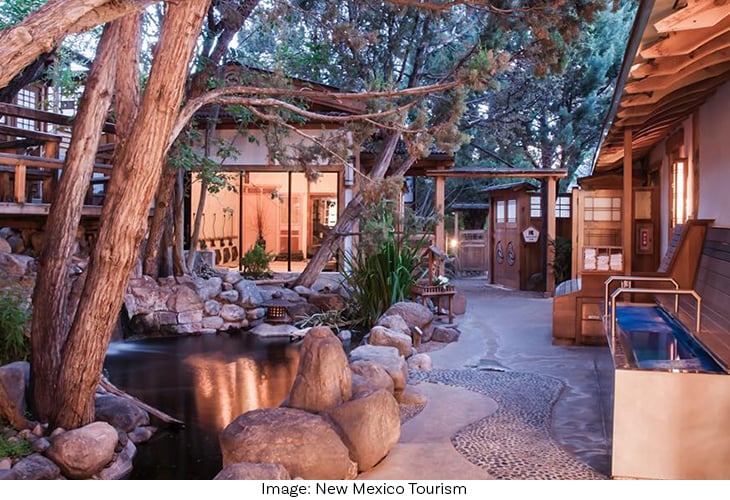 Located ten minutes from downtown Santa Fe, but nestled in its own high desert mountain sanctuary, Ten Thousand Waves is a not-to-be-missed experience. From its beautiful architecture to its soaking pools and Izakaya-style Japanese restaurant, Ten Thousand Waves is inspired by traditional Japanese mountain hot spring resorts.
Primarily a day spa, guests come from around the world to experience the healing properties of the thermal springs that are fed into a series of public and private soaking pools. The spa also offers treatments ranging from basic massage to their signature japanese shiatsu massage.
Ten Thousand Waves also offers unique Japanese-inspired lodging at their Houses of the Moon – and don't forget to treat yourself to a delicious meal at Izanami!
Learn more about our favorite wellness spa in New Mexico here.

3. Two Bunch Palms
Palm Springs, California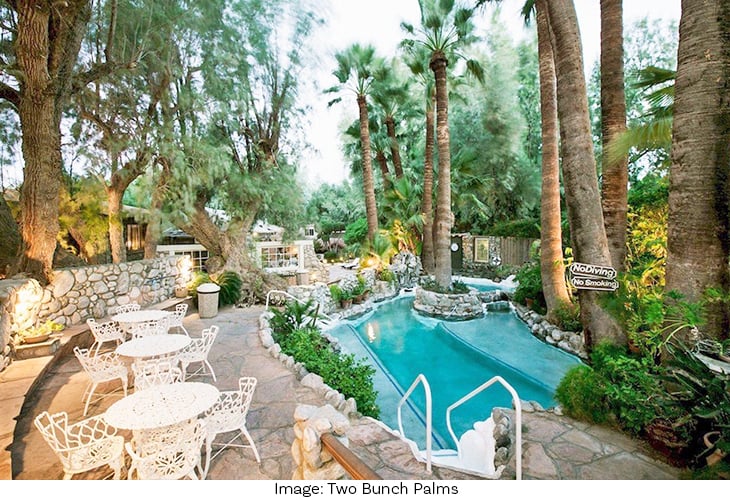 Fun fact: Two Bunch Palms is the oldest hot mineral springs resort in the US!
Beyond the health benefits of the mineral springs, this wellness spa is also renowned for its wellness program and offerings. Water therapy and yoga are just the type of the self-care and wellness offerings. For those wanting to dive a bit deeper, there are past life regressions, hypnotherapy, shaman journey sessions and much more.
Nourish your body with "vegetable-forward, So-Cal inspired" dishes that are made with organic, local, and seasonal ingredients. The rooms are minimalist-modern-chic and perfectly match the California desert wellness vibe.
Learn more about our top pick for wellness spas in Palm Springs here.

4. We Care Spa
Desert Hot Springs, California

Located on 20 serene acres between Joshua Tree and Palm Springs, this wellness spa is highly sought after for physical rejuvenation. Book your visit for 2- 5- or 7-nights with a robust wellness program that includes daily wellness classes, infrared saunas, massage and bodywork treatments, liquid nutrition and colonic treatments for "total rejuvenation."
Attention to detail is at the core of this wellness spa and resort. From custom Circadian light fixtures in the luxury suites to reset your internal clock, to a lemon grove walking labyrinth and state of the art amenities, it's obvious why We Care Spa attracts many high-profile clients from the nearby LA area.
Learn more about We Care Spa here.

5. Mii Amo
Sedona, Arizona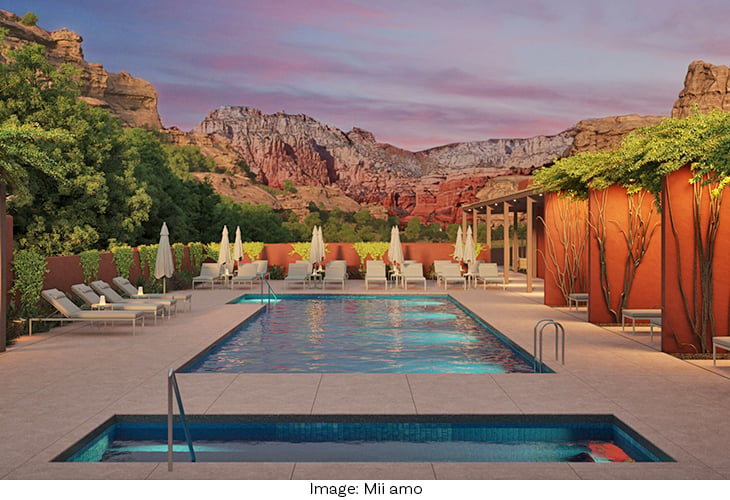 From its stunning architecture to its programming and quality of wellness professionals, Mii amo is hailed as a "leader amongst destination spa and wellbeing resorts." Nestled against the infamous red rock formations in magical Sedona, Arizona, Mii amo offers 16 guest casita guest rooms and 21 spa treatment rooms.
Mii amo celebrates the concept of slow wellbeing – weaving their commitment to wellness with the lifestyle approach of mindful enjoyment. All of their spa sessions offer extended durations to embrace slow wellbeing, and include light and sound therapy, personal consultations, massages, steam room and sauna with unparalleled hiking minutes away.
Learn more about Mii Amo Wellness Spa here.


Which Desert Oasis Wellness Spa Is Calling to You?
Whether you're looking for a few blissful hours of spa time, a full week of wellness, or something in between, these wellness spas represent the best of the best in the American Southwest.
If you are lucky enough to live in close proximity to one of the amazing spas on our list, be sure to check out their websites for day rates to their pools, thermal springs, wellness classes and more.
Not ready for the wellness spa trip? Read: We Brought the Spa Home With This Infrared Sauna Blanket
We also selected these spas based on their outstanding customer service, so don't hesitate to contact them for further details.
This list is by no means exhaustive, so if you have another wellness spa favorite that wasn't included, please tell us about it in the comments below. We love hearing from you!
This article has been read 1K+ times. Feelin' the love!