Why Deepak Chopra Is Practicing Two Hours of Yoga Every Day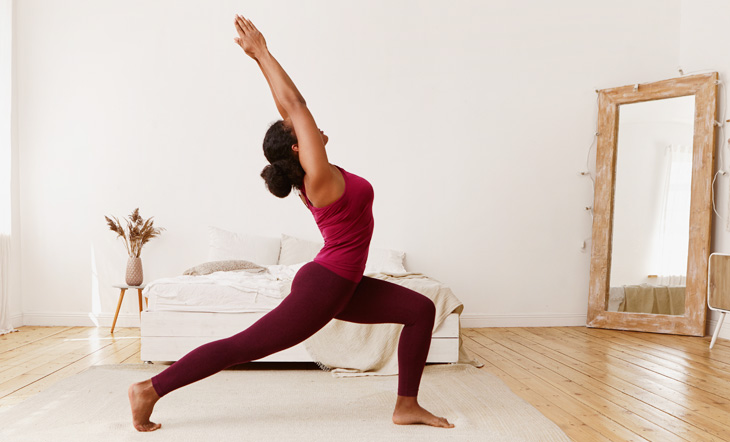 As we all adapt to the new norm of quarantine life, many of us are still figuring out a routine that makes us less stressed and more balanced.
Like us, celebrities are staying home and finding ways to adjust to this new way of life. In a recent interview with USA Today, Deepak Chopra shares how he spends his day and how he is dealing with what he calls the underlying "pandemic of stress."
"By stress I mean unmitigated fear, a sense of frustration, anger, resentment, grievances – almost like grief," Chopra says. "Nobody is talking about the unmitigated stress and panic, which actually is as dangerous and devastating as the infection itself."
As you may have guessed, this world-renowned alternative medicine practitioner dedicates most of his time to his health and wellbeing.
According to Chopra, before the pandemic, he practiced yoga for a full hour every day. He now practices yoga for two hours daily to bring his mind and body into balance during quarantine. It's how he starts and ends his day.

View this post on Instagram
Here's An Inside Peek Into Deepak Chopra's Yoga Routine
At 7am, Deepak sits on his yoga mat and meditates for about one hour. After meditation, he completes one hour of regular yoga practice. During that time, he does 35 different movements, which include sitting, lying, twisting, and forward and backward bends.
At the end of his day around 8:30pm, he does Yoga Nidra. On the topic of Yoga Nidra, Chopra explains:
"Most people are used to the physical aspects of yoga, but there's a practice where you lie still in bed and you take a journey of awareness through your body. So, you begin feeling your toes, your feet, ankles, legs, knees, hips … you basically take a body scan."


Want to try Yoga Nidra for yourself? Follow These 7 Steps for a Peaceful Yoga Nidra Practice
After Deepak Chopra finishes this relaxing yoga practice, he slowly turns off his senses and asks deeper questions, such as "Who am I?" "What do I want?" "What am I grateful for?"
Then, he drifts off to sleep.


Deepak Chopra Shows Us That Yoga Can Help Us Cope With Life's Challenges
The beauty of yoga is that it can be an incredibly contemplative practice. Along with connecting to your body, you also connect to your inner self.
In doing so, we can clear out the negative energy and emotions that are weighing heavily on us during these challenging times.
This article has been read 5K+ times. Feelin' the love!