6 Yoga Mat Alternatives to Diversify Your Practice
As a unique yogi with diverse needs, a one-size-fits-all approach to yoga mats might not be for you. Luckily, there are a variety of yoga mat alternatives with not-so-typical surfaces and designs that offer all the unique and versatile features that your little yogi heart desires.

When you're on the market for your next yoga mat, you may want to consider switching up your routine a bit and going for a not-so-traditional yoga mat alternative that offers portability, travel ease, and versatility. Depending on your needs and goals for your practice, a non-conventional yoga mat can replace your traditional yoga mat in its entirety, or simply help augment and add dimension to your current yoga practice.

Here are six alternatives to the traditional yoga mat that will help enrich and diversify your unique yoga practice:


eKO SuperLite™ Travel Mat 68" ($40)
Manduka's eKO SuperLite™ Travel Mat is ideal for yogis that are tired of lugging around a cumbersome yoga mat with them to and from the studio or while traveling. When laid out, the mat looks like a traditional, but thinner profile yoga mat weighing in at just two pounds. Fold it up just like a towel into a neat, perfect square, and toss it in your suitcase or gym bag for easy portability. Perfect for packing in your carry-on or wherever your travels may take you.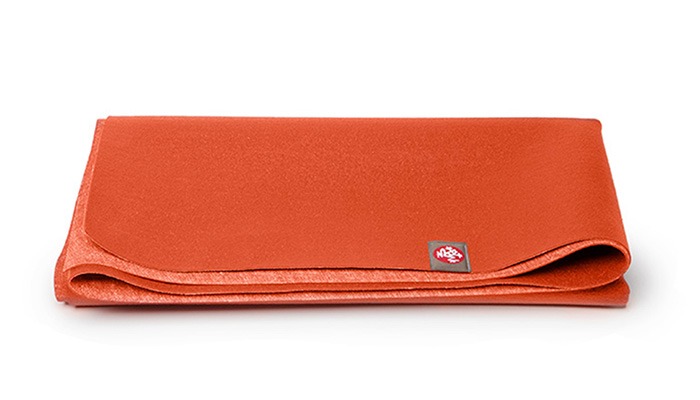 Enjoy doing yoga on your lunch break? Keep the eKO SuperLite in your desk or briefcase so you have it within reach. Despite its thin profile, the mat has incredible grip and is the same length as a traditional mat. The mat is made of biodegradable rubber (which prevents fading and flaking) and offered in Midnight, Thunder, Acai, Delmara, Dorea, Evolve and Zola, so you have a wealth of color options to compliment your style.

---
Bamboo Beach Yoga Mats Ganesha Mat ($50)
If you dream of doing yoga on a picturesque beach, the Ganesha Mat by Beach Bamboo Yoga Mats can make your dream a reality. The Ganesha Mat is comprised of half-inch bamboo slats that provide you with stability for doing yoga in natural environments. The grippy solid fabric bottom prevents sand from slipping between the bamboo and adds an extra layer of grip and security. Each mat is branded with Ganesha and a Warrior II, which can serve as a point of focus to hold your gaze and steady your body.
Even after a relaxing flow on a sandy shore, you can wipe away sand and debris from your mat with ease and then use your mat for sunbathing. Just roll up your mat and store it in your car for on-the-go yoga wherever your travels take you.

---
Hugger Mugger Cotton Yoga Rug ($42.95)
Hugger Mugger's Cotton Yoga Rug is made of 100% natural cotton, and it has grip dialed in! This mat has beautiful, gender neutral colors, perfect for guys and gals alike. The woven cotton material is durable and long-lasting, and makes a great alternative to itchy wool yoga rugs (especially for any yogis with allergies). The mat is wider than a traditional yoga mat, so you can get deeper and stretch longer and wider without having to touch the ground.
The mat can be used on its own (although it can slip on wooden floors without something beneath it), or it can be placed on top of a regular yoga mat for added grip and sweat absorption. In addition to your yoga practice, you can fold the cotton rug into a soft and comfortable bolster and/or meditation seat. The Cotton Yoga Rug is so versatile that you can even find uses for it besides yoga and meditation, including a seat cover for hot car seats or a comfortable blanket for a picnic in the park.

---
Plank Mat ($95)
If you're looking for a yoga mat that's funky both in terms of style and function, look no further. The Plank mat is different from any other yoga mat we've seen before. Why? Two reasons: the interesting and very unique style of prints, plus the enticing challenge that the Plank mat creates for the yogi. Let's start with the prints. From the cobra in the grass, to spilled pills on the floor, or a blast back in time with the green shag carpet, which print will you choose?
Next up, the Plank mat challenge: this is not your typical yoga mat, and is actually designed to make you slip if you don't have proper alignment. The benefit: you'll learn really fast which muscles need to be activated in each pose to make sure you don't slip. The warning: only experienced yogis should use this mat. Without the experience necessary to understand muscle activation, you could potentially hurt yourself if you slip. This is why while we love the unique features of Plank mat, we only recommend it for yogis who want to advance the study of their grounding awareness. For utmost safety, we advise that beginners use this mat at their own discretion, and recommend learning proper technique before using the Plank mat.
Interested in trying out a Plank yoga mat? Used code PLANK20 to receive 20% off of your purchase.

---
YogaPaws Elite Full Set ($38)
Once you slip on the YogaPaws Elite Full Set, you will instantly be ready to take your yoga practice with you anywhere you want to go. The YogaPaws are made from real yoga mats and provide padding on the points of contact for your hands and feet with tremendous grip made possible with the real yoga mat surface. YogaPaws empower you to practice yoga any and everywhere without needing a yoga mat or worrying about slipping or hurting your hands and feet.
The YogaPaws are so compact that you can toss them in your purse, gym bag or travel bag without adding extra weight or bulk. Take your YogaPaws with you to experience a solid and stable yoga practice unlike anything you have experienced before – on a boulder, in a field, on a plush hotel room carpet or any other slippery surface. YogaPaws are available in XS-L in women's sizes and Small and Regular in men's sizes in Rich Maroon, Forest Green, Midnight Blue, Classic Black, or Red Chakra. Grab a pair of the YogaPaws Elite Full Set and take your yoga practice off the mat and into the world.

---
WAYmat All-in-One Yoga Mat/Towel+Grip ($54.95)
The WAYmat All-in-One Yoga Mat/Towel+Grip is a 100% cotton plush yoga mat and towel that combines the best of both products into one great package. The cotton material is absorbent and thicker and plusher than other yoga towels, making it an ideal replacement for that annoying towel you always have to adjust during your yoga practice. The WAYmat has rubber nubs on the bottom that keeps your mat in place. The mat is 75" in length and 30" wide, a full six inches wider than a traditional yoga mat, so you can stretch out deeply and get the most out of your yoga practice.
Best of all, the mat can be tossed in the washer and the dryer and can be washed just as you would the rest of your laundry. The mat is available in a variety of colors – including all of the chakra colors – and prints – including flowers, tie dye, and ombre. There is a little something for everyone, including more gender neutral prints and colors that are great for men.

---
Whether you want to be adventurous and travel the world, enjoy yoga on the beach or in the comfort of your own backyard, or add an entirely new challenge and fresh outlook to your practice, there are a variety of yoga mat alternatives that offer something different and unique to enhance your yoga practice. No matter if you choose a conventional yoga mat or an alternative product, choose the option that best aligns with your intentions and identity on and off the mat. After all, your yoga practice is your personal commitment to yourself. Find a not-so-typical yoga mat that meets your practice right where you are, and helps you get the most out of your time doing yoga.

Featured image: huggermugger.com
This article has been read 20K+ times. Bada bing!