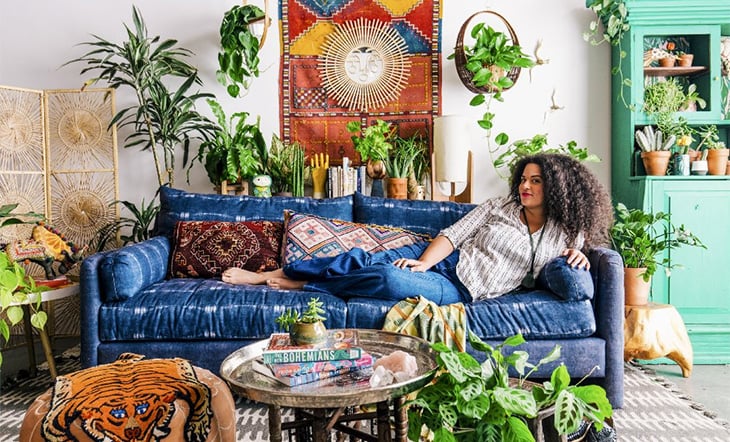 Image: The New Bohemians Handbook
Go Loco for Boho! Here Are 5 Interior Design Tips for Bohemian Decor From Justina Blakeney
Do you believe in the healing power of plants? Or creating a space that brings good vibes? Do you love rich colors, unique patterns and textures? Then bohemian decor is probably your go-to aesthetic (or will be)!
And you've definitely heard of (or need to!) Justina Blakeney, designer and author of The New Bohemian's Handbook: Come Home to Good Vibes.
Her unique approach to style and wellness-inspired interior design tips can turn any home into a beautiful, relaxing oasis.
Justina has been recognized by NY Mag, Harper's Bazaar, and other leading magazines as one of the top designers to follow on Instagram.
She believes interior design should be a reflection of the soul. Her vibrant, colorful and carefree spirit is a natural expression of Bohemian décor.
A boho chic living space has a comfortable and relaxed feel, embracing the unconventional and combining patterns and textures from around the world. Think eclectic yet cultured.
Justina's unique approach to style and wellness-inspired interior design tips can turn any home into a beautiful, relaxing oasis. On Justina's blog, Jungalow, she reveals many simple, affordable ways to achieve a boho-chic abode.
Read on for a list of her top interior design tips.
These Are Justina Blakeney's Top 5 Interior Design Tips for Bohemian Decor:
On Justina Blakeney's blog, she reveals many simple, affordable ways to achieve a boho-chic abode. And here are her top tips!


1. Maximize Natural Light
Bohemian decor is all about boosting the mood. And nothing lifts the spirit quite like sunshine. Not only will more natural light brighten up your home, but since light is reflective, it will also create the illusion of more space.
At night, use ambient lighting with hanging fairy lights and floor lamps for a dimly-lit, relaxed atmosphere.


2. Minimize Clutter
With bohemian decor, many people adopt the "more is more" mentality. But eclectic doesn't mean cluttered. When redesigning your home, you will still want the space to feel open and clean. Justina Blakeney's work is all about creating good feng shui!
Plus, you'll need space for your yoga practice: Consider This When Creating Your Sacred Space


3. Use Nature for Design Inspiration
The foundation of bohemian decor lies in nature and finding unique ways to bring the outdoors into your home. Incorporate nature-inspired decor such as earth-toned textiles, area rugs, and neutral paint colors on the walls.
Numerous studies show the calming effects of nature on the mind and body. Here's how to Get Back to Your Roots – 5 Ways to Use Nature to Stay Grounded


4. Add Plants for Decoration
As one of the core components of Justina Blakeney's style, plants are the best way to bring life into a space.
You can create a garden window in your kitchen or bedroom, using an array of potted plants on the windowsill. And if you're feeling really jungalicious, you can create a plant curtain with hanging plants in front of your window.
Not only do plants beautify a space, they also detoxify by improving indoor air quality.
Decorate With These Air Purifying Plants to Naturally Purify Your Home


5. Mix and Match Patterns
The best part about embracing boho-chic is that it leaves a ton of room for creativity. Justina Blakeney often combines different cultures in her work, drawing inspiration from her travels around the world.
Think versatile soft fabrics, textural patterns, and throw pillows. Lots of throw pillows.


Go Loco for Boho With These Inspiring Interior Design Tips!
Everyone can appreciate the beauty of bohemian decor. Boho-inspired homes embody culture, creativity, and a carefree vibe that welcomes all who enter.
Justina Blakeney believes decorating is about "feeling free, having fun, and getting a little bit wild." It's not being afraid to express your individuality!
Your home should be a reflection of you! And bohemian decor allows you to do just that.
Need more interior design tips? Space is everything. So, Get Rid of These 25 Things to Declutter Your Life
This article has been read 4K+ times. Feelin' the love!