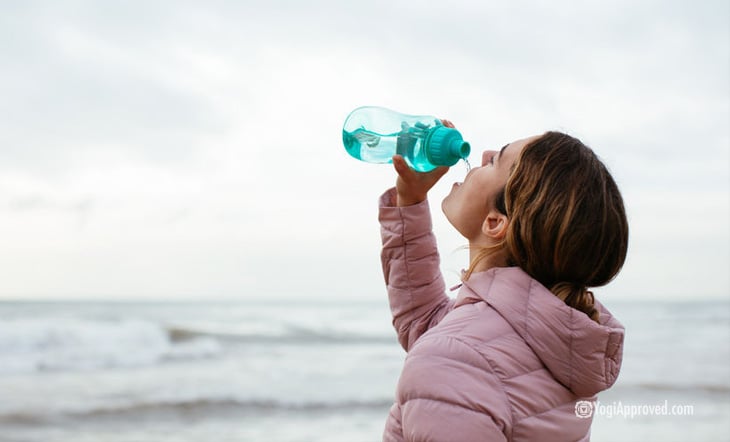 These 8 Tips Will Trick You Into Drinking More Water Every Day (Visual Guide)
Water is important, right? But do you know just how important . . . and how much you should drink?
The simple answer is that water is essential for the smooth running of just about every one of your body's processes.
Water lubricates your joints, eyes, and ENT (ear, nose, and throat) system. It helps you breathe and keeps you calm. It hydrates your brain so that you can focus properly. And it forms 90% of your blood. So, drinking it can stave off low blood pressure.
And you need around 3.7 liters a day if you're a man; 2.7 liters if you're a woman. That's probably significantly more than you drink unless you're really trying to hit the target.
So, how to drink more water? There are a number of things you can do to trick yourself into drinking more . . . and more regularly every day!


How to Drink More Water? Here Are 8 Ways to Make Sure You Drink More Every Day:
Use these tips to up the ante and drink more water for better overall health.

1. Drink a Glass When You Wake Up
Drinking water before you do anything else in the day is a great way to start forming a healthy habit.
It will also:
Rehydrate you after a long night
Suppress your morning appetite to help prevent over-snacking
Force you to slow down rather than rushing headfirst into the day
2. Drink a Glass of Water Every Hour, on the Hour
Setting a timer is one of the simplest ways to remind yourself that you should drink more water.
Drinking water every hour will:
Significantly increase how much water you drink
Force you out of your chair to take a break
3. Drink a Sip With Every Task You Complete
Some people aren't into downing a whole glass at a time. Sipping your water can, instead, be used as a reward for completing repetitive tasks.
Sipping like this can:
Prevent you from reaching for a snack or a cigarette after completing a task
Make you feel refreshed
4. Add Flavor to Your Water
Other folk resist drinking water because they don't like the taste. Infusing your water with fruit will make it more appealing.
The brain seeks variety, so flavored water tricks your brain into desiring it. You will also benefit from extra nutrients in the fruit.

5. Eat Your Water
Yes, really . . . a lot of fruit and veg is high in water content. Although you might not be able to measure it, eating watery foods is a good "bonus" on top of your regular drinking quantity.
Watermelon, cucumber, and tomatoes are all more than 90% water. Around 20% of your daily water intake comes from food.
Here's how to "drink" more water through food: Eat These Hydrating Foods for Healthy Radiant Skin

6. Drink a Glass of Water Between Hot or Alcoholic Drinks
Caffeine and alcoholic drinks actually dehydrate you.
So, it is a good habit to drink a glass of water between each one, in order to:
Dilute the effects of the caffeine or alcohol
Turn a potentially unhealthy habit into a source of hydration
7. Keep a Bottle of Water With You, Always
If you don't have water with you, you can't drink it. But if you have a bottle by your side, you're more likely to take a casual sip.
Buy a reusable bottle so that it becomes part of your daily "gear." It's possible to get fruit-infusing bottles so you can match this tip with number four, above.


8. Track Your Water Consumption With an App
How to drink more water? Hold yourself accountable!
Setting goals for how much water you want to drink makes it more likely you'll do so. Thankfully, it's easy to measure what you're achieving using an app on your cell phone.
Daily Water Tracker has a particularly elegant interface, to make reaching your target a pleasure. Aqua Alert is a more complex app that real water geeks can use to measure and visualize daily intake.


How to Drink More Water: The Takeaway
You know that drinking lots and lots of water is essential for your overall health and wellbeing. So cut the excuses and just drink more water!
Now, the question is no longer how to drink more water . . . but why haven't you started drinking more yet?
Feeling motivated? Check out this visual guide to these water-drinking tips to help the lessons stick in your mind!
This article has been read 7K+ times. Feelin' the love!