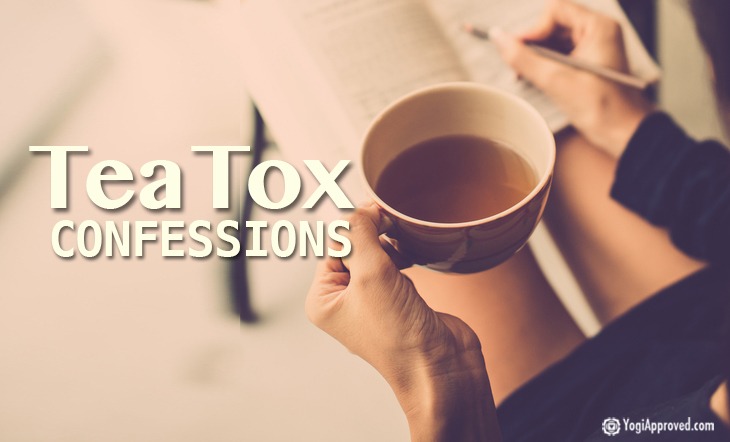 I Did a TeaTox – Here's What Happened (Before & After Photos)

Tiny Tea Teatox by Your Tea, is a 28-day detox based upon traditional Chinese Medicine Principles. It is a blend of herbs that nourish and cleanse your digestive system. The 28-day system helps to restore your body back to optimal health, and the website encourages users to avoid excess fat, sugar and salt, gluten, raw fruits and vegetables, and other hard-to-digest foods from your diet. Tiny Tea suggests that people on and off the teatox eat wholesome, natural, and unprocessed foods, served warm (above 98.6 degrees).
The Science
The science behind the tea explains that when your stomach struggles to digest foods, your body doesn't receive the nutrients it requires, which can lead to weight gain, fatigue, headaches, constipation or diarrhea. Additionally, skin ailments such as acne, blackheads, rashes, eczema and psoriasis can be attributed to internal imbalances.
Indirectly, the tea can help you lose excess weight by restoring your system to efficient operation. The tea inspires your body to create stronger, purer blood, which makes you feel energized without caffeine. The philosophy behind the tea is simple: when your body performs efficiently, you should not have excess weight.
The website explains that digestion is a process that requires warm energy, and that raw and cold foods can slow digestion and lead to weight gain. Additionally, cold drinks are on the "foods to avoid" list because they also slow digestion.
My 28 Days on Tiny Tea
I began my Tiny Tea teatox in January with the hope of whittling my waistline and eliminating some of the harm I did to my body between Thanksgiving and the New Year. As the website recommended, I drank the tea 30 minutes before breakfast, lunch and dinner. I followed their food guide (listed here), which essentially eliminated processed foods and included wholesome, natural foods. I wanted to make sure that I could maintain the meal plan beyond the 28 days, and I enjoy breads and pasta, so I made the switch to become gluten free and learned to bake my own fresh breads and treats.
As far as obvious "no foods," I already do not drink soda and I haven't had any fried foods in almost three years, but I knew that the other "no" foods – raw, sugary or salty foods – were not going to be easy to kick. And, eliminating raw foods from my diet was the most challenging. Almost every night for many years, I have eaten a large salad with raw fruits and vegetables. On the teatox, I switched to hot, homemade meals that included plenty of healthy grains, beans, vegetables and homemade soups. While at first I thought the diet alterations were going to be limiting, I found myself learning to cook new meals that I loved and that kept me full and satisfied.
In the past, I would commonly end my day with some treat out of a bag, such as processed desserts, cakes, chocolate or baked potato chips that weren't very good for my waistline. This teatox pushed me to eliminate those snacks that really weren't necessary for my happiness. I learned to make delicious and nutritious desserts and snacks without chemicals or preservatives and with minimal sugar and salt, such as chia seed pudding or gluten free raisin scones.


The Results
Due to vanity reasons, I will not list my start or ending weight, but I can happily say that I lost five pounds during the first six days on the teatox, and nine pounds and four inches off my waist and two inches off each thigh at the end of the 28-day Tiny Tea teatox. I'm also no longer bloated and I feel energized and fantastic.
I have done diets in the past where I have weighed and measured every ounce of food that went into my body, and I felt less hungry and cranky at the end of the day. The teatox is not a diet in the reduction of food intake sense, and it is the first program that I can eat what I want and as much as I want, and still lose weight.
I enjoyed becoming more creative with my weekly meal plans and found nutritious substitutes for my not-so-healthy go-to meals of the past. That is not to say that I won't cheat with a great piece of regular Italian bread or glass of wine every once in a while, but for the most part, I'm going to stick with my new food lifestyle. I cannot imagine going back to the way I ate or felt before. I already purchased two additional boxes of Tiny Tea – one box for this month and a second box for emergency cups when I need a boost of energy or some digestive maintenance. The moral of the story is that, if you're like me and seeking a healthy, lasting change that works, look no further than Tiny Tea! This stuff is YouAligned!
Here are my before and after photos. I hope they inspire you as they do me.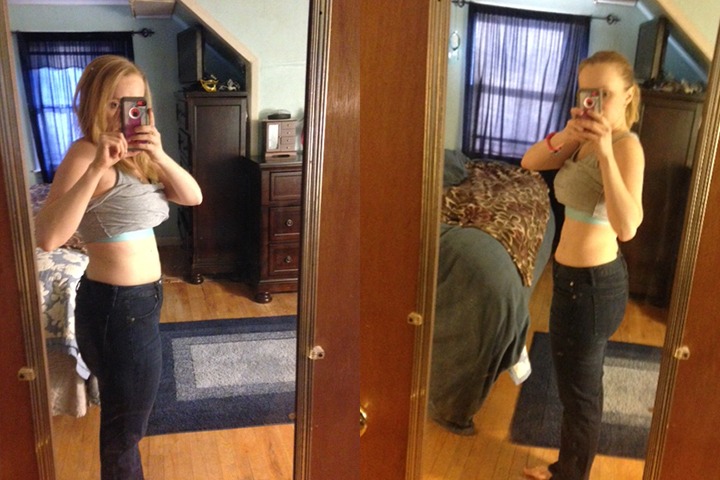 Giveaway!!! – Comment below and let us know why you want to try the Tiny Tea teatox and you will be entered to win a free 14day teatox from YourTea.com. We will pick a winner on March 1st.
This article has been read 60K+ times. Hot damn!