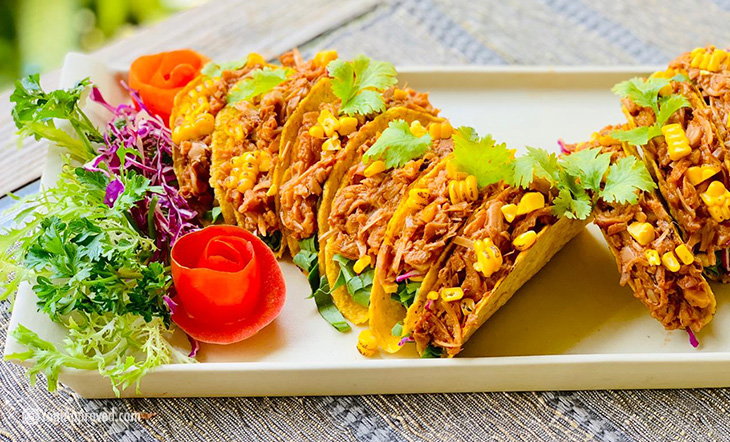 To-Die-For Jackfruit Tacos Recipe (Gluten-Free and Vegan-Friendly!)
Jackfruit has become a popular ingredient to use as a healthy and tasty meat substitute in plant-based cuisine. Here, jackfruit is used as the "mince" in these delicious savory jackfruit tacos.
These are quick, easy, and nutritious and they can be tweaked to suit all dietary requirements.
Corn tortilla wraps will make these gluten-free, and to keep them vegan, simply use a vegan-style cheese or natural coconut yogurt as the topping.
Here's Your Jackfruit Tacos Recipe:
Ingredients:
500 grams boiled young jackfruit
2 mangos, skinned and chopped
1 peeled onion
20 grams garlic cloves
1 tbsp. cumin
50 grams tomato paste
2 tbsp. coconut sugar or brown sugar
2 tbsp. natural honey
Boiling water
Salt and pepper to season
Lightly toasted corn flour tortillas
Salad mix, fresh spinach leaves
Diced tomato salsa
Cheese, sour cream, or natural Greek yoghurt (for your toppings)

Preparation

Boil the jackfruit for at least 25 minutes until soft. Then, drain and set aside. Place the jackfruit in a bowl and use your fingers or a fork to pull the pieces apart into shreds and chunks. Set aside.

Thinly slice the onion, and peel and chop the garlic and mango.

Add everything to a large pot. Then, add just enough boiled water to cover the ingredients. Place the pot on medium to high heat. Once it's boiling, reduce the heat to a simmer and crack the lid just a bit.

Let simmer for about 40 to 45 minutes, until sauce is thickened and the jackfruit is soft and easily pulled apart. Add salt and pepper to taste. And then allow your jackfruit mix to cool.

Lightly toast the corn flour tortillas. Serve with salads and build your own tacos. Top with cheese, sour cream, and/or natural yogurt.



Enjoy Your Delicious Jackfruit Tacos!

These simple treats are so quick and easy but also so unbelievably delicious.

Throw a healthy taco party and wow all your friends with your secret vegan ingredient. Enjoy this quick and easy lunch or dinner recipe with a guilt-free conscience: these jackfruit tacos are not only really good, they're also really good for you!

Looking for healthy and delicious recipe ideas? Try this Vegan, Gluten-Free Curried Chickpea Wrap Recipe for Healthy Eating On the Go

This article has been read 2K+ times. Feelin' the love!