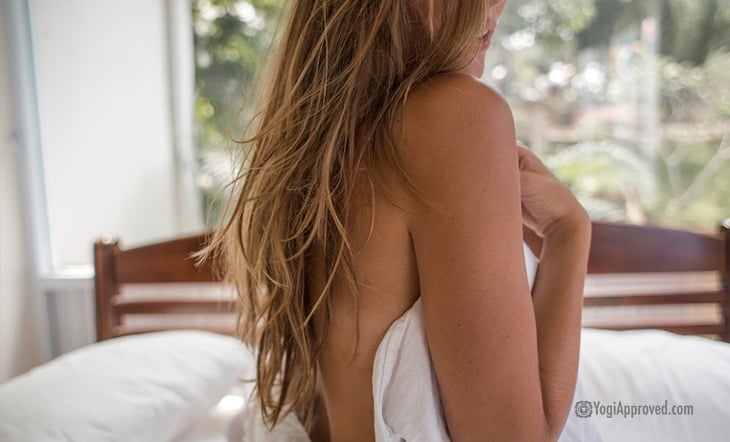 How to Shamelessly Embrace Your Sexuality (According to a Sex Coach)
No matter who we are, who we think we are, and how we identify ourselves sexually, sexuality defines us. Freud knew it. Osho knew it. Modern day advertising knows it (and capitalizes on it).

Sexuality is, consciously and unconsciously, running the show. It's a common denominator amongst all people and cultures (not to mention how we all got here). Yet, remarkably, it remains taboo – especially for women.

Notwithstanding instances of goddess worship and matriarchal societies, the control, attack, and suppression of female sexuality is entrenched – and continues today. As a female sexuality coach, I see women seriously struggling with issues related to sexuality, desire, pleasure, and eroticism. Sadly, women need a user's manual to navigate sexuality.

How is it possible for a woman to make sense of her sexuality in a world that both hyper-sexualizes women and ignores the sophistication of her erotic nature?

Today's woman is bombarded by the message that her worth is directly related to how desirable she is. And she is bound by confusing and contradicting messages of the definition of desirability.

What is the Madonna Whore Complex?
Sigmund Freud was the first to uncover and name a surprising phenomenon in collective sexual politics: the Madonna Whore complex, also called the Virgin Whore dichotomy. Originally, Freud's theory attempted to explain why male patients were unable to maintain sexual arousal in a committed relationship, but his research unveiled a more complicated polarization.

Freud discovered that men viewed women in one of two ways: as saints (the presence of love without desire) or as prostitutes (the presence of desire without love).

Freud identified two archetypes, two distinct female sexual identities, that are incompatible. In the deep subconscious of both men and women, there is an either/or attitude towards female sexuality. Women can be either sexual or chaste, pious or profane, pure or tainted, a saint or a slut. They cannot be both.

What an outdated and archaic view, right? Even if you disagree, or think times have changed, you may still be impacted subconsciously.

How the Madonna Whore Complex Plays a Role in the Bedroom
The Virgin and Whore archetypes help to identify a harmful split in the female sexual psyche. This split continues to thwart the creation of healthy sexual identities in many women today. For many women, especially those who have a spiritual practice, there is a subtle or overt rejection of their sexual selves.

The Madonna Whore Complex engenders the belief that sex and spirit are separate, unrelated, and mutually exclusive – they exist in a vacuous moral hierarchy where spirituality is morally superior to sexuality.

The hang-ups that women experience because of the Madonna Whore psychic split leave masses of women wholly (or holy) unsatisfied.

Experiences of trauma and sexual abuse often create even more distance between the spiritual and the sexual. The secrecy, guilt, and shame that one is often left with after such an experience further embeds the idea that sexuality is dirty, sinful, or shameful. These hang-ups are getting in the way of realizing the beautiful complexity of female sexuality.

Why You Should Embrace the Complexity of Female Sexuality
Female eroticism is complex. It is a matrix of interconnection between the body (sensual pleasure), the mind (fantasy and desire) and the spirit (transcendence). When any one of these parts isn't tended to, erotic energy can feel bland, stuck, and somehow incomplete – and these feelings can reverberate throughout a woman's entire life.

The Madonna Whore Complex makes it nearly impossible for women to experience body, mind, and spirit synergy. Therefore, it is difficult to experience the sacredness of sex. On the one hand, women long for peace and transcendence. On the other hand, we long for ecstasy and sexual fulfillment. But what if one is the key to the other?

Women crave the sacred and the erotic. We yearn for the bridge between the two. When the imaginary lines between the sacred and erotic begin to dissolve within the female psyche, there is huge potential for inner reconciliation, healing, and expansion of life force.

How to Reconcile Sex and Spirit Through Yoga
How do we begin to dissolve these lines? How can the spiritual become the sexual and vice-versa? The word yoga means "union." Yoga is by definition a practice of inclusion – a practice of meeting all our fragmented parts in order to evolve and raise our level of consciousness.

Women crave the sacred and the erotic.

Many women practice yoga as a way to reintegrate many lost and forgotten parts of the self. The practice of asana guides you back to the body and breath, which may not have previously been a comfortable place. We are remembering the mind, body, and spirit connection.

Through yoga, you can remember how to sense, feel, and respond to your body's needs. This process is an erotic reclamation of the self. So often we are encouraged to take yoga off the mat – to cultivate a practice of yoga that extends into our homes, workplaces, and our relationships.

Bring Yoga to Your Bedroom
What if we brought yoga "into the bedroom"? And not only in the Tantric sense of extended pleasure and earth-shaking orgasms. Yoga in the bedroom, through mindfulness and self-care, leads to the thoughtful tending of your needs and wants – and the eventual lifting of the oppressive Madonna Whore Dichotomy.

Want to learn how to bring Tantra to your bedroom? Read Tantric Sex: Here's Everything You Need to Know.

Lift the Madonna Whore Veil
Tend to your sexuality, sexual healing, and erotic awakening – with an attitude of respect, openness and inclusion. If you want to put this into practice, start with the guidance below:

Notice your speech and self-talk. Do you bucket yourself into polarizing, either/or categories? Consider replacing the word "but" with "and" in your thoughts and words. For example, "I am worthy of a loving relationship, and I have a wild sexual history." When it comes to how you view yourself, you can have it all.

In essence, remove self-judgment and replace it with self-acceptance. Once you realize that you can be many things, simultaneously, including the 'virgin' and the 'whore,' then you will see your quality of life improve . . . especially your sex life!

This article has been read 10K+ times. Bada bing!