How to Meal Prep Like a Pro – Here's Everything You Need to Know
Meal prep (or bulk- or batch-cooking) is the act of making multiple servings of food and saving them to eat later. Typically, when meal prep comes to mind, we think of the same boring meals over and over again.

But not anymore. As a certified Dietitian, I have developed a handful of recipes that are colorful, nutrient-rich, and will have you excited to meal prep – and eat – your next batch of meals!

This article breaks down the best way to plan and execute your meal prepping.

The Benefits of Meal Prepping
Meal prepping is an effective and affordable way to make sure you eat healthy throughout the entire week. It also helps save time in your busy schedule. Carve out a few hours on a Sunday afternoon and get your meal prepping done for the week ahead.

Yes, you might create a bit of a mess in the kitchen, but what's a few dirty dishes compared to all of the benefits of meal prepping?!

Here are just some of the many benefits of getting your meal prep on:
Healthy, nourishing meals ready to go – this will save you time in the morning (maybe giving you a few extra minutes to sleep in or avoid being late to work)
No more getting "hangry" because you know when and what your next meal will be – this will help you stay on track and avoid binge- or impulse-eating
Control the ingredients in your meals – this ensures you know what you're putting in your body, which leads to our last point . . .
Manage a healthy body weight

Say what?! Does meal prep really help maintain your figure? It can! According to a study in the International Journal of Behavioral Nutrition and Physical Activity, meal prepping was associated with lower body weight and higher diet quality in women compared to those who did not plan and prepare their meals ahead.

While this does not necessarily mean that meal prepping leads to weight loss, it's definitely a habit that contributes to your overall health and wellness, which is why this Dietitian recommends you start as soon as possible!

Start Meal Prepping Today! Here's How:
First you want to know what meals you will be making, and sometimes that can be the most challenging part! That's why I've developed several recipes below to get you started.

Once you know what you want to prepare, the next step is to gather all of your ingredients. Now you have your "mise en place," which is the French term for getting all of your ingredients ready. Chop your veggies, measure out your ingredients, etc.

Now we're ready to dive in! I've broken these recipes down by each meal (and midday snacks).


Start By Meal Prepping Breakfast
You've heard it before: breakfast is the most important meal of the day. There is some truth to that! Kickstarting your morning with a nutritious breakfast replenishes your body and gets your metabolism firing.

Eating a nourishing breakfast will also nourish your brain so you can perform at your best no matter what your day brings. Here are a few ideas to get you started:

1. Oatmeal is wholesome and easy to prepare




To meal prep enough oatmeal for the week, invest in some good containers. I recommend using mason jars, but any container with an airtight lid will do.

Portion out ½ cup of dry oats into each container. Then pour in 1 cup of liquid of your choice (purified water, almond milk, etc) into each container. Add toppings of your choice – maybe some sweet, summery fruit like blueberries for an antioxidant punch!

2. Smoothie bowls are one of the hottest healthy eating trends right now!




Unfortunately, you can't exactly make a bunch of smoothies ahead of time. But what you can do is pre-portion out your own freshly cut fruit and leafy greens (like spinach and bananas) into bags so when you wake up craving a creamy smoothie, your ingredients are ready for the blender.

Upgrade your smoothie bowl by loading it with toppings like nut butter, berries, dry oats, and hemp seeds. Yummm!

3. Vegetable Frittata for a delicious dose of protein




Want something a little more savory for breakfast meal prep? Frittatas are the way to go. Loaded with veggies, like kale, chopped zucchini and tomato make for an delicious and fulfilling nutrient-rich breakfast.

To meal prep frittata: Add chopped veggies into a medium or large pan and cook until tender. In a bowl, whisk together 10-12 eggs. Add them to the pan and let the frittata cook. Yield: approximately 8 servings.


Next, Meal Prep Healthy Snacks and Lunch Options
Snacking throughout the day helps stabilize your energy levels and keep you from getting too hungry before your next meal. When it comes to snacking, try to get at least two of the three macronutrients: carbohydrates, fats, and protein.

Instead of having a highly processed granola bar or handful of crackers, meal prep a few hard boiled eggs, which are rich in protein and fats. They'll deliver a nice dose of protein and help you stay full until your next meal.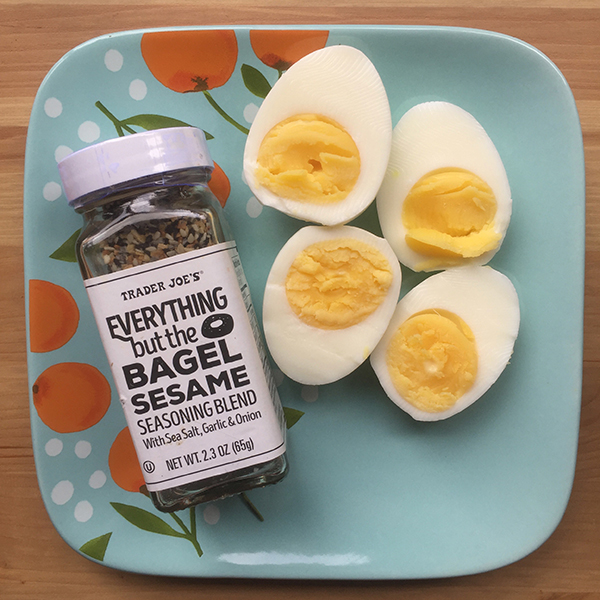 Craving something a little sweet? Sliced bananas with nuts in almond milk are a great balance of carbohydrates and fats. Choose this option over a sugary, processed breakfast cereal that could leave you feeling tired and sluggish after eating.




Ready for lunch? Tuna is an easy lunch option to meal prep and also makes a great midday snack option if you prefer to make a smaller portion.

Here's an easy, healthy swap: choose low-sodium canned tuna in water instead of oil. Skip the mayo and add fresh chopped apples and lemon juice for a healthy mix of carbohydrates and protein.


Now We're Ready to Meal Prep Dinner
This is where we get to meal prep veggies, whole grains, and proteins. Meal prepping several different vegetables is a great way to have variety in your diet.

If you think of your plate in thirds, you can include vegetables in one section, proteins (plant or animal) in the second section, and a starchy source like whole grains or potatoes in the third section.

What do you most enjoy eating in terms of flavors you enjoy and also how these foods make your body feel? Make your new meal prepping habit align with your intuitive eating needs!

Interested in learning more about intuitive eating and how it can help you be healthier and happier through the foods you eat? Check out this Intuitive Eating Guide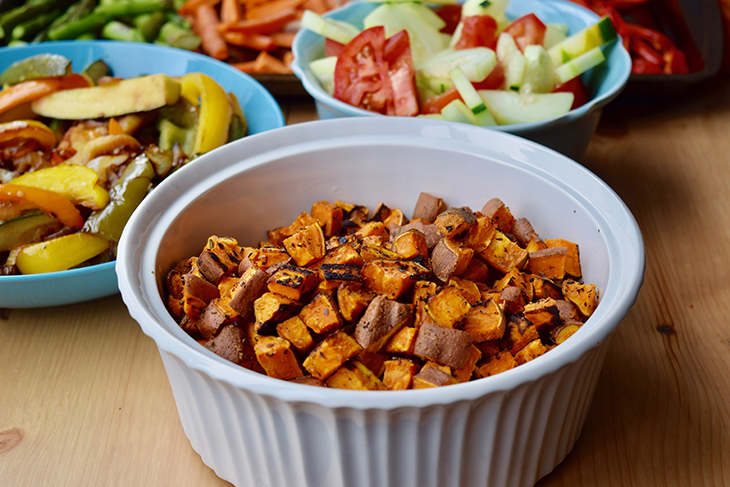 Some of my go-to veggies to meal prep are sweet potatoes and kale. Sweet potatoes and kale are so colorful because they pack in tons of nutrients. And when it comes to meal prepping vegetables, roasting them is the easiest way to go.

To roast the sweet potatoes, preheat your oven to 425 degrees and then chop 3-4 medium spuds. Drizzle on olive oil and some fresh herbs like rosemary. Roast in oven for 25 minutes.

Next, add some greenery to your meal prep! To cook kale, drizzle a little olive oil onto a pan, add sliced onions and cook until translucent. Then, add chopped kale and let the leaves cook down. When the kale is dark green and wilted, you are all done!

Interested in learning more about the nutritional value of your favorite leafy greens? Check out The Lowdown on Healthy Greens


Vegan-Friendly Proteins for Meal Prep


If you're a vegan, you've got options when it comes to meal prep! Chickpeas and quinoa are amongst my favorite vegan-friendly protein choices.

This vegan-friendly duo make a complete protein, which is perfect for a plant-based diet. Roast 1 can of chickpeas by laying them on a baking sheet and pat dry. Place in a preheated 400-degree oven for 40-50 minutes or until they are dark and crunchy.

Cook at least 4 servings of quinoa according to directions on the package – this should last you a few days. Chop up some seasonal veggies for a salad and you'll have an easy, light side ready to go with any meal.

The Last Step: Set Your Meal Prep Intention
Just like your yoga practice, set your intentions before you meal prep. Have a plan, but allow yourself to get creative! Follow recipes, but use a little culinary intuition to make your meal prepping fun.

To set this intention, start by thinking about your purpose or reason for meal prepping. Maybe you want to start making healthier eating choices, or maybe you want to save money or create more time throughout your week.

Whatever your reason, meal prepping is an amazing way to keep your relationship with food healthy and enjoy the process.

Happy Meal Prepping!

This article has been read 3K+ times. Feelin' the love!