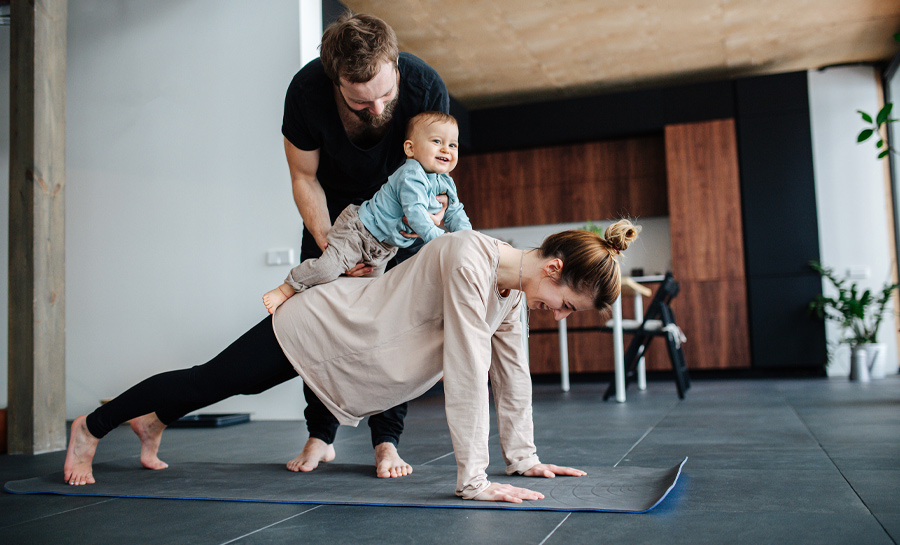 Ready to Begin Your Postpartum Exercise Routine? Read This First
After giving birth, active women tend to be especially excited for that one glorious moment when the doctor says those four magic words: "You're cleared for exercise!"
Most OB/GYNs don't offer much more information than that. But does that mean you can jump right back into whatever sweat-filled workouts you enjoyed before pregnancy? Not so fast!
What sort of postpartum exercise is healthy and what may be potentially injurious? What do you need to be aware of? Are there certain cautions you should take? There are so many questions that may arise.


Postpartum Exercise – Here Are 3 Important Things to Remember:
Remember these things when you're getting back to the mat, gym, or wherever you like to get your sweat on!

1. Strength Builds Stability
To help your body handle yoga poses or high intensity exercise, start by lifting weights, says Dr. Abby Bales, a physical therapist at Reform Physical Therapy.



A good weight-training routine that challenges the muscles by gradually increasing volume will provide a base of stability and strength for postpartum exercise. As a new mom, it will help you to take on tougher exercises, and avoid injury or damage.

2. Pelvic Floor Muscle Strength Is Vital
"OB/GYNs asses the obvious structures that come into play during pregnancy and childbirth, like the uterus, cervix, and any incision or suture sites" says Dr. Bales. "Alternatively, a pelvic floor physical therapist is trained to assess the pelvic floor musculature and treat any dysfunction."
While you might get general clearance for postpartum exercise by your OB/GYN, a pelvic floor physical therapist may clear you for postpartum workouts in stages.
For example, you may get the okay to practice Restorative Yoga, but not Vinyasa or work with body weight strength before heavier lifting. Perhaps cycling is okay, but not running. The stages vary for each individual woman.

Try this class to rebuild strength in your pelvic floor

To view this video please enable JavaScript, and consider upgrading to a web browser that supports HTML5 video

Yoga Class

With Tabor Bonde

3. Give Yourself Grace
Be gentle with yourselves, mamas! No matter what level you may have been exercising at before pregnancy, a lot of things in your body and life have shifted and changed.
This postpartum period of trial and error and learning a new routine takes some adjustment, and struggles you may be going through will end. This isn't forever!
Live by the motto: "What you can, when you can." This means even if your postpartum exercise is a slow, 10-minute stroller walk, that's great!


Postpartum Exercise: Go At Your Own Speed
Remember, there's no rush to begin postpartum exercise. Being "cleared" physically is different from being mentally ready. (Start with a few simple OMs until then!)
If you're not excited about it quite yet, it's okay to take a step back and focus on recovery. A whole lot just changed for you and postpartum exercise doesn't have to be an immediate priority.
Settle into your new mom life. When you're ready to return to your exercise routine, it will be ready for you!
Ready to jump back into yoga? Use These 7 Tips to Re-Establish Your Yoga Routine
All included information is not intended to treat or diagnose. The views expressed are those of the author and should be attributed solely to the author. For medical questions, please consult your healthcare provider.