Sun Salutation Flow for Beginners (Free Class)

Sponsored by Wai Lana
Never miss a FREE class. SUBSCRIBE HERE


Welcome to the wonderful world of yoga! When you're just beginning your yoga practice, it's important to take it slow, be safe, and enjoy the journey. Whether this is your very first Sun Salutation, or if you're still getting acclimated to the Vinyasa yoga practice, this is a great video for beginner yogis.

Sun Salutations, or Surya Namaskar in Sanskrit, are the foundation to Vinyasa flows, and we'll break down each pose in that series. Explore common yoga poses that you see in most Vinyasa yoga classes, and learn alignment techniques to make sure you're practicing them safely and correctly.

Want to learn more about the benefits of Sun Salutations and why you should practice them? Read this: 5 Important Reasons to Never Skip Sun Salutations

Learn all about proper hand placement and alignment to prevent injury, and discover different modifications and variations you can try in Sun Salutations as a way to either back off from a more challenging pose, or add on when you're ready to progress.

Follow along with yoga teacher Ashton August as she guides you through a short and sweet Sun Salutation flow geared specifically towards beginner yoga students. You'll come away feeling more confident in your poses and yoga practice as a whole.

Revisit this Sun Salutations video as often as you need to, and continue coming back to gauge your progress and build strength and endurance along the way. Have questions about anything we cover in this yoga video? Ask Ashton in the comments below!

This video is brought to you by Wai Lana. Ashton is practicing on their Eco Mat.

Shop the Mat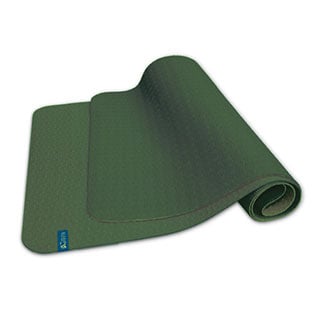 Wai Lana Eco Mat ($59)
This mat is free from latex, PVC, glues, phthalates, toluene, and chloride. It's recyclable and ecologically degradable, so it's gentle on your health and on the planet.
Shop the mat
This article has been read 20K+ times. Bada bing!

This article was brought to you by Wai Lana
Wai Lana excels at making the ancient art of yoga an easy, effective, and life-enhancing experience for anyone who practices along with her. Her 100% pure, raw noni juice is made from sun-ripened, hand-picked noni fruit grown year-round in Hawaii's rich volcanic soils and is aged to perfection for maximum potency.
You may also enjoy

There are many compelling reasons to make sure you include sun salutations in your physical yoga practice. They build physical strength and endurance...

Yogi Ram