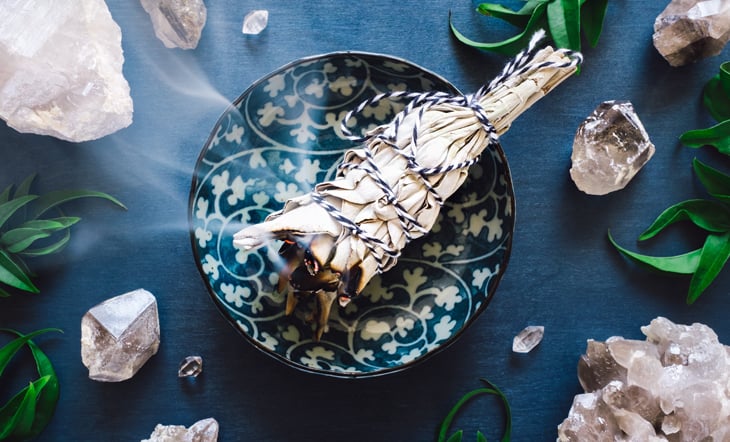 Byyye 2020!! 5 Cleansing Rituals to Let Go and Usher In the New Year
A ritual is a ceremony that makes something (a holiday, an act, or a shared experience) sacred. A cleansing ritual comes in many forms, but all can be used as a way of resetting, letting go, and moving on.
At the end of the year, it's natural to self-reflect – we think about what we did well, what we didn't, and how we can improve in the new year. Part of the process is letting go of what's not working to create space for something better.
These cleansing rituals will help you let go, move on, and step into the new year feeling reset, empowered, and ready for a new chapter!
Sometimes we don't realize the feelings, thoughts and behaviors that are holding us back. But it's these negative patterns that cause us to self-sabotage and prevent us from reaching our goals.
The good news is that you can take back control in the new year by developing habits, rituals and routines that nourish your mind, body and spirit on a daily basis . . .


Here Are 5 Cleansing Rituals to Usher In the New Year:
These cleansing rituals for the new year will help you let go, move on, and press the reset button so you can feel empowered and ready for a new chapter!

1. Declutter Your Physical Space
A clear space equals a clear mind. Research confirms that being surrounded by clutter negatively impacts our mental health, leading to higher levels of stress and anxiety.
Think about how good it feels to walk into a clean house (even if it only stays that way for an hour). You can breathe a sigh of relief knowing you don't have to stare at a messy closet or your kid's toys spread all over the living room floor.
Having an organized living space not only gives you a sense of accomplishment – it also promotes feelings of relaxation.
Bottom line: your external environment is a reflection of your internal one. So, keeping your home tidy is a win-win for you and your family's overall wellbeing in the new year.
Bonus ritual: Make it a ritual in the new year to declutter and cleanse your space on a regular basis. Speaking of cleansing your space . . . this brings us to #2!
Get Rid of These 25 Things to Declutter Your Life


2. Burn Sage
If you really want to get the good vibes and positive energy flowing, burn some sage after you've finished decluttering.
Sage has been used for millennia to open or close a ritual and literally cleanse the air by raising the vibration of any space.
Sage is filled with antimicrobial and antibacterial properties, and interestingly enough, is scientifically-proven to improve mood and alleviate stress.
Just like burning incense or brewing a pot of tea, burning sage can be more than just a means to an end of clearing a space. In addition to that, it can also be a beautiful cleansing ritual for the new year (and anytime!).
Bonus ritual: Make your own sage bundle!
Make Your Own DIY Floral Sage Bundle to Cleanse Your Space (Step-By-Step Photo Guide)

3. Write Down Your Reflections
Reflect on what you want to release and where the source of your struggles from the past year have stemmed from. It can be anything from a bad habit to a toxic relationship.
Although it may feel uncomfortable at first, this ritual requires tapping into some dark, intense feelings. Think of putting your thoughts on paper as a mental purge.
There's no right or wrong way to do this. The only thing to keep in mind is: don't overthink what you're writing. This should be stream of consciousness and letting your emotions flow on the page.
Bonus ritual: Perform a burning ceremony with the paper once you're done (in a fire safe receptacle of course!) to further solidify what you're letting go of.
Performing a burning ceremony? Read this first: Here's How to Perform a Burning Ceremony (Step-By-Step Guide)


4. Wash Away 2020 – Literally
Ready to wash away 2020?! Nothing beats soaking in a warm bath after a long day (or year!!), and Epsom salt is great for exfoliating. It also contains magnesium, which helps with stress reduction and relieving tension.
Consider adding essential oils to your bath for aromatherapy. There are also many health benefits of essential oils. And a little goes a long way – all you need is a few drops.
Bonus Ritual: Make your own DIY bath soak!
Here Are 5 DIY Bath Soak Recipes You've Gotta Try

5. Practice a Letting Go Meditation
Find a quiet, relaxing place and set the tone by lighting a candle or maybe burning incense or playing soft music. If you have crystals, you can incorporate them into this ritual by placing them near you for extra energy healing.
Want to Learn More? Check out this Guide for Healing Crystals!
Take a seated position, get comfortable and close your eyes. Get centered with 5-10 deep breaths, breathing in through your nose and out through your mouth.
First, bring your attention to any areas of tension in your body. Mentally focus on those areas and imagine a soothing white light shining over you. Try to feel the warmth of this cleansing light. Inhale and exhale slowly 10 times.
Next, turn to any negative thoughts and emotions. Now that your mind is quiet, notice the emotions that may be surfacing. Fear? Anxiety? Grief?
Let the negative emotion pass through and imagine breathing in space for new beginnings with every inhale, and then letting go of any negative emotions weighing you down with every exhale.

Turn It Up a Notch and Practice This Yoga Class to Let Go
Join YouAligned and YA Classes founder Ashton August as she guides you through a powerful yoga flow designed to help you let go and move on.
Yoga Class
With Ashton August
Byyyye 2020! These Cleansing Rituals Will Help You Usher In a New Chapter
This year has been hard on all of us. End it on a positive note with these cleansing rituals for the new year and take the necessary steps to let go, move on, and step into the new year feeling reset, empowered, and ready for a new chapter!
Using these cleansing rituals, you can get rid of what's standing in your way and manifest the life you want in 2021!
This article has been read 1K+ times. Feelin' the love!