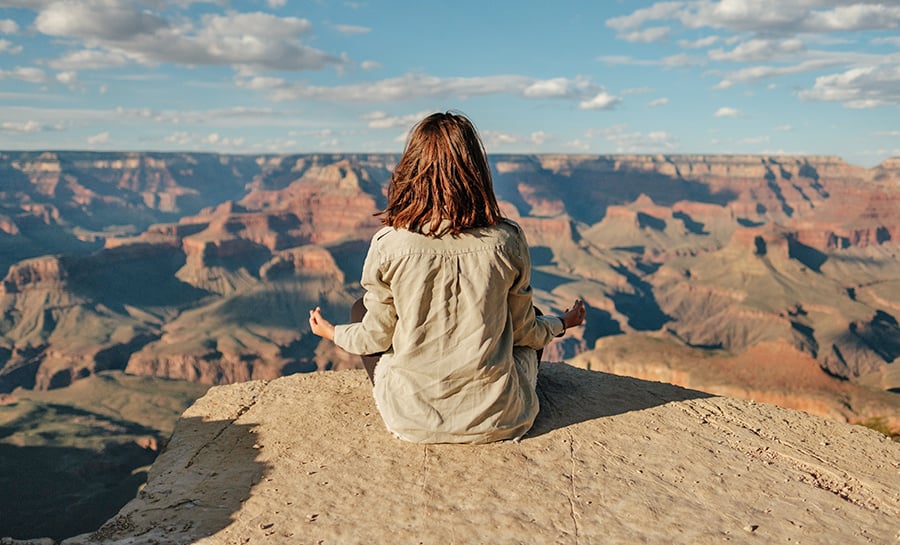 5 Ways to Use Nature to Stay Grounded
Nature is peaceful, nature is calm, nature is grounding, nature does not judge, nature just is. Nature is an endless and gracious teacher. To get grounded, we must immerse ourselves in nature and observe the ways in which we can draw inspiration from its calm and grounding energy.
Being grounded is a popular phrase in the yoga community. While it may sound like you have to lie on the ground to achieve this – it is much less literal than that. It is more of a state of being.

"Look deep into nature, and then you will understand everything better." – Albert Einstein

In our modern society, we constantly deal with the pressure of daily life and its inevitable obligations and to-do lists. The stress and lack of feeling grounded and centered stems from spending so much time indoors, behind desks, and staring at computer screens.
It's so important that we all take time to step away, step outside, and get back to our roots . . . literally!


Get Out in Nature to Get Grounded With These 5 Tips:
1. Take a Nature Walk
This sounds simple, but it's actually quite spectacular. Just take a walk! Throw on your walking shoes or go barefoot and joyfully immerse yourself in nature. As you walk, observe the beauty around – the swish of the wind in the trees, the different colors of plants, the soft dirt or crunch of leaves, and sounds of birds singing.
Allow your mind to take a break as you mindfully bring your awareness to all your senses – the green that attracts your eyes, the smell of plants, the warm sun, or the cool breeze on your skin. Breathe in the beauty and you'll soon feel all your modern-day stresses slip right off your shoulders.

2. Meditate Under a Tree
When we take the time to slow down and connect with nature, we invite nature to connect with us. Find a tree to meditate under and breathe consciously or try a pranayama practice. Begin to notice the way the tree moves with the wind, the bugs crawling on it, and the firm roots.
As you focus on the movements and behavior of the tree or plant, also keep your focus on your breath – and open your heart and mind to absorb the peace and wisdom of nature. This is an excellent meditation in nature, but can also be done if you're stuck inside – all you need is a little imagination.
New to Pranayama or Conscious Breathwork? Watch this: Guided Pranayama and Mindfulness Meditation for a Calm and Peaceful Mind.


3. Get Dirty
Connecting with the earth can be a very beneficial therapy technique. Touching soil with your bare feet and hands transfers healing microbes to your body – and helps boost your immune system, ease stress and tension, and promote happiness and a sense of well-being.
Studies have shown that Mycobacterium vaccae can improve the gut-brain connection as the microbes are transferred from the earth to your body.
Why do you think people enjoy gardening so much (#5 below)?! It is not only a calming and meditative activity, but you can literally become happier and healthier from touching the earth.

4. Do Yoga in Nature
Yoga on its own is a life changing practice, but when combined with nature, it can be truly transformational. When practicing yoga in nature, you get to experience a sense of calm and a deep connection with nature that just doesn't happen (usually) at your local studio.
Most of the time in our practice, we are working to train our minds and bodies to be calm and move with ease. When applying this framework in a beautiful and serene backdrop, it is hard to go wrong. While you move, breathe in the air, observe the colors, and experience the calm of your environment to get grounded.
Deepen your roots while practicing yoga in nature! Read this: Tune into Your Body with These 9 Grounding Yoga Poses

5. Grow a Garden
Gardening is another extremely therapeutic practice and you can incorporate tools #1, #2, and #3 into your gardening as well! Tending to a garden is a very rewarding experience. It takes time and energy but the health benefits are overwhelming.

"The glory of gardening; hands in the dirt, head in the sun, heart with nature . . . to nurture a garden is to feed not just the body, but the soul." – Alfred Austin

Gardening is a great way of exercising both the body and mind. The act of taking care of something outside of yourself can have a positive effect on your mood and overall feelings about your life. Not to mention the benefits of harvesting your own food. Plant your seeds and watch them grow along with your roots.

Bonus Tip!
Grounding is literally the act of putting your bare feet on the Earth. It is an immensely effective (and fast!) way to connect to nature's grounding and calming energy. The positive ions from the earth recharge your own energy. It feels incredibly comforting and only takes a few minutes.
If you have access to grass or dirt, that's best! But even concrete is a natural material that works for grounding. Take your socks and shoes off, connect your feet (or you can sit down) to the bare earth and simply breathe deeply.
Whether you spend 30 seconds, 3 minutes, or 30 minutes, you will feel the benefit. Repeat this practice often. 🙂
Nature Is Calling! Ground Yourself and Get Back to Your Roots
These tips can help you emulate the plants, animals and forces that surround us. When we are grounded and cultivate inner peace in our lives, we inspire others to turn to nature (and themselves) for guidance, inspiration, and all the lessons we could possibly need to make it through life.
Go to nature and revel in the beauty! Something as simple as putting your bare feet on the earth or tending to a garden can work absolute wonders for you mind, body, soul – or in other words, getting out in nature is so healing, calming, and comforting for your health and overall wellness physically, mentally, emotionally, and spiritually.
This article has been read 970 times. Share it and spread the love!