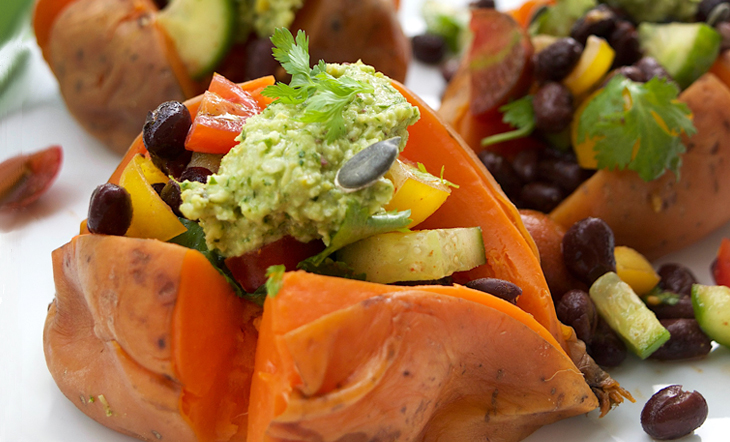 Black Bean Salsa-Stuffed Sweet Potato Recipe (You Can Start Drooling Now)
You really can't go wrong with the versatility, nutritional value, and fan favorite: black bean salsa.
Pair it with coriander coconut pesto (or store-bought pesto – no judgment here!) and stuff it all into roasted sweet potatoes, and you've got a deliciously healthy breakfast, lunch, or dinner recipe!
With creative options (see the Pro Tips section below) to add chili (for the meat or spice lovers), Greek or coconut yogurt (for the vegans) and more fun ways to make this into a yummy breakfast or customize to your specific preferences, this sweet potato and black bean salsa recipe is sure to please – and nourish – everyone.
While this plant-based recipe does require a longer cooking time for the sweet potatoes, it's simple and fun to whip up, and you can keep revisiting it to explore all the ways you can change this recipe up (and adapt for different meals or eaters!).


Enjoy This Savory Black Bean Salsa Stuffed Sweet Potato Recipe:
Serves 2 as an entree, or 4 as a side dish

Ingredients for the potatoes:
For the black bean salsa:
12 cherry tomatoes, quartered
½ cucumber, finely chopped
2 Tbsp. coriander leaves, chopped
¾ cup cooked black beans
1 Tbsp. olive oil
¼ tsp cumin
¼ tsp smoked paprika
¼ tsp salt
⅛ tsp cayenne pepper
For the coriander coconut pesto:
2 cups coriander leaves
½ cup pistachio nuts
1 cup desiccated coconut
¼ cup lime juice
¾ cup coconut milk
½ tsp salt
⅛ tsp cayenne pepper
Preparation
Preheat the oven to 200 degrees.
Wash the sweet potatoes and score each one with a cross on the top. Place each potato in foil and smear a little coconut oil on top along with a sprinkle of salt. Wrap each potato up and place on a baking tray. Bake for 50-60 minutes until soft (you can check by peeling back the foil and slicing with a knife).
For the salsa, mix everything together in a large bowl, and season to taste.
For the pesto, in a small blender or food processor, blend everything together until relatively creamy – a little texture is ok but it should be well mixed through.


Pro Tips for Your Black Bean Salsa Sweet Potato Recipe
If you are pressed for time or prefer to skip making your own pesto, you can choose to use a store-bought pesto instead.
If you love chili, or for the meat eaters, feel free to add some to the salsa to spice things up!
These stuffed sweet potatoes are also delicious with a dollop of Greek yogurt – or for the vegans, try a natural coconut yogurt – on warmer days.
Just can't get enough nutritious and delicious sweet potato recipes?! Try This Savory Sweet Potato Breakfast Bowl With Turmeric Granola (Recipe)


Enjoy This Satisfyingly Savory Sweet Potato and Black Bean Salsa Recipe – YUM!
These stuffed sweet potatoes make an easy lunch, a tasty dinner, or even a great side dish for a hearty breakfast.
To serve, remove the potatoes from their foil and place on plates. Place a large spoonful of the salsa inside each and then top each with a good teaspoon of pesto.
Don't love one of the ingredients? Swap it out for something you do love! Want to make this for breakfast? Scramble a few eggs and make a healthy spin on the classic huevos rancheros! Or whip up a simple side salad to make a unique and well-rounded dinner.
As with any recipe, have fun experimenting in the kitchen and make it your own. Enjoy!
This article has been read 176 times. Share it and spread the love!