This Overnight Carrot Cake Breakfast Bowl Takes 5 Minutes to Prep (Recipe)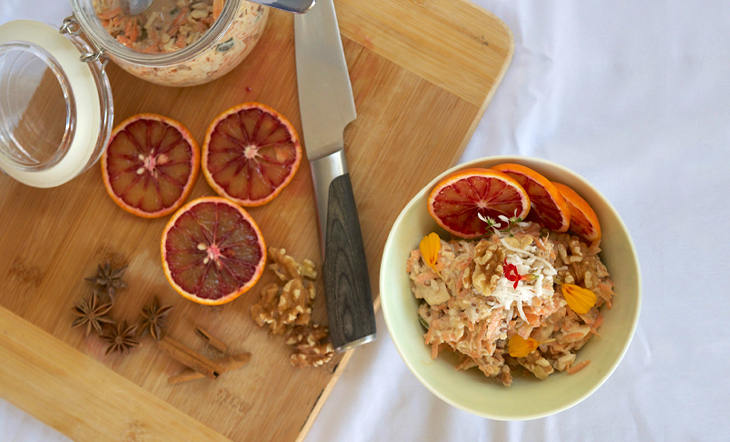 This overnight carrot cake breakfast bowl recipe is mouthwateringly delicious and takes just minutes to prep. Perfect for any time of year, this recipe is oh-so-simple and doesn't require a lot of time or energy to make.
Similar in preparation to the increasingly popular overnight oats breakfast trend, you simply mix all the ingredients together, place in a covered container, and allow to soak overnight (hence the name!).
Looking for the Perfect Easy Breakfast? Try These 7 Overnight Oats Recipes
In the morning, take your carrot cake breakfast bowl out of the fridge and voilà! You have a decadent yet healthy (and raw and vegan!) breakfast that you can enjoy either warmed up or cold.
Need we say more?


Here's How to Make Your Own Overnight Carrot Cake Breakfast Bowl:
Serves: 1 (if you'd like to make two servings, simply double all ingredients below)
How does carrot cake for breakfast sound? This delicious breakfast bowl is entirely raw and vegan, yet the spices of cinnamon, ginger and nutmeg also make it a warming and grounding dish.
This healthy breakfast recipe is fast to make and while the combination may sound unique, this overnight breakfast bowl recipe is an incredibly delicious and nutritious way to start your day!
Carrot Cake Breakfast Bowl Ingredients:
1 large carrot, washed and grated
1 Tbsp. walnuts, roughly chopped
1 Tbsp. desiccated coconut
1 Tbsp. almond flakes
¼ tsp cinnamon
¼ tsp nutmeg
¼ tsp ginger
1 Tbsp. sultanas (or raisins)
1 tsp flax seeds
1 tsp amaranth
½ cup rolled oats, raw
1 cup almond milk
1 tsp maple syrup
Breakfast Bowl Preparation:
Simply mix all of the ingredients together in a large bowl and place in a covered container in the refrigerator to soak overnight.
In the morning, mix everything together again. Pro tip: you may choose to add a little more milk if it has absorbed all the liquid. Place in a bowl and top with a little extra coconut and walnuts.


Your Overnight Carrot Cake Breakfast Bowl Is Ready!
This recipe takes just a few minutes to prep and will keep soaked for 2-3 days in the fridge. If you love it and want to have extra on hand for the rest of the week, you can double or triple the ingredients.
Have fun adding your own spin to this healthy breakfast recipe by experimenting with adding different fruits or other toppings. Enjoy your delicious, warming breakfast bowl!
This article has been read 598 times. Share it and spread the love!