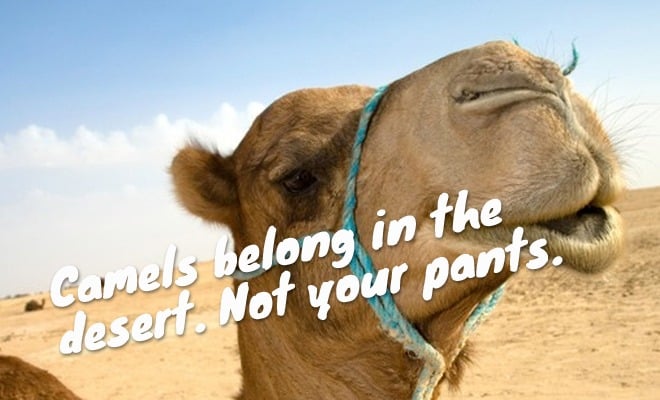 Camel Toe Be Gone! 3 Ways to Look Better in Yoga Pants
The frontal wedgie otherwise known as camel toe is all too common when it comes to wearing yoga pants. We have found 3 ways to help get rid of this fashion faux pas and we want to share them with you.
1. The Cuchini
The Cuchini is a reusable, lightweight and comfortable pad that adheres to undergarments and clothing with clear fashion tape to eliminate what is commonly known as Camel Toe. You can get them here.

2. Camelflage
These aren't your ordinary panty, they were specifically designed to smooth out your feminine parts under tight clothing like yoga and exercise pants, leggings and yoga shorts. These panties were specifically designed to let you wear the clothes you want without worrying about how your private area looks in downward dog. Camelflage panties come in two styles: thong or briefs, and in three colors: raspberry. black, and nude.  At $20 with free shipping they are definitely worth a try. camelflage.com
3. Proper Fit 
Last but not least, your pants may be too small or the waist maybe too low. Try going up a size in your yoga pants. Yes, yoga pants should be tight but not as tight as leggings. You can also try getting a pant with a higher waist line. This will keep you from wanting to pull up the pants to cover your butt crack.
Most importantly, we are all beautiful beings! Embrace your body, love yourself and be you!
This article has been read 30K+ times. Bada bing!