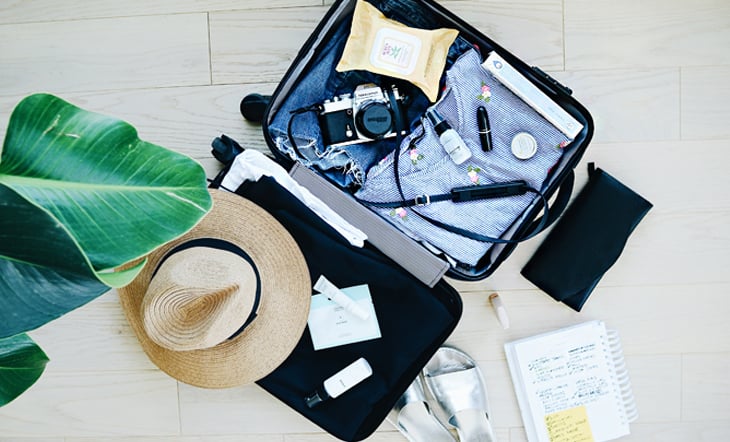 Travelers: Use These 7 Packing Tips to Ditch the Checked Bags and Only Use Carry-Ons
Summer is here, and with it comes summer vacations! Whether you're headed to the beach or the mountains, packing tips so you skip the checked bags are like first class upgrades.
Trying to get all your items into one suitcase can seem like a bit of a puzzle. And trying to pack with only your carry-ons may seem like an even bigger challenge if you're headed somewhere for more than a few days.
But the convenience of traveling with carry-on luggage doesn't mean you can't have everything you need.
To pack with your carry-on luggage, you'll want two bags: a duffel or overhead bin size roller bag, and a medium size backpack that will fit under the seat in front of you. If you carry a purse, then be sure to allow room in your backpack to stash your purse so you still have only two bags.


Pack Like a Pro With These 7 Carry-On Packing Tips:
Follow these packing tips and pack for up to two weeks using only your carry-on luggage.

1. Make A List
This may seem overly simple, but before you pack anything, make a list.
Include how many days and types of clothes you need to pack, any specialty items you need for day trips, toiletries, medicines, swimwear, books, games, and anything else you intend to take.
Using a list helps to keep your items condensed and keeps you from throwing stuff in because you think you might need it.
Traveling solo for the first time? Read 8 Solo Travel Tips for Women – Read This Before Your Next Adventure


2. Pack Merino Wool Clothing
Don't worry – this is not the itchy wool that your grandmother used to knit socks out of for Christmas each year.
Merino wool is a natural fiber collected from the Merino Sheep. It's thinner and softer than regular wool, making it itch free and almost silky in feel. Since it's a natural fiber it is odor resistant, temperature regulating, and quick dry, making it the perfect travel clothing choice.
Merino shirts can be worn for multiple days, and still not stink. I average 3-4 days per shirt even on active days, and I sweat a lot. Friends with normal sweat glands can stretch that to 5-6 days.

Since Merino wool is a natural fiber it is odor resistant, temperature regulating, and quick dry, making it the perfect travel clothing choice.

Grab a couple of merino shirts and one sweater for your trip, and you can easily cut your clothing needs down to a few items. Merino clothing comes in different weights. Choose a light weight for warm locations and a heavy weight to stay warm in cold climates.

3. Use Packing or Compression Cubes
Packing cubes are like magic to help you stay organized and fit everything you need into your luggage. Stay with small and medium sized cubes, and upgrade to compression cubes if you have a few extra dollars to spend.
Cubes keep things from sliding around when you pack, allowing you to use your space better and pack more efficiently.
If you're headed somewhere cold and need to pack thermals and jackets, then use travel space saver bags. They don't need a vacuum to work. Simply add your clothing, zip the bag, and roll up to squeeze out all the air. They work wonders on down jackets and pants.
Long Flight? Practice These 9 Yoga Poses in Your Plane Seat to Soothe Your Sore Body


4. No More Than Three Pairs of Shoes
I've seen people travel with a second suitcase before, just for shoes. For most trips, three pairs of shoes are all you need.
Bring along a multi-purpose pair of sandals. Something that you can walk in, wear to the pool, or use in the shower if you're camping. Grab a pair of walking or hiking shoes to wear throughout the day while on adventures.

For most trips, 3 pairs of shoes are all you need.

The third pair is up to you. Maybe something a bit nicer to wear for dinners out, or a back-up pair of walking shoes.
Once you've selected your shoes, pack the two smallest, and wear your bulkiest pair on your travel day.

5. Only Two Electronic Devices
At home we are surrounded by tv's, laptops, desktops, e-readers, cell phones, game systems, tablets and more. But you don't need to take all these with you on vacation, particularly if you're hoping to disconnect and relax some while traveling.
Select two electronics to take with you. What do you have that can multipurpose? Can your tablet also work as your e-reader? Or your cell phone as your camera?
Not only will cutting down to two electronics take up less space in your bag, but it also saves you from packing a tangled mess of cords and makes you less of a target for theft.

6. Use Solid Hygiene Products
The liquid limit for flights can make traveling with just a carry on a bit challenging. To work around this, opt for solid hygiene products. Solid or bar forms are available in soap, body lotion, shampoo, conditioner, shaving cream, deodorant, toothpaste, sunscreen, and even cologne.

Before you start packing, be sure to check your airline carry-on suitcase size and weight restrictions.

Solid conditioner can be a bit tricky if you've never used it before, so you might want to give that a try or two before your vacation. Laundry detergent also comes in sheet form. Grab a single sheet, slice it into three or four strips, and put it in a baggie for hand washing items if needed in a sink.

7. Skip The Denim
Denim is heavy, bulky, and doesn't condense well for packing. Instead, pack pants or jackets made from lightweight, wrinkle resistant, and quick dry material.
Many hiking pants fit this description, and several brands offer hikers that look like street pants or leggings. If you can't imagine traveling without your favorite pair of jeans, then wear them on your travel day to save room in your luggage.


Pack Your (Carry-On) Bags – It's Go Time!
One last tip. Before you start packing, be sure to check your airline carry-on suitcase size and weight restrictions. Most airlines follow standard sizes, but there are a few outliers.
Stick with these packing tips, and you'll fit everything you need into your carry-on luggage making your travel day a breeze and your summer vacation your best one yet.
This article has been read 296 times. Share it and spread the love!