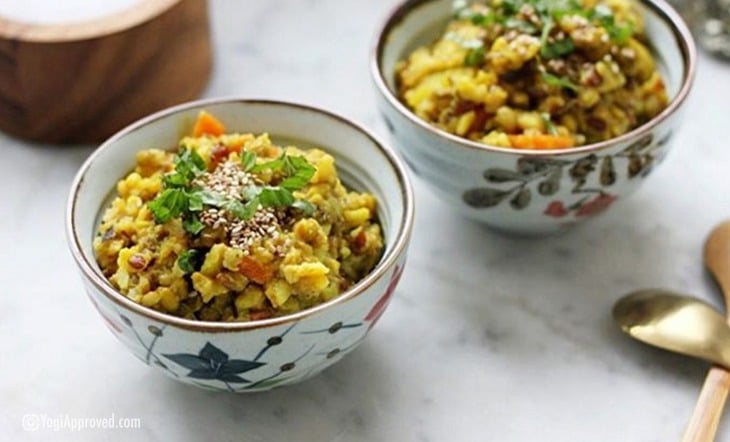 Easy Kitchari Recipe for an Ayurvedic Detox
One of the best things you can do to begin the repair your intestinal skin and optimize your digestion is to make yourself a big ol' batch of Kitchari – the Ayurvedic mung bean porridge that's so easy to digest it was once used as baby food.

Kitchari is filled with a synergistic combination of Indian spices that actually repair your digestive tract while also helping you detox.

Split yellow mung beans have amazing health benefits – including anti-flatulence factors – so no gas with this bean! The ghee (clarified butter) in kitchari has the most butyric acid of any food on Earth, which is a fatty acid that has super nourishing qualities for your digestion.

Eat this simple dish to help your body cleanse and detoxify the Ayurvedic way. Eating kitchari also helps fortify your digestive system for healthy digestion.

Ingredients you need for this recipe:
1 cup dry mung dal
1 cup basmati rice
5 cups water
5 cups assorted seasonal veggies of your choice (sweet potatoes, carrots, zucchini, and cilantro are all great options)
3 tbsp. ghee
2-inch piece of fresh ginger root, minced
1 tbsp. turmeric
1 tbsp. cumin
2-3 tsp. black mustard seeds
2-3 tsp. fennel seeds
2-3 tsp. mustard seeds
½ tsp. ground coriander
½ tsp. black pepper
2-3 tsp. sea salt
1 strip of Kombu (edible kelp)
Dash of cinnamon
Cooking instructions:
Wash and soak mung beans in water overnight. Melt ghee in a large skillet and add all seeds. Cook over medium heat until they start to pop. Add remainder of spices, ginger, and mung beans. Stir to combine.



Now, gradually add the water and then vegetables. Gently stir everything together. Bring water to a boil and then lower heat, cover and let simmer for another hour or so.
Season with sea salt and garnish with cilantro or parsley.

Enjoy!

If you find yourself with leftovers, why not add canned tomatoes with their juices into a stockpot to enjoy a kitchari soup? Just chop up some fresh herbs like cilantro and parsley and you've got a warming stew!

The combination of all kitchari ingredients has a simply amazing effect on your system, helping to repair the intestinal skin in the process. This is one easy way to start on your journey to better digestive health. Upgrade your digestion the Ayurvedic way, and gain control of your health on your own terms!

Featured image via: @heartybite
This article has been read 20K+ times. Bada bing!