12 Diverse Beauty + Health Uses for Turmeric You Want to Know About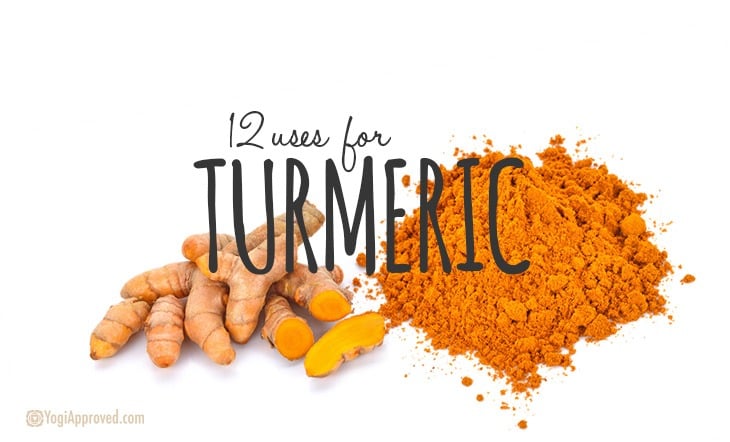 The uses of turmeric are more vast than you may realize. . . This antioxidant-rich spice is known to help with a wide array of diseases by reducing inflammation. Turmeric can also be used as a beauty hack for beautiful, even skin, white teeth, and more.
Some people even use turmeric to help with cognitive function – mind-blowing, right?!
Curcumin, the main ingredient in turmeric, is the magic component that makes the spice highly therapeutic. Finding ways to implement turmeric into your diet is extremely beneficial for your body and mind.
Read on to find out why . . . along with all the ways you can use turmeric.


Here Are 12 Amazing Uses for Turmeric:
Turmeric is versatile. You can use it for beauty, skincare, and wellness. For easy reading, we've divided the uses into two main categories: beauty and health.

Turmeric for Beauty:
1. Anti-Aging
Consuming turmeric can help put the brakes on aging. Turmeric tea has become an increasingly popular method of anti-aging that is most commonly used by Okinawa natives, who are known to have the world's longest average life span.
Look for curcumin in anti-aging supplements and drink up the benefits!

2. Dandruff
If you have a flaky scalp, 1 tsp. turmeric combined with 2 tbsp. olive, jojoba or coconut oil can be used to decrease dandruff. In fact, massaging this mixture into your scalp will improve any scalp condition.

3. Makeup
Want to create a flawless finish? Adding a small sprinkle of powdered turmeric to your favorite tinted moisturizer, foundation or bronzer will achieve a perfect glow that matches your unique skin tone. Women in India have been using this beauty secret for decades.

4. Soap/Lotion
These two go hand-in-hand and are among the easiest ways to implement turmeric into your daily routine. Add a bit of turmeric to your favorite soap/lotion brand or homemade recipes for a luminous tint that soothes and evens out skin tone.
Turmeric is often used in lotions and soaps to reduce inflammation caused by acne, eczema or psoriasis.

5. Teeth Whitening
Want a brighter smile? Sprinkle some turmeric on your favorite toothpaste or add it to your homemade toothpaste or whitening recipe for whiter teeth.

Turmeric for Wellness
6. Alzheimer's Disease
Studies show that curcumin has the potential to prevent and treat Alzheimer's.
With the ability to clear amyloid plaques, a key component of the disease, curcumin has been shown to improve overall memory by crossing the blood-brain barrier of Alzheimer's Disease.

7. Arthritis
Studies have shown that turmeric is an effective natural treatment for osteoarthritis and rheumatoid arthritis.
Individuals who consume the spice regularly experience substantial relief from mild to moderate joint pain and inflammation. In some cases, turmeric has been proven to be more effective than anti-inflammatory drugs.
Try This Turmeric Liquid Gold Latte Recipe to Reduce Inflammation

8. Help Prevent Cancer
Curcumin has been shown to help prevent cancer. Curcumin can stop the growth of and destroy cancer cells as well as radiation-induced tumors. The spice may soon play a vital part in the fight against cancer.

9. Depression
Thought turmeric was only beneficial for your body? Think again. By reversing some changes that depression causes on the brain, studies show that curcumin can be an effective antidepressant.

10. Diabetes
When treating diabetes, turmeric can boost the effects of certain medications by helping to moderate insulin levels. The spice has even been shown to prevent the onset of Type 2 diabetes in some cases.

11. Heart Disease
Studies show the vast benefits of curcumin for cardiovascular health. Heart disease spans many levels, but is most associated with its ability to improve the function of the endothelium, the dysfunction of which is the major driver of heart disease.

12. Liver Diseases
Turmeric can protect the body from some liver diseases, according to studies. Curcumin has been shown to prevent and reverse liver damage that can eventually lead to cirrhosis.


The Benefits and Uses of Turmeric Are Vast!
Adding turmeric to your diet can truly evolve your inner and outer beauty on so many levels.
From beauty to physical and mental health, the wound healing, immunity-boosting spice is extremely beneficial for all aspects of life.
Turmeric is considered one of the most effective nutritional supplements, and with almost no calories (1 tablespoon = 24 calories) and zero cholesterol, implementing turmeric into your daily diet is a no brainer!
This article and all included information is not intended as medical advice and does not treat or diagnose. Please consult your doctor for any health-related questions or concerns.

This article has been read 932 times. Share it and spread the love!