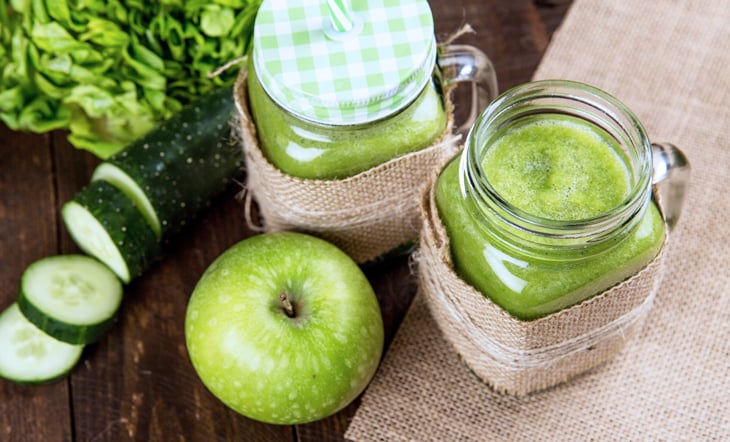 This Easy Green Juice Recipe Is Hydrating, Energizing, and Nourishing
Looking for a boost in energy? Need to hit the nutrition-packed reset button? Look no further than your daily dose of green juice! This green juice recipe is hydrating, energizing, nourishing, and delicious.
Just as green smoothies enjoyed their time in the proverbial sun, green juice is back in action to help us shine our brightest! Cue Lizzo's hit Juice: "If I'm shining, every body gonna shine!"

Green juice has loads of vitamins, minerals and antioxidants and can also improve digestion so you feel lighter and more energized throughout the day.

Celery juice, in particular, received some great PR over the last few years, encouraging health seekers everywhere to load up their mornings with a daily dose of its juicy goodness.
Celery Juice: Just a Health Fad or Here to Stay? What You Need to Know About This Wellness Trend
Check out my green juice recipe below; a mixture of roots, fruits and veggies that will leave you with green delight! As a yoga instructor and wellness advocate, this is a staple in my daily diet.


Make Your Own Green Juice Recipe! Here's How:
Yields two 16 oz. juices

Ingredients:
1 bunch of celery
1 cucumber
3 Granny Smith Apples
1 lemon
1 lime
1 green Jalapeño
1 cube of Ginger root
Cayenne pepper, for garnish (optional)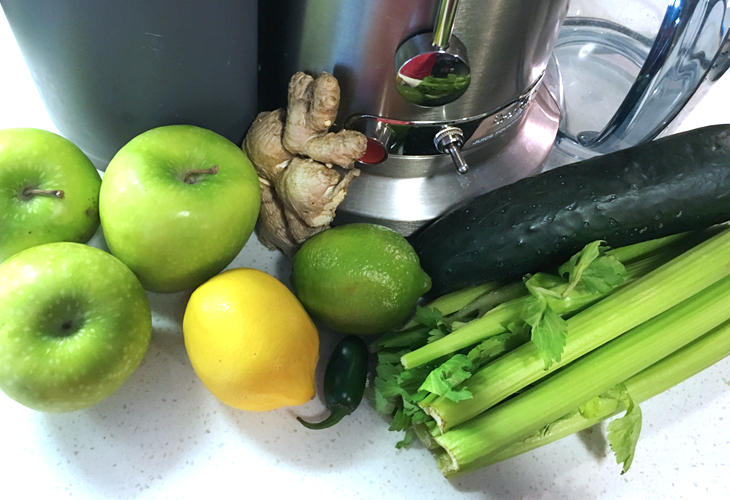 Both celery and cucumber clock in at 95% water, keeping calorie count low and hydration levels high! Apples are also low in calories and super high in hydration with 85% water content. Plus, green apples add a bit of sweetness to your bevvie too!




Citrus, like lemons and limes, add a tart flavor and refreshing quality to any juice. Citrus fruits also pack a punch with nutrients; increasing the good cholesterol levels while decreasing the bad cholesterol in our systems.
Finally, the jalapeño, ginger and cayenne pepper are all nutrient-dense ingredients and they add a bit of kick to help you kickstart and energize your day!
All of these powerhouse ingredients combine to make the ultimate nourishing, energizing, and hydrating green juice recipe. YUM.

Green Juice Recipe Prep:
Clean all your vegetables
Chop ends off celery stalks, cucumber and jalapeño
Core and slice green apples
With a vegetable peeler, peel rinds off lemons & limes
Follow These Juicing Instructions to Enjoy Your Green Juice Recipe:
1. Load juicer with celery, cucumber, apples, jalapeño, ginger root
2. Finish juicing with lemon & lime to capture the final citrus flavor
3. Pour juice into two 16 oz. glasses, garnish with cayenne pepper for added spice
4. Enjoy your delicious green juice boost!


Juice Your Way to a Greener Life
Juicers are easy to find but not always economically viable. I received my juicer as a gift one holiday and I consider it to be one of my most prized possessions to this day. You can find juicers on Amazon and at local retailers.
A cold-pressed juicer never heats the ingredients and ultimately, yields more juice for optimal nutritional value. I love that I can create my own recipes and avoid excess waste.
Don't have a juicer at home? You can order a similar green juice recipe at a local juice bar near you.
Remember to purchase glass bottles over plastic bottles and opt for compostable packaging over single-use plastic whenever and wherever possible. That's going green for you and for the environment!
Want to kick it up a notch? Try a one- to three-day juice cleanse and tap into your own vibrant energy!
I Did A One-Day Juice Cleanse – Here's What Happened
No matter how you get your green juice or how frequently you drink it, your body will certainly thank you for gifting it with all its green goodness. May this juice recipe bring you lots of green delight!
This article has been read 633 times. Share it and spread the love!