3 Busy Bee Breakfasts to Fuel Your Day
Of course everyone knows that breakfast is the most important meal of the day. Despite the scientific evidence that proves breakfast is necessary to power you through the day, everyone has at some point found themselves skimping on this crucial meal, and rushing out the door with nothing more than coffee in a travel mug.
You should never have to miss out on a healthy breakfast! We've compiled 3 quick and easy, nutritious and delicious breakfast recipes for the busy bees all over:


1. Avocado toast with a twist:




Avocados are one of those 'healthy fats' that taste amazing and nourish your body too. Pick your favorite choice of toast (for example Ezekiel toast, packed with nutrients, gluten free, and full of energy), spread your ripe avocado with a butter knife, and enter the twist: crushed red pepper flakes. Not only does the red pepper add a burst of flavor, it will also give your metabolism a boost to kick start your energy as well.


2. PB&B: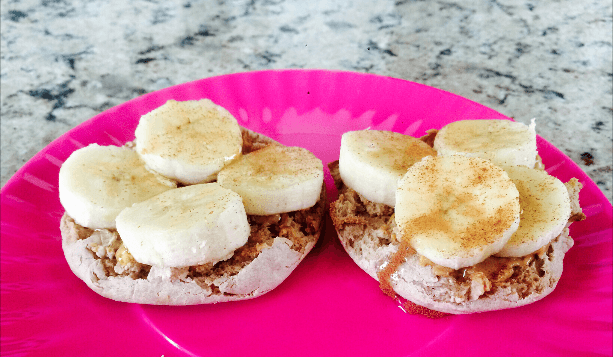 Everyone knows that peanut butter and jelly is a classic, but we also have an ongoing love affair between peanut butter and bananas. Again, your choice of toast, smear with peanut butter, and place your desired amount of banana slices on top. For extra sweetness, drizzle your PB&B with a little bit of honey. Bananas are fueled with potassium, which almost guarantees they will hold you over until lunch and keep you fueled through the first part of your day.




3. Overnight oats:




Overnight oats are an exciting addition to the breakfast menu. This may be your quickest option of the breakfasts since you prepare it the night before. This particular recipe is a banana and peanut butter variation, but overnight oats allow you freedom to substitute alternative ingredients instead. Switch it up and play around until you find one that makes your taste buds smile.

Here's our top choice:
• 1/3 cup of oats
• 1 cup of almond milk
• 1 smashed banana
• 1/4 teaspoon of pure vanilla extract
• 1 tablespoon peanut butter (add in morning)


What we love most about these oats is you don't even have to heat them! The breakfast truly is as simple as mixing up all the ingredients the night before in a bowl, place in the fridge overnight, add in your PB in the morning, mix it all up, and enjoy!
"Their quick preparation time makes it impossible to skimp on breakfast"
These quick 3 breakfasts are jam-packed with energy and nutrients to keep you fueled on even the busiest of days. Their quick preparation time make it impossible to skimp on breakfast- between being hassle free and mouth-watering, what more could a busy bee want?

Which one will you try first? Enjoy!!

This article has been read 1K+ times. Feelin' the love!