Darn Delicious Protein Power-Fuel Pancakes (Recipe)
Eating protein in the morning helps keep you fuller longer and supplies your brain with the amino acids it needs to function optimally. Plus, if you combine protein with carbohydrates, you'll give your body even more lasting, sustained energy throughout the day.

This pancake recipe provides the perfect combination of fiber and protein, giving you the fuel you need to power through your workout, or whatever the day brings.

These pancakes are so tasty and tender, you will be eye-rolling with tastebud ecstasy the minute they hit your mouth. Customize your power protein pancake recipe any way you'd like – almond butter, bananas, berries, or maybe just classic maple syrup.

Recipe makes enough for 12-15 pancakes


Ingredients:
6 eggs
2 cups cottage cheese
2 cups rolled oats (gluten free, if necessary)
½ cup almonds
2 scoops vanilla protein powder

Heat your griddle or frying pan while making the batter. Place all ingredients, liquids first, in a high speed blender. Pulverize on high speed until a thick, smooth batter is produced.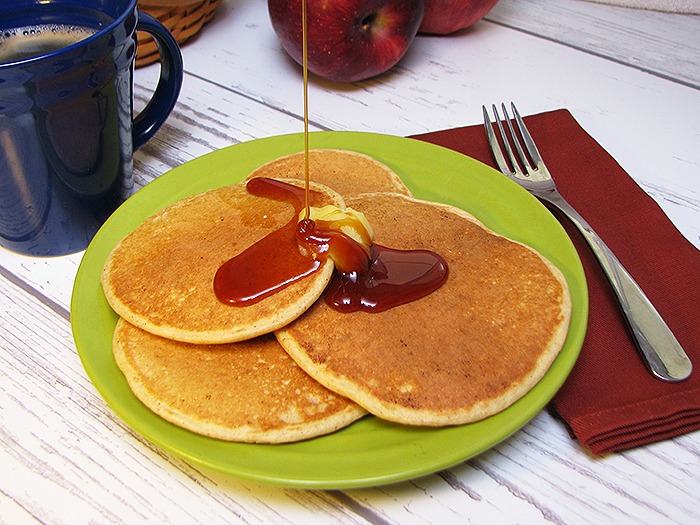 Lightly coat griddle with oil (we recommend using coconut oil). Pour batter, forming medium sized pancakes. Flip when small bubbles form. Cook another 3-4 minutes. Remove to plate and top pancakes as desired.



Pancakes are the ultimate breakfast food. You can even freeze these power-filled, protein-packed hot cakes so that you can enjoy them later when you don't have a lot of time. Make a big batch on Sunday and you are set for the week! Enjoy this healthy and delicious breakfast recipe!

This article has been read 941 times. Share it and spread the love!