Easy Party Appetizers For the Holidays or Whenever!
So you're throwing a little cocktail party or planning to bring an appetizer of holiday nom-noms to a friend's party, but you have exactly zero time – and maybe cooking ain't your jam.
Don't worry, boo! The key to awesome party appetizers is the word easy – easy to make, easy for guests to navigate one-handed, and easy to eat in manageable bites. No one wants to look awkward chatting up a cute new potential mate and gnawing chicken satay off a skewer that outsizes their plate and subsequently rolls onto the floor. #truth
Here are six fabulous, easy-peasy appetizers that will make it seem like you have a team of elves slaving away in a back kitchen. Plus, they're made with ingredients you may have on hand already or can be bought in one stop on your way home from work.


6 Yummy Easy Party Appetizers:
1. Mini Caprese Salads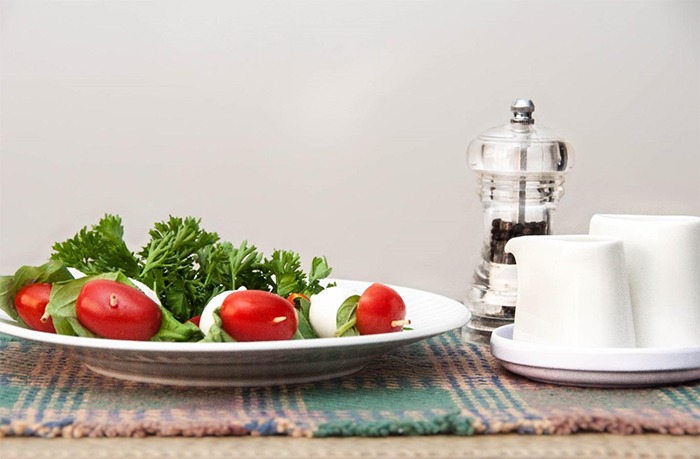 Good ol' regular toothpicks are perfect for these petite, delish bites that you simply skewer together!
Slice grape or cherry tomatoes in half. Sandwich a fresh basil leaves around a mini mozzarella ball (called ciliegine at the supermarket Italian cheese section) and stab two tomato halves on either side of a toothpick.




Arrange them on a pretty dish, and grind black pepper over the top. Done-zos! You can serve with olive oil and balsamic vinegar next to the serving plate so guests can dress their bites if they want to, but these are stellar just as they are.

2. Prosciutto-Wrapped Pineapple


The salty-sweetness of this appetizer is Hawaiian-inspired!
Wrap a piece of prosciutto along the length of a pineapple spear. With a very sharp knife, cut it crosswise into bite-sized pieces.




Tip: If your prosciutto isn't behaving, try sticking toothpicks into the spear before cutting it into pieces to avoid having to rewrap any pieces of prosciutto that are on Santa's Naughty List.
The final touch for this easy-peasy party appetizer is to place small sprigs of parsley on them. The parsley gives the appetizer a little bit of earthiness to balance out the taste – and it also makes you look like a rockstar who put effort into making them!
Not a pineapple fan? No problem. This recipe is equally yummy with any kind of melon, figs, pears, or avocado wedges.

3. Baby Cuban Sandwiches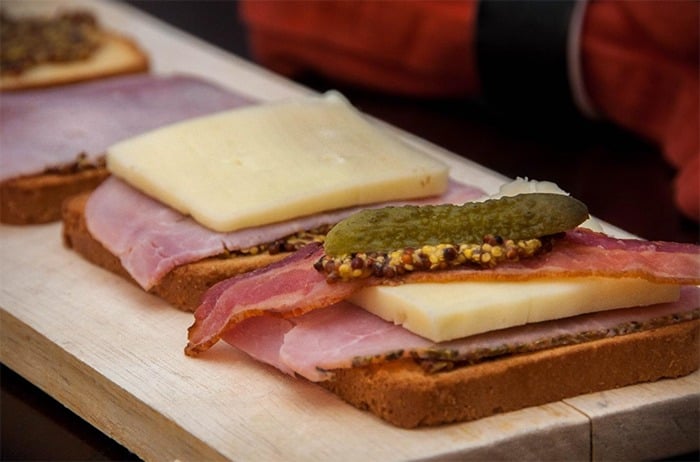 Melba toasts from the cracker section give these little sammies a nice crunch and make them easy to hold! A cut baguette is a sturdy and tasty alternative, too. You'll need seasoned or regular ham, pre-cooked bacon, Swiss cheese (pre-cut will make your life easier), and baby dill pickles.
Quarter ham and Swiss cheese slices, and cut the bacon pieces into halves. Layer a small amount of your favorite Dijon mustard, followed by ham, then a slice of Swiss, and top with a halved piece of bacon diagonally across the top.
Slice baby dill pickles in half lengthwise (so they don't roll off the sammie), and use a little mustard as 'glue' to stick it on top of the bacon, cut side down. Yum!
Mini sammies have endless options, so for fun, you can also try lox + cream cheese, tuna salad or a mini BLT, all held together with a toothpick.


4. Cucumber Tomato Bites


If you have vegans in your crowd, consider using a soft vegan cheese instead of dairy!
Cut a seedless cucumber into ¼" slices. Mix up softened cream cheese with dried dill, a bit of salt and pepper and the juice from a fresh-squeezed lemon. You don't need to measure precisely – just do it to the desired taste and consistency.
Spread a little cream cheese mixture on top of a cucumber slice. Cut grape or cherry tomatoes in half and put the cut half on top of the cream cheese with a sprig of parsley. If you want to add a little heat, you can slice up jalapeños and squish one in there.

5. Warm Fondue Bread Bowl


Warm, cheesy goodness is welcome during cooler months and can be served with a sliced baguette, cracker toasts, tortilla chips or crudité. Yum!
Preheat the oven to 350 degrees. Meanwhile, cut off the top of a round sourdough bread bowl and carve out the inside with your fingers or an ice cream scoop.
Tip: You may want to repurpose the sliced off bread top for dipping use 😉


You can use many types of different cheese combos for this party appetizer, but be sure to use a very ooey-gooey one as a base, like cream cheese. Grated pepper jack goes well, or grab a bag of a four-cheese combo that has parmesan in it to combine with the cream cheese. A mix of Mozzarella and Feta is also delectable!
Mix a block of softened cream cheese with about a cup or more of grated cheese in a separate bowl, and place the mixture in the bread bowl. For extra credit, you can toss in sliced jalapeños, bacon bits, or red pepper flakes.
Heat the bread in your pre-heated oven on a cookie sheet lined with parchment paper for 10-15 minutes on the low or middle rack, until warm and bubbly. If you want, near the end, move it to the top rack for a few minutes in order to get the bowl itself and the top of the cheeses nice 'n toasty.




Too much work to prep the bread? It's cool. Get a large round container of brie, take it out of the wrapping, and put it into a small oven-safe crockery dish. Heat it in the oven at 350 degrees until warm and bubbly. Throw a few pieces of parsley on the top to make it look fancy pants. Serve with a spoon and dippers so your guests can scoop onto their plates for dipping!

6. Spiced Cider



Screw egg nog. The pre-made stuff is grody, and making homemade nog? Ain't nobody got time for that. How about hot apple cider, kept warm in your slow cooker?
Cut an orange into slices, stick a bunch of cloves into the skins and throw cinnamon sticks into the crock pot along with your cider and call it a day. The fruit and cloves in the cider are a part of the natural charm when people ladle it into their mugs.
You can also simmer it in a pot on the stove or put it into a teapot with a towel wrapped around it to keep it warm.
Want more of an adult beverage? Of course you would. Offer rum in the bottle at the serving station so guests can doctor it up on their own. You'd use about an ounce of rum per mug . . . just in case you were wondering. Serve with a cinnamon stick.
Want to keep it light but festive? Here are 6 Non-Alcoholic Drink Recipes to Enjoy During the Holidays




Photo credits: Lisa Garrett


Three Cheers for Yummy Party Appetizers
Voila! You're all set. Grab your beer, wine, Prosecco, or your fave non-alcoholic bevie and your party is ready to rock 'n roll!
If you're still feeling like you're pressed for time, invite a girlfriend over for a pre-party glass of rosé to help you assemble everything and make it fun while you do. Cheers to breadstick sword-fights and happy holidays!!
Hosting during the holidays can be stressful. Here are 5 Mindful Tips to Help You Deal With Holiday Stress
This article has been read 347 times. Share it and spread the love!