5 Fun, Festive and Flavorful New Years Eve Cocktail Recipes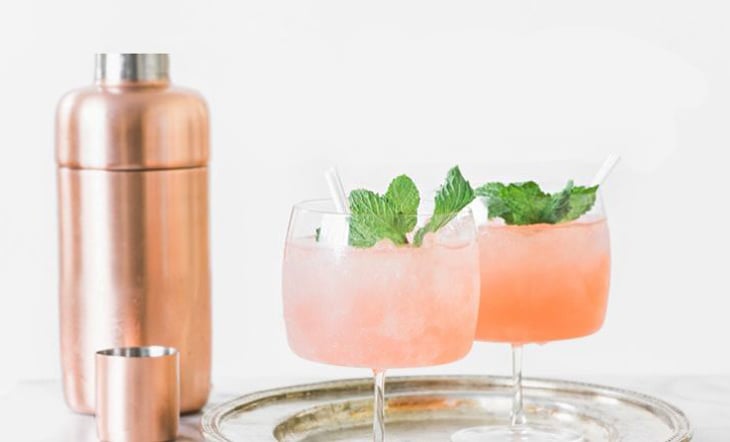 Looking for inspiration for New Years Eve cocktail recipes? Look no further! We share our five favorite drink recipes for a fun and festive new years celebration.
Not only are these New Years Eve drink recipes delicious and unique; they are also more healthy than the traditional mixed drinks served around the holidays.
If you want tips for making healthier cocktail recipes, try incorporating more natural sweeteners, like agave nectar rather than simple syrup. Use naturally sweet fresh fruit and herbs to infuse the flavor and enhance the drink without artificial alternatives.
And read on for five New Years Eve cocktail recipes (these can also be enjoyed responsibly all year long).


Try These 5 Fun + Festive New Years Eve Drink Recipes:
Have fun experimenting with these unique cocktail recipes, which can also be made as non-alcoholic mocktails by removing the alcohol from the ingredient list.

1. Raspberry Mint Champagne
Popping bottles? Make this celebratory fizzy drink with the added benefits and flavor of cranberries.
Champagne or Prosecco
100% unsweetened cranberry juice (if using Prosecco, the tartness of the cranberry juice will be cut by the sweet flavor)
Fresh Raspberries
A sprig of mint

A simple 50/50 split of the liquid ingredients and then garnish with a few raspberries and some mint. Make this New Years Eve cocktail a non-alcoholic mocktail by swapping the bubbly for soda water!


2. Pomegranate Mojito
Mojitos get the reputation of a summer drink, but with the addition of pomegranates, it becomes a festive New Years Eve cocktail spin on the summer classic.
1.5 oz. clear rum
1/4 cup pomegranate seeds
2-3 mint leaves
3/4 oz. lime juice
3/4 oz. agave nectar
1 cup ice

Muddle the mint leaves, pomegranate seeds, and lime juice at the bottom of a glass. Add ice, rum and top with club soda. Garnish with more pomegranate seeds, a lime wedge and the mint leaves.

3. Cranberry Margarita
Another summer drink inspired by the winter season! The cranberries are full of antioxidants and pack a kick of festive flavor, making it a simple and fun New Years Eve cocktail recipe to try.
1.5 oz. tequila
3/4 oz. lime juice
3/4 oz. unsweetened cranberry juice
1/2 teaspoon agave nectar
1 cup ice

Combine all of the ingredients above, shake and strain into a glass. Top with fresh cranberries and a sprig of rosemary to garnish.
4. White Wine Sangria
Sweet, crisp, and refreshing, this sangria will be a fan favorite.
1 bottle pinot grigio
1 heaping cup fresh cranberries
1 large sprig rosemary
2 granny smith apples
1/4 cup agave nectar
1 can club soda

Combine all ingredients except the club soda in a larger pitcher, cover, and allow to sit overnight in the fridge. Don't have all night? Make sure to let it sit for at least 5 hours for best flavor. Add club soda just before serving.
More into red? Sangria is a classic favorite and an easy drink to make in large quantities. Or make a batch of both white and red sangria and have the best of both worlds!


5. Spiced Red Wine Sangria
Whether you go for red or white, sangria is a classic holiday drink that's made extra special and perfect for your New Years Eve drink recipe feature!
1 bottle red wine
1 orange sliced (blood orange is great!)
1 pear (any variety – red is great!)
1/4 cup of brandy (optional)
1/4 cup of agave nectar
6 whole cloves
3 cinnamon sticks
2 star anise

Combine all ingredients, cover, and allow to sit overnight in fridge, or for at least 5 hours for best flavor.


Enjoy Your New Years Eve Cocktail Recipes and Consume Responsibly!
These five fun, festive, and simple New Years Eve drink recipes will impress your guests and offer a welcome change to the typical menu. Each of these drinks are the perfect balance of fun and flavor without the typically unhealthy ingredients found in most mixed drinks.
Have a safe and beautiful holiday, and happy new year!
Sober Curious? 10 Ways to Embrace Mindful Sobriety Over the Holidays
This article has been read 223 times. Share it and spread the love!