6 Drool-Worthy Vegan Comfort Food Recipes You've Gotta Try
Sometimes, you just need some good comfort food. We've all been there. But you don't have to give up your healthy diet to enjoy some really good comfort food.
Thankfully, there is vegan comfort food too! Whether you're vegan or not, you can indulge in these delicious comfort food recipes knowing that they're made with clean, plant-based ingredients.
Making vegan comfort food is the ultimate hack
Don't get me wrong. Healthy eating and nourishing our bodies with the cleanest and most nutritious, vibrant food is so important. But a very real part of a healthy lifestyle is balance (maybe you've heard?). 😉
This balance includes allowing yourself some comfort food classics now and again. These vegan comfort food recipes are the perfect dishes for when you need a meal that feels like a hug or that takes you back to your childhood.
Not sure where to start with vegan foods? Here are 5 Quick and Healthy Plant-Based Dinner Recipes to Try This Week


Vegan Comfort Food Is Regular Comfort Food, Only Healthier
While there's nothing wrong with indulging in the classic comfort foods we grew up on, making vegan comfort food is the ultimate hack.
All the same yumminess, but with added health benefits, plus the benefits of being more compassionate to animals and the earth.
Tons of indulgent flavor, lower across the board in fat and cholesterol, a smaller carbon footprint, and zero contribution to animal suffering? What's not to love?


Enjoy These 6 Vegan Comfort Food Recipes:
Here are six classic comfort food recipes just waiting for you to cuddle up to. Just add cozy loungewear and your favorite guilty pleasure on Netflix, and you're in vegan comfort food heaven.

1. Mashed Potato Bowl
Think of this mashed potato bowl recipe from Rabbit and Wolves as a one stop shop for vegan comfort food – it's basically Thanksgiving in a bowl, but by all means, enjoy this year-round!
The "sides" are customizable to your taste, although as written with crispy tofu nuggets, vegan gravy, corn, and roasted veggies all ladled over creamy mashed potatoes is hard to beat.

2. Mac and Cheese
Childhood? Is that you calling?
No roundup of vegan comfort food recipes would be complete without a mouthwatering vegan mac and cheese recipe from Chocolate Covered Katie.
This one is a time capsule straight back to childhood mac and cheese (in the best way!) but with exactly zero dairy or scary orange powder. Everyone will enjoy this mac and cheese – not just vegans!
Looking for more vegan mac and cheese recipes? Make this To-Die-For Vegan Cashew Creamy Mac and Cheese Recipe

3. Grilled Cheese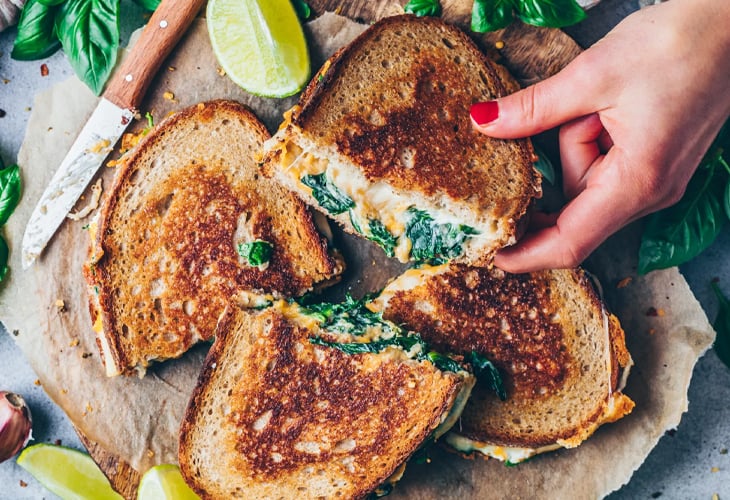 Yes, it's totally doable to make a bomb vegan grilled cheese from Bianca Zapatka!
If you haven't tried vegan dairy products in a while, give them another chance – vegan cheeses these days are a far cry from the bland, rubbery substances of the past.
This ooey, gooey, vegan comfort food sammie gets a little upgrade with the addition of sautéed spinach, cream cheese, AND sliced cheese.

4. Vegan Noodle Soup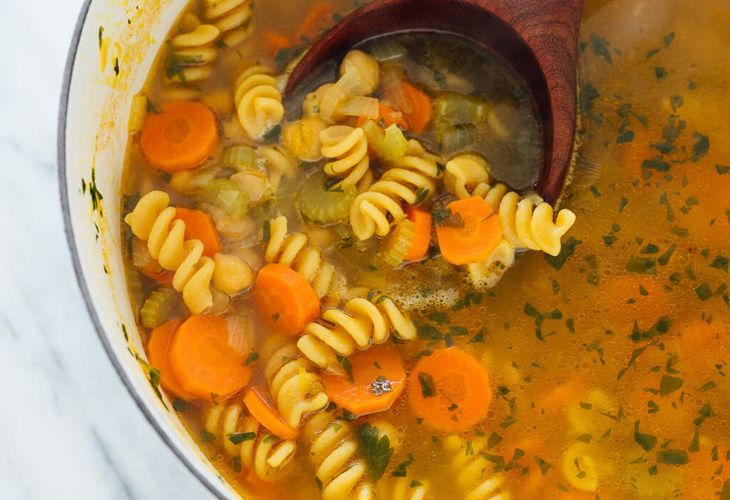 Was a classic chicken noodle soup your go-to when you felt under the weather or stressed out? This noodle soup from Cookie and Kate is the vegan comfort food version – promise you won't miss the chicken.
Simple pantry staples like broth, pasta, carrots, celery, chickpeas, and spices all simmer together for a warming, grounding soup for your soul.
Craving more soup? Try this Hearty Pumpkin Ginger Soup That'll Warm You Right Up (Gluten-Free, Vegan Recipe)

5. Non-Dairy Fettuccine Alfredo
For when you just need to sink a fork into a big ole' bowl of pasta, this vegan fettuccine alfredo recipe from Minimalist Baker can be on the table in less than 30 minutes.
This vegan comfort food recipe comes with all the salty, cheesy flavor of classic fettuccine alfredo, minus a lot of the calories and fat!


6. Lasagna Soup
Regular lasagna is a comfort food for many, but also requires a not-insignificant amount of work and time in the kitchen.
This vegan lasagna soup version from Rabbit and Wolves is easier! Plus, there's something undeniably grounding about cozying up to a warm bowl of soup when you need some comfort.


Why Is (Vegan) Comfort Food so Dang Comforting, Anyway?
For the science nerds out there, you might be interested to learn that it's not just your imagination or even learned associations that make comfort food feel so, well, comforting.
The area of our brains responsible for pleasure and reward is actually activated by comforting, delicious foods.
A quick release of dopamine after eating something cheesy, melty, and comforting delivers a short-lived boost of positive emotions, which we crave when we're under stress.
Additionally, the power of memory and emotion is real. If your mom always made you grilled cheese when you were sick or stressed, it's totally normal if your brain has become hardwired to crave grilled cheese sandwiches when in need of some TLC.
Lastly, it's worth noting that studies show a link between our brains when experiencing loneliness versus hunger. Both sensations involve the same centers of the brain responsible for triggering craving. Fascinating, right?


Vegan Comfort Food Deserves a Place in Any Healthy Lifestyle
Of course, digging into one of these delicious vegan comfort food recipes isn't a cure all – there's no silver bullet for reducing anxiety or easing our worries. And like anything, turning to food can cross a line and become an unhealthy coping mechanism.
But as part of an overall healthy lifestyle, there's absolutely nothing wrong with allowing yourself an indulgent, comforting meal that takes you back to childhood or feels like a hug in a bowl.
So next time you've had a long day, or just a long year, and want a dish that feels like a treat (not a cheat!), dig into one of these healthy-ish vegan comfort food recipes. Let us know which one you enjoy most!
Need more dinner ideas? Try These 6 Healthy Crockpot Recipes for Delicious Dinners In No Time
This article has been read 2K+ times. Feelin' the love!