These Are the 4 Main Benefits of Eating a Plant Based Diet (According to Science)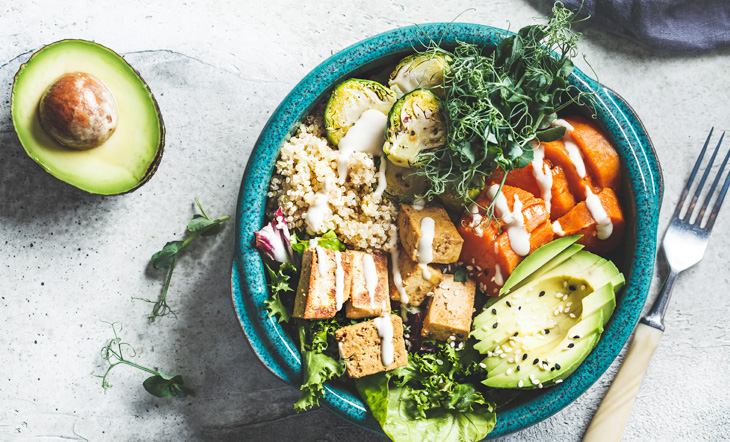 Many people think that going on a vegan or plant based diet means eating boring salads every day. But that couldn't be further from the truth!
As a plant based nutrition consultant and chef, I absolutely LOVE teaching people how to embrace a plant based diet. And once they learn the ropes, my clients are equally enthused.
To start, what does a plant based diet actually mean and what does it entail? Does it mean that you have to give up eating meat, dairy, and processed foods? Does it mean only eating vegetables and fruits? What's the point? What are some plant based diet benefits?
These are the questions I am typically asked, so let's begin by answering them!


What Exactly Is a Plant Based Diet?
A plant based diet is a diet rich in nutrient-dense vegetables, fruits, legumes, nuts, and grains. The diet is free of animal products and refined, processed foods. Sometimes, a plant based diet is called a vegan diet.
But why would you want to give up – or at the very least – minimize animal products and processed foods? Because research shows that consuming high-fat animal products and processed foods can lead to long-term health problems – specifically diabetes, cardiovascular disease, and obesity.
These 5 Vegan Foods Are High In Protein and Should Be In Your Plant-Based Diet
One of the longest, most complete studies on plant based diet benefits (called the China Study) found that "even small amounts of animal-based food were associated with a measurable increase in risk of some chronic diseases."
The study stated that eating animal-based foods in large quantities is directly linked to higher risk for heart disease and cancer. Also, other studies claim that "healthy eating may be best achieved with a plant based diet."
Not totally sure about the difference between a plant based diet and a vegan diet? Read: You Don't Have to Go Vegan to Be On a Plant Based Diet – Here's Why


Here Are 4 Key Plant Based Diet Benefits, According to Science:
1. Weight Loss
Fruits, vegetables, grains, and nuts are all high in fiber which may help aid in weight loss. High fiber coupled with minimally processed foods and low sugar help to reduce body fat.
Your body will actually feel fuller with an intake of less calories. A healthy vegan diet matched with daily exercise and drinking plenty of water will help you reach and maintain a healthy weight. How's that for some vegan benefits!

2. Improved Energy
Many of my clients who begin their plant based lifestyle say that the biggest thing they notice is improved energy and sleep. When your body doesn't have to expend as much energy breaking down saturated fats and processed sugars, it allows you to thrive much more efficiently.
And, your improved energy actually encourages more physical activity. Subsequently, this produces endorphins (which make you feel better and help you to fall asleep and stay asleep more easily).

3. Improved Digestion
Again, due to the high amounts of fiber in a plant based diet, you are less likely to be constipated, bloated, and gassy. Most people find that they become much more "regular" when eating vegan.
So regularity is yet another item to add to your growing list of vegan benefits!


4. Improved Long-Term Health
With all of the research and studies done, a plant based diet has been proven to reduce and reverse many chronic diseases and illnesses such as diabetes, cancer, and cardiovascular disease.
According to the American Dietetic Association, eating a vegetarian or vegan diet is not only healthy and nutritionally adequate but also "may provide health benefits in the prevention and treatment of certain diseases."
Surprised yet? There's more: Is Milk Healthy? 8 Surprising Facts About Milk + the Dairy Industry


There Are Many Benefits of Eating a Plant Based Diet
Backed by hard science, it's difficult to deny the many benefits of a plant based or vegan diet. With so much to offer your long-term health and wellness, it may be worthwhile to look into switching to a plant based diet – or at least reducing your intake of animal-based products.
So, tell us! What do you think are the most important plant based diet benefits? Let us know in the comments below!
All included information is not intended to treat or diagnose. The views expressed are those of the author and should be attributed solely to the author. For medical questions, please consult your healthcare provider.
This article has been read 1K+ times. Feelin' the love!