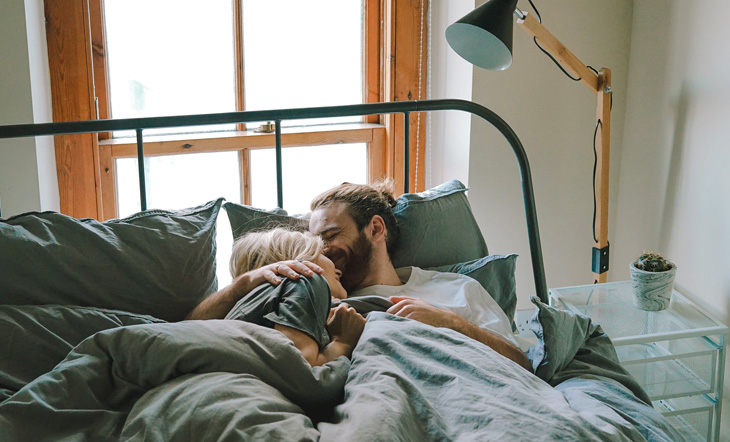 Unsplash: Toa Heftiba
5 Essential Habits for a Healthy, Happy Relationship (According to Experts)
Nothing is more inspiring than seeing sweet older couples walking hand-in-hand, staring at each other with that look of pure adoration. What's their secret to a happy relationship? How did they make love last all of these years?
When it comes to relationship advice, these are the successful couples we wish we could talk to and pick their brains about what it takes to be in a happy and healthy long-term relationship.
While there are many factors that contribute to a relationship's success, there are a handful of habits that separate the lasting lovebirds from the rest.


According to Experts, These Are the 5 Essential Habits for a Happy Relationship:
1. Practice Mindful Communication
Communication is the cornerstone of any successful relationship. Happy couples know how to use communication in a way that helps strengthen their bond and maintain a strong connection.
What does it mean to be a mindful communicator? First, it requires good listening skills. Deep down we all want to be heard and understood, and when someone really "gets" you, they not only listen to what you have to say, but appreciate and respect what you have to say.
Another important aspect of mindful communication is setting an intention. This allows us to hone in on specific behaviors we want to change.
Elizabeth Dorrance Hall, Ph.D. encourages us to "think about why you want to improve the relationship and envision what the relationship would look like if it was in a satisfactory place." While many of us want better relationships, we don't create goals or come up with a plan of action to reach them.
Learn The Secret to Cultivating Healthy Relationships That THRIVE: This Life Coach Tells All
Instead of blaming your partner or focusing on everything your partner is doing wrong, Hall recommends thinking about your own communication strategy and how changing the way you communicate can positively influence your relationship.




Creating lasting change requires looking within. Rather than expecting others to change, you need to accept that the only person you can change is yourself.

When you come from a place of authenticity and clarity in the way you communicate, you will encourage your partner to do the same.

2. Nurture Your Friendship
It's no secret that lust fades over time (sigh). While the initial head-over-heels passion is exciting, sadly it's not enough to keep a relationship going. In fact, friendship is the most important foundation of your relationship.
Laura VanderDrift, author of a study published in the Journal of Social and Personal Relationships confirms this, suggesting the "friendship component of the relationship" is what keeps a relationship going strong.
To enjoy a fulfilling, long term relationship, successful couples will tell you there needs to be a deeper emotional intimacy that goes beyond sex. The strongest friendships are built on trust, loyalty and respect – all of which are necessary to sustain a romantic partnership.

3. Find Small Ways to Stay Connected Every Day
It's easy to get swept up in the stress and responsibilities of day-to-day life. That's why it's important to make sure we prioritize our relationships and find simple ways to show our partners how much we care. Love is in the details, and a long term relationship is maintained through lots of tender loving care!
"Some are simple things you can do to keep in touch with each other, such as going to bed together — not just for sex, but to share the warmth of each other's company at the end of every day," says Abigail Brenner, MD of Psychology Today.
Even the small gestures can speak volumes. Acknowledge you appreciate your partner with a sweet note on the dresser or text during work.
And speaking of appreciation . . .

4. Show Appreciation
Happy couples will attest to the power of "thank you." It can be something as simple as making coffee in the morning the way he or she likes it. Always acknowledge when your partner does something kind or thoughtful.
"Appreciating someone makes them feel good about what they do, and that it makes a difference to their lives," says Malini Bhatia, Founder of Marriage.com.
When you make someone feel better about themselves, this encourages them to move forward with a new energy and excitement, and strengthens your relationship as a result.




The next time you find yourself wondering how to rekindle the romance and improve your relationship, remember that appreciation is the fuel that ignites the spark and heightens the flames of love.

5. Practice Self-Love and Self-Care First
The most important relationship in your life is the one you have with yourself. "If you love yourself, you're able to give your best to your other relationships, and as a result – they will thrive," says Matt Shakir, Life Coach and founder of Awaken Momentum.
A healthy relationship is like the icing on the cake. When you are happy on your own living a fulfilling life, having a partner will enhance it, making it that much sweeter.


Are You Ready to Make Space for a Happy Relationship?
Following these habits will help take your relationship to the next level. Love is more than a feeling, it's also something you practice.
Maintaining a long term relationship takes work. It requires action, intention and a commitment to supporting each other through life's highs and lows. When you understand that love is about what you give and not what you get, you will experience stronger and more fulfilling connections.
Is your Honeymoon Phase Over? 6 Ways Yoga Can Create a Deeper Level of Intimacy in Your Relationship
Pinterest Image Credit: Tricia Victoria Photography
This article has been read 10K+ times. Bada bing!