Stressed Out? Practice These 5 Self-Care Tips to Get Back on Track!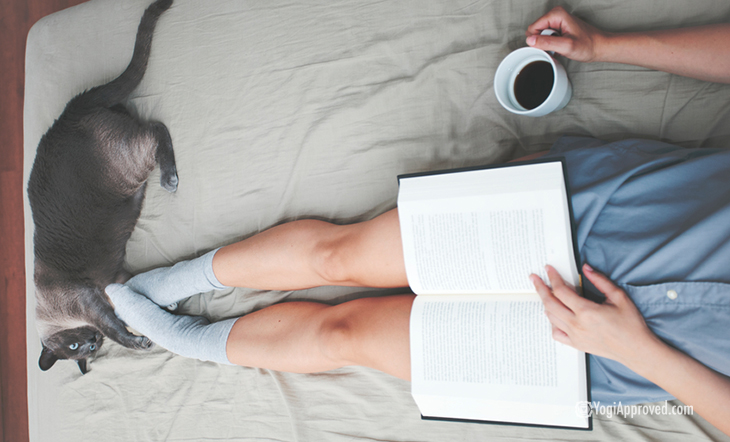 In the hustle and bustle of our everyday lives, it's easy to neglect self-care. When we're busy and stressed, we tend to forget about what's most important – ourselves!

From our work life to our social life and all the necessary chores in between, we don't always give ourselves the TLC we need and deserve.

A self-care practice cultivates a greater sense of calm, compassion, resiliency, and the ability to show up with your personal best to everything life brings your way.

Regaining your focus and centering your attention back on yourself is always very rewarding. Making time for yourself is not only good mentally, but it's also beneficial physically and spiritually.

Ironically, in the long run, self-care is about so much more than just you! Through your self-care practice, you cultivate a greater sense of calm, compassion, resiliency, and the ability to show up with your personal best to everything life brings your way.

Here Are 5 Self-Care Practices You Can Start Now:
1. Make Your Physical Health a Priority
It might sound like a no-brainer, but it's amazing how easy it is to put our health on the back burner. Yet our physical wellbeing is vital to living a long and happy life. Make check-ups, exercise, vitamins/supplements and healthy eating a regular habit.

It's easy to fall in a rut, but when you're feeling down or unmotivated, it's because your body is craving self-care.

Here are a few simple ways you can stay healthy and feel great without much time or effort:
Exercise regularly (3-4 times per week)
Get enough sleep (or even just allow yourself to sleep in one day a week)
Stay hydrated! This is more crucial than you may realize . . .
Make healthy food swaps whenever possible
Smile often – seriously! This actually helps reduce stress which can be very detrimental to your health
2. Hold Yourself Accountable
A huge aspect of self-care is nourishing your mental health. The first step to taking care of your mental health is learning to make the most out of everything in your life.

Begin by asking yourself some of these questions:
Are you taking advantage of every opportunity that comes your way?
Are you doing the most of what you can with what you have?
Is what you're doing every single day making you truly happy?
Have you done something for yourself lately?
Are you making time for friends and family or do you find yourself feeling isolated?

After you've answered these questions, the next step is to address the questions you answered no to. Begin by holding yourself accountable for the self-care items these questions are based on.

Schedule time to call or meet with a friend each week. Write yourself motivational messages on your bathroom mirror or around your house. Do anything it takes to make sure you don't forget to make yourself a priority.


3. Schedule a Date With Yourself
You need some y.o.u. time – so why not dedicate an entire day to yourself?! Start your special day with your favorite tea or coffee. Spend the afternoon reading or relaxing. Go for a walk, visit a farmer's market, treat yourself to a massage or a special yoga class. Order your favorite takeout and watch reruns of your favorite TV show.

When you take time to be with yourself, you will no longer feel trapped within your own head. You will finally be able to manage your emotions and have a clear, open mind. Treating yourself to a day filled with whatever brings you joy is a great way to reconnect with your self-love, which is a huge aspect of self-care!


4. Be Altruistic
A poster hanging in my room reads, "Thousands of candles can be lit from a single candle and the life of the candle will not be shortened: happiness never decreases from being shared."

We lead by example, so when we give back in any capacity – from donating our time at a homeless shelter to smiling at a stranger or holding the door for someone – can make a powerful impact (something the world needs NOW more than ever . . . )

The more people who are mindful and happy, the more other people will be naturally drawn to live a similar lifestyle. Being kind and contributing to the collective good shows that you not only care about the wellbeing of others, but that you also care about the wellbeing of yourself.


5. Practice Mindfulness
Meditation brings a wide range of benefits for mind and body. Yet trying meditation can be daunting for people! That's why mindfulness is a great place to start. Mindfulness is simply the act of tuning fully into the present moment by becoming acutely aware of everything around us – our breath, our surroundings, our feelings and sensations.

Mindfulness is an effective and healthy way to manage stress and anxiety. With practice, daily mindfulness becomes not just easy, but a way of life. If you are able to be aware and mindful on a daily basis, a deeper sense of happiness and contentment will follow.

Want to learn more about mindfulness? Check out these 8 Useful Hacks to Make Mindfulness a Habit

Make Self-Care a Lasting Habit
Self-care stretches so far beyond taking time for yourself and cultivating positive habits. It's a lasting practice that we all can adopt for a life full of good health, contentment, positive vibes, and all-around awesome.

Self-care reminds us that all is well, even when it might not seem as such in the moment. It's the way we learn to handle the bad things in our life that make us appreciate the good things even more. Incorporate self-care as part of your daily life and enjoy the vast benefits for yourself and those around you.

What are some of your go-to self-care strategies? We'd love to hear from you in the comments below!

This article has been read 3K+ times. Feelin' the love!