Product Review – InYo Tie-Dye Yoga Leggings (Video)
When it comes to product reviews, we don't mess around. All of the items we review are put through the ringer of everyday use. You can trust that our reviews are non-biased and completely honest. Full disclosure: we don't publish negative reviews. If a product doesn't live up to our standards, we simply won't promote it. Everyone has their own opinion – this is ours. Let's get started.

When you picture your favorite pair of yoga leggings, you picture a fun, unique design, comfortable material that works for any and all forms of yoga, and a fit that's flattering on your bod. When you picture your favorite yoga clothing brand, you picture a brand that sustainably makes high-quality clothing. You want a brand you can feel good about supporting.

So have you heard of InYo? Their tagline is fantastic: "Yogawear for an In-Yo' Face Booty." Why the emphasis on the booty? Well first of all, why not?! But on a serious note, these InYo leggings are designed with your booty in mind. We promise your booty will look great in these leggings. But that's not the only reason to love InYo yogawear. Today we will be reviewing the InYo Tie-Dye yoga leggings. Let's take a closer look at the style, fabric, functionality, and value to decide what makes these leggings a good fit for you.



1. Style
Who doesn't like tie-dye?! Tie-dye is one of those timeless designs that never goes out of style. Blues, greens, and yellows wisp playfully together for a warm blend of tie-dyed hues you can wear any time of year. These full-length leggings are incredibly flattering on your body. The fabric hugs your curves without squeezing too tight, so you'll feel secure, sexy, and stylish. The best part of all is the butt ruching. You've seen this recent style trend on swimsuits: it's a vertical scrunch down the center of your booty. The result? An instant booty lift and emphasis on your finer ass-ets, in the best possible way of course! You can rock these tie-dye leggings in yoga, hot yoga, the gym, the dance studio, and anywhere your day takes you. Celebrate your stylish inner hippie with the InYo tie-dye leggings.

2. Fabric
With a 90% polyester and 10% spandex blend, these leggings have the 'secret sauce' ingredients for yoga pants that move with your body, but always stay in place. You won't have to pull these up after a forward fold (which can be so annoying). InYo leggings have a 4-way stretch for all your body's range of motion and also have a gusseted crotch for maximum comfort. They are quick-drying and sweat-wicking for all you hot yoga lovers out there, and the colors don't fade over time, so you can wear, wash, and repeat worry-free. InYo tie-dyes their fabric with your body and the planet in mind – no chemicals, no wasted water, and all paper used in the direct-to-fabric printing process is recycled, so you can look good and feel good about what you're wearing.


3. Functionality
A really important quality in any yoga legging is their functionality. There are countless adorable yoga leggings out there, but we've found a lot that simply aren't functional. You can look as cute as a button, but if you can't actually practice yoga in them, then what's the point? You won't have that problem with InYo. These tie-dye leggings are the intersection of fashion and functionality. You can have the best of both worlds with InYo – these leggings have been through the ringer of intense cardio classes, hot yoga, and everyday wear. They held up great in every scenario – no distracting readjustments, no embarrassing wardrobe malfunctions, and no annoyingly stuffy fabric.

*Sizing note: InYo's sizes run like this: XS/S, M, L/XL, 1X – 3X. Be aware of this sizing type if you fall under one of the combined sizes. Take for example XS/S. Carley, the featured fit model, wears an XS and these leggings are a bit long on her. If you're worried about sizing, use their sizing chart to be sure.

4. Value
Many of us are jaded by expensive price tags. Some brands charge over $100 for their leggings, and while many are high-quality and may be worth the price, not everyone can afford (or is willing to spend) that kind of money. Thank you InYo for providing high-quality, fashionable and functional yoga leggings without the crazy price tag. Given the style, fabric, and functionality, we'll call these leggings a bargain at $58 each. InYo is based out of San Francisco, CA and do all their manufacturing there, so you can rest assured you are buying leggings that are 100% made in the USA.

Here at YouAligned, we pride ourselves on only featuring the brands and products that we've tested and fully endorse. InYo makes yoga leggings that look great, feel great, work great with your body, and are made sustainably. Their value is top-notch, and we just love their bright and colorful designs. For all these reasons, InYo yoga leggings are 100% YouAligned™. Which design will you fall in love with?

You can shop these leggings for $58 at InYoWear.com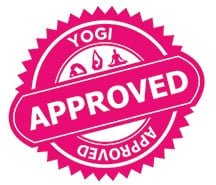 This article has been read 941 times. Share it and spread the love!