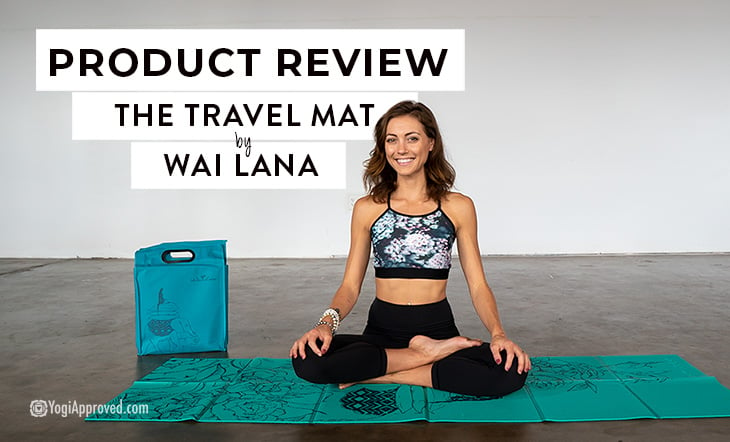 We Review the Folding Travel Yoga Mat From Wai Lana (Product Review Video)
When it comes to product reviews, we don't mess around. All of the items we review are put through the ringer of everyday use. You can trust that our reviews are non-biased and completely honest.
Full-disclosure, we don't publish negative reviews. If a product doesn't live up to our standards, we won't promote it. Everyone has their opinion, this is ours – let's get started.
In this product review video, we check out the Folding Yoga Mat and Tote from Wai Lana.
Wai Lana offers a wide variety of yoga and healthy lifestyle products, including a considerable selection of yoga mats. The Folding Yoga Mat and Tote is perhaps their most unique design.
Travel yoga mats are perfect travel companions, whether you're traveling to the beach or across the globe. Most travel mats are simply thinner than regular-sized mats and still roll up the same way.
We Review the Folding Yoga Mat and Tote From Wai Lana
We tested out Wai Lana's travel yoga mat and the results are in!
What Makes Wai Lana's Folding Yoga Mat Unique?
The most striking feature of Wai Lana's Folding Yoga Mat is that it folds into squares as opposed to rolling up. The benefit?
This travel yoga mat is great for packing – it takes up less space for travel since it folds into small squares (about the size of two folded shirts).
The folded yoga mat is the perfect height and size for a meditation cushion – another great feature for travel (travel yoga mat and meditation cushion in one). We think that's pretty snazzy!
This folding design is also hygienic because the bottom never touches the top when you fold the squares. Wai Lana's folding mat is great for any form of travel or carrying your mat to and from the office, gym, or yoga studio.
Other Details to Know About the Folding Yoga Mat by Wai Lana
This travel yoga mat is offered in two colors: solid blue or azure green with a beautiful Wandering Elephant print (featured in the video). It comes with a cloth carrying tote that has a matching elephant print.
Wai Lana calls this mat "eco-friendly PVC." While there are mixed feelings and mixed reviews about PVC, the Wai Lana website states that this mat is phalate-free, latex-free and made from hypoallergenic material.
Finally, the low price point is ideal for people who want an extra mat to keep in the car, and/or a quality yet affordable travel mat. We love it's affordable price point, and our favorite feature is the practical folding design that makes packing a breeze.
If you want to learn more about this brand, you can check out Wai Lana here.
Have any questions or comments about this product review or brand? Reach out in the comments below, and be sure to subscribe to our YouAligned YouTube channel so you can stay up to date on all of our latest videos!
This article has been read 531 times. Share it and spread the love!

YouAligned
YouAligned is an online yoga, health and wellness publication for your life on and off the mat. We are here to help you live happier, healthier, more fulfilled lives. Yoga is our passion. Your healthy lifestyle is our obsession!
You may also enjoy

Giving your child the gift of yoga is one of the most beneficial things you can do as a parent. Learn the tips and tools you need to get started.

YouAligned