We Review the Stingray Cork Yoga Mat From 2nd Wind (Product Review Video)
When it comes to product reviews, we don't mess around. All of the items we review are put through the ringer of everyday use. You can trust that our reviews are non-biased and completely honest. Full-disclosure, we don't publish negative reviews. If a product doesn't live up to our standards, we won't promote it. Everyone has their opinion, this is ours – let's get started.
In this product review video, we check out the Stingray Cork Yoga Mat from 2nd Wind. We will also share the top things to look for if you're on the market for a cork yoga mat.
2nd Wind Health offers a small collection of high quality yoga mats and yoga props. In our review process, we have found that this brand brings quality over quantity.
The Stingray Cork Yoga Mat is one of our personal faves from 2nd Wind's yoga mat collection.
Cork mats are gaining popularity because they offer serious grip that gets grippier as you sweat, making them awesome for hot yoga or any sweaty form of yoga (or yogi). 😉
Cork is a cushy and supportive material that's kind to your joints. It is also a renewable, eco-friendly material that's naturally antimicrobial and odor repellent.
When you're on the market for a cork mat, you want to look for mats that are made with 100% natural products. It's also important to look for cork mats that don't use any glues and do not have any toxins in the materials.


We Review the Stingray Cork Yoga Mat by 2nd Wind
What Makes 2nd Wind's Cork Yoga Mat Unique?
First off, there are no toxins or glue in the mat. The detailed designs are made with water-based inks and are also discreet alignment patterns to help you get proper alignment in any pose.
The base is made from 100% natural rubber so your mat doesn't slip and slide on any surface. We give this mat a 5-star rating for its traction and grip (both on the cork top as well as the rubber bottom) for a distraction-free practice.
We tested this mat out in power yoga, hot yoga, and a Hatha Yoga class. It maintains grip and traction whether you're sweaty or not, and also if it's wet or dry.

Other Details to Know About 2nd Wind's Stingray Cork Yoga Mat
This mat is slightly longer (72.5 inches) and wider (24.5 inches) than a standard size yoga mat and is 5mm thick so you have cushioning for your joints but don't feel unsteady during your practice.
This mat is outdoor rated, meaning you can take it outside and practice anywhere and also hose it down when you're done. The cork doesn't flake off when you roll it up, which can happen in some brands of cork yoga mats.
Cork is naturally odor-repelling and antimicrobial. While you still want to clean your mat occasionally, a great feature of cork is that you don't need to use a cleaning product on it. In fact, it's recommended that you only wash it with water since certain cleaning products can wear out the materials quicker.
You can view 2nd Wind's cleaning instructions for their cork mats here.

What to Look for If You're On the Market for a Cork Mat
Look for a mat with a natural rubber base, made with 100% natural products that are also toxin free. Since it's a cork mat, you should be able to practice with it outside, meaning you want a durable mat that you're able to get wet, leave in the sun and take on the go.
Look for a mat that has positive reviews on its long-term durability, especially when it comes to how the cork holds up (we've found that some cork mats tend to flake around the edges after being rolled up and rolled out repeatedly).


The Verdict On This Cork Mat From 2nd Wind
While it does have a higher price point, this Stingray Cork Mat comes with all the quality you would expect for the price.
So, if you want to invest in a high-quality cork yoga mat, this is it. This mat is ideal for the hot yogi with a consistent practice who wants a grippy, functional and downright stylish mat.
For all of these reasons, this Stingray Cork Mat by 2nd Wind is 100% YouAligned™. If you want to learn more about this brand, you can check out 2nd Wind here.

Shop the Mat
The Mat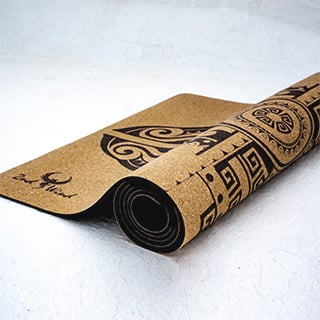 2nd Wind Cork Yoga Mat - Stingray
This durable, low maintenance, and long lasting cork yoga mat features unique Polynesian based artwork to help you with alignment.
Shop the Mat
Have any questions or comments about this product review or brand? Reach out in the comments below, and be sure to subscribe to our YouAligned YouTube channel so you can stay up to date on all of our latest videos!
This article has been read 1K+ times. Feelin' the love!

YouAligned is an online yoga, health and wellness publication for your life on and off the mat. We are here to help you live happier, healthier, more fulfilled lives. Yoga is our passion. Your healthy lifestyle is our obsession!