5 Yoga and Wellness Products We Love – Our Favorite Things September Edition (Video)
The editors of YouAligned.com love yoga and everything related to living a healthy and natural lifestyle. We pride ourselves on keeping our finger on the pulse of the industry, and we take reviewing the latest trends and products very seriously.

Our Favorite Things is a monthly recurring article and video featuring all of our editor's latest finds that we want to share with you!

You never know what fun stuff we'll find next, so stay tuned! Here is what we are loving this month.


Check out this video, and read the full article below for more information about these amazing products:
Never miss a FREE class. SUBSCRIBE HERE
Purple Poppy Crop Top and Leggings from Cute Booty Lounge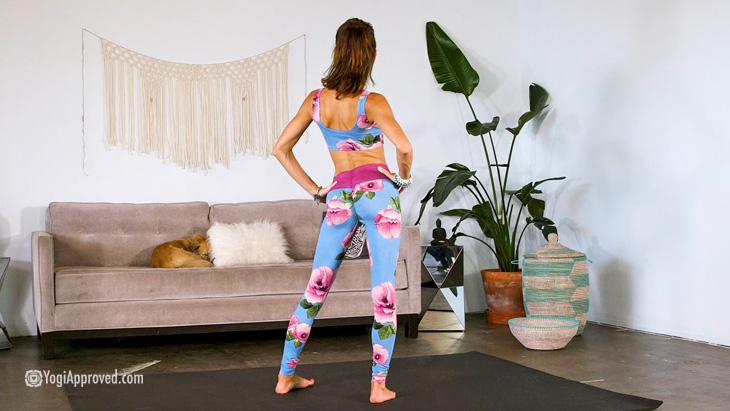 We're loving the matching Purple Poppy Crop Top and booty-flattering Purple Poppy Leggings from Cute Booty Lounge. The fabric is super soft and lightweight, and while the top is more fashion-oriented (no support), the leggings are gym-tested and as functional as they are adorable. Above all, the form-flattering booty rouging is our favorite feature of the leggings.

Check out the cuteness overload that Cute Booty Lounge has to offer here.


Gorilla Mats XL Yoga Mat


Gorilla Mats makes large exercise mats and yoga mats for your home yoga practice or workout routine. The large yoga mats are offered in three sizes and are big enough for you to practice yoga solo or with a friend. These non-slip mats are great for AcroYoga or partner yoga and are made with quality, eco-friendly materials and have extra thick 8mm padding to support your joints. The mats come with a microfiber towel and lifetime guarantee.

Check out all the Gorilla Mats sizes here.


Superfoods Supplements by Wai Lana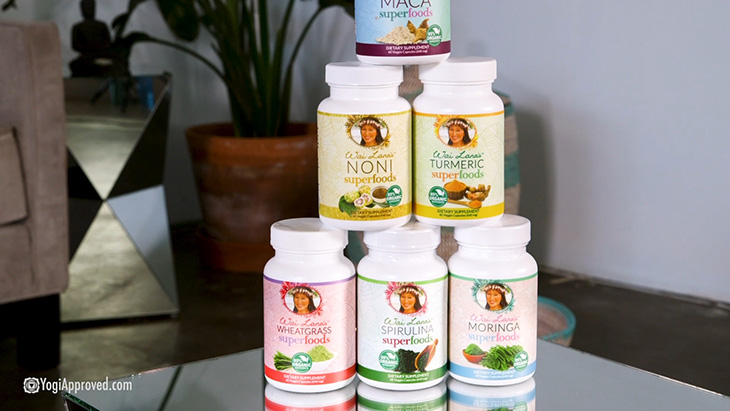 Wai Lana has an entire line of superfoods supplements: Wheatgrass, Spirulina, Maca, Moringa, Noni, and Turmeric. These superfoods supplements are pure, organic and free of gluten, corn, milk, soy, wheat, yeast and preservatives. The quality ingredients and affordable pricing make these supplements a no-brainer addition to your wellness regimen.

Check out Wai Lana's entire superfoods supplement line here.


ALEX Bottle


Founded by Olympic snowboarder Gretchen Bleiler, ALEX Bottle (which stands for Always Live Extraordinarily) carries a full line of beverage holders akin to Hydroflask and Yeti in quality, but with slightly lower price tags and more unique attention to detail: like the message "you're extraordinary" on the inside of the lids of their double insulated tumblers to hiding a bottle opener on the bottom of their 16 oz. cups and Tumblers. The Original ALEX Bottle is the most unique of all. It unscrews in the middle to allow for easy cleaning, storage while traveling, turning one bottle into two cups for sharing a beverage with a friend, or switching out the tops and bottoms for different sizes and colors depending on what the occasion calls for. ALEX products are all 100% BPA-free and made from premium grade stainless steel.

You can read more about ALEX Bottle in the article we wrote about them here


Check out the entire line of awesome ALEX Bottles here.


Thrive Market


Being hailed as the "online Whole Foods for people who aren't rich," Thrive Market sells all the top non-GMO and organic brands for up to 50% off retail with free shipping for the annual cost of less than $60. Our favorite feature of Thrive? You can shop by diet (keto, gluten-free, paleo, etc) and by category (snacks, kids, cleaning, etc) and the majority of items on Thrive are not offered on Amazon.

Shop your new favorite online pantry here and get 25% off your first order!


What were your favorite featured products? Please share any comments or questions below – we love hearing from you.

Thanks so much for watching and don't forget to subscribe to our YouAligned YouTube channel to stay up to date on all of our latest videos!!
This article has been read 1K+ times. Feelin' the love!

YouAligned
YouAligned is an online yoga, health and wellness publication for your life on and off the mat. We are here to help you live happier, healthier, more fulfilled lives. Yoga is our passion. Your healthy lifestyle is our obsession!
You may also enjoy

Our Favorite Things is a monthly recurring article and video review featuring five yoga and wellness products that we want to share with you!

YouAligned