Our Favorite Yoga and Healthy Lifestyle Products – April
The editors of YouAligned.com love yoga and everything related to living a healthy and natural lifestyle. We pride ourselves on keeping our finger on the pulse of the industry, and we take reviewing the latest trends and products very seriously.

Our Favorite Things is a monthly recurring article and video featuring all of our editor's latest finds that we want to share with you!

You never know what fun stuff we'll find next, so stay tuned!

Here Are 5 Yoga and Healthy Lifestyle Products We Are Loving This Month
Check out this video, and read the full article below for more information about these amazing products:


Never miss a FREE class. SUBSCRIBE HERE
Stratus Crop Top and Crop Leggings by Wolven Threads
Wolven Threads is a surf, swim and yogawear brand based out of California. The adorable and reversible (!!) Stratus Crop Top and matching Stratus Crop Leggings are made from recycled plastic waterbottles. They're sweat-wicking, quick-drying, antimicrobial, super comfy and oh-so fashionable.

Use code: "SpringintoWolven" for 20% off!

Shop this awesome yoga and activewear line here.


Ganesha Aura Cork Yoga Mat by Yoloha
Yoloha makes cork yoga products, and their cork yoga mats are their most popular and beloved items. The Ganesha Aura Cork Yoga Mat has a beautiful image of Ganesha, said to be the remover of obstacles. This cork mat is super lightweight (weighing less than 3 pounds) and has great grip and extra thick cushioning (ideal for sensitive joints and a restorative yoga practice). It's made of all-natural, eco-friendly and chemical-free materials.

Shop your new favorite yoga mat here.


Probiotic Dark Chocolate from Good Day Chocolate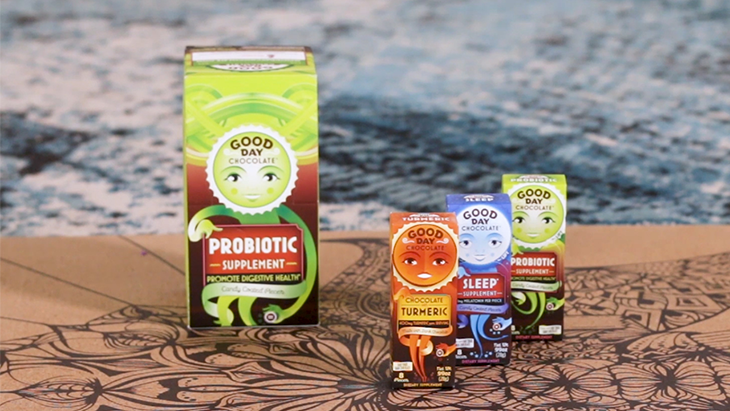 Vitamins and supplements are such an important part of our wellness regimen, and now you can get them in chocolate form thanks to Good Day Chocolate! Find chocolates based on your needs, from Sleep to Calm, Energy to Vitamin D – there's an entire line to choose from! The featured Probiotic contains 1 billion CFUs per piece. All chocolates are fair trade with natural, non-GMO ingredients and are colored with fruits and veggies.

Get your very own chocolate probiotic supplements here or at select health food stores.


Yoga Towel Strap by Wai Lana
Wai Lana is a yoga and wellness brand with a wide range of yoga products. The Towel Strap is a brilliant combination of yoga towel and yoga strap in one is perfect for a hot yoga practice, or anyone who sweats during yoga and uses a strap. It's made out of a super absorbent microfiber material and has custom hand loops for easy grip.

Check out Wai Lana's entire product line here.


Joga-Ki Yoga Elixir
Joga-Ki is a plant-based whole food supplement made for specifically for yogis! With watermelon, red and green spinach, beet root and mamaki, this little elixir packs a big punch of antioxidants, potassium, electrolytes, and Vitamin C. Meant to be taken as a pre-yoga supplement, Joga-Ki supports blood cell function and cardiovascular health so you can get the most out of your time on the mat.

Shop Joga-Ki yoga elixir at joga-ki.com.


What were your favorite featured products? Please share any comments or questions below – we love hearing from you.

Thanks so much for watching and don't forget to subscribe to our YouAligned YouTube channel to stay up to date on all of our latest videos!!

This article has been read 2K+ times. Feelin' the love!

YouAligned
YouAligned is an online yoga, health and wellness publication for your life on and off the mat. We are here to help you live happier, healthier, more fulfilled lives. Yoga is our passion. Your healthy lifestyle is our obsession!
You may also enjoy

Spring is here and new fashion trends for yoga are blooming! Here's the scoop on Spring fashion in yoga for 2018 from your favorite yoga brands.

YouAligned