5 Yoga and Wellness Products We Love – Our Favorite Things October Edition 2018 (Video)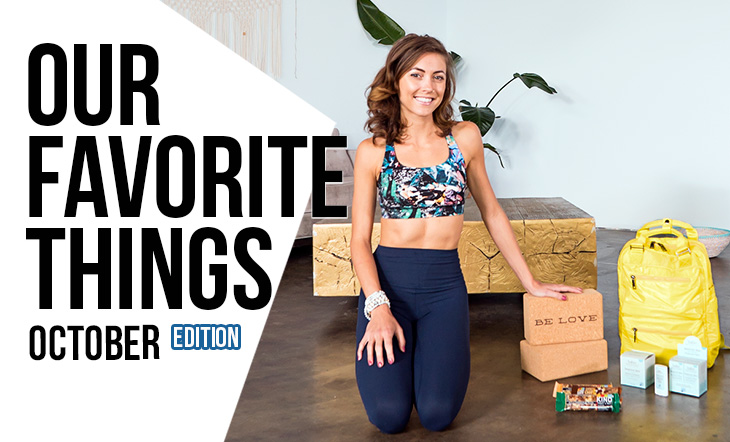 The editors of YouAligned.com love yoga and everything related to living a healthy and natural lifestyle. We pride ourselves on keeping our finger on the pulse of the industry, and we take reviewing the latest trends and products very seriously.
Our Favorite Things is a monthly recurring article and video featuring 5 of our editor's latest finds that we want to share with you!
You never know what fun stuff we'll find next, so stay tuned! Here is what we are loving this month.
Check out this video, and read the full article below for more information about these amazing products:
Never miss a FREE class. SUBSCRIBE HERE
Energy Bra and Align Crop 21" Leggings from Lululemon
The Energy Bra and Align Crop 21" Leggings from Lululemon make the perfect fall yoga outfit. The fabric is buttery soft and super lightweight with what Lulu describes as a "naked sensation" but without being see-through in forward folds (tested and approved!).
The bra is made with Lulu's signature Luxtreme fabric that is sweat-wicking, breathable and supportive with removable bra pads and cute strappy back.
Check out the cuteness overload that Lululemon has to offer here.
Customizable Cork Yoga Blocks by Yoloha
Yoloha makes cork yoga everything, from mats to yoga mat bags, blocks and more. The personalized cork blocks are made from sustainably sourced natural cork. We love the sturdiness and non-slip grip of the blocks with rounded edges. You can enter your personalized text and it'll be printed directly on the block. Great gift idea for any yogi!
Check out all of Yoloha's cork yoga products here.
Sensitive Skin Healing Ointment and Dry Relief Hydrating Stick by Babo Botanicals
Babo Botanicals makes natural, cruelty-free skincare products. The Sensitive Skin Healing Ointment is one of our faves from the line, with colloidial oatmeal, shea and cocoa butter to combat dry, itchy skin and help with eczema.
It's hypoallergenic and free of parabens, phthalate, sulfate, petroleum and mineral oil – perfect for chapped lips and hands. We also feature the Dry Relief Hydrating Stick – the ointment's travel size version.
Check out Babo Botanical's entire line here.
KIND Bars and Kid's Bars from KIND Snacks
KIND Bar is a go-to nutrition bar for its clean, simple and healthy ingredients. KIND has a big variety of bars and flavors. We featured their current fall line of flavors like Maple Glazed Pecan and Sea Salt, Apple Cinnamon Pecan, and of course their Caramel Apple Pumpkin Spice. We also like that KIND offers yummy kid's snack bars low sugar (5g per bar).
Check out the entire line of delicious KIND Bars here.
Going Places Backpack by Sol and Selene
Sol and Selene makes luxury active bags and backpacks that are fashionable, functional, and adorable. The Going Places backpack is featured in a cheery yellow (but offered in several hues) with plenty of organizing storage compartments. It's water repellent, has a padded technology pocket for your laptop, and comes with a removable laundry bag.
Shop your new favorite active bags here.
What were your favorite featured products? Please share any comments or questions below – we love hearing from you.
Thanks so much for watching and don't forget to subscribe to our YouAligned YouTube channel to stay up to date on all of our latest videos!!
This article has been read 2K+ times. Feelin' the love!

YouAligned is an online yoga, health and wellness publication for your life on and off the mat. We are here to help you live happier, healthier, more fulfilled lives. Yoga is our passion. Your healthy lifestyle is our obsession!