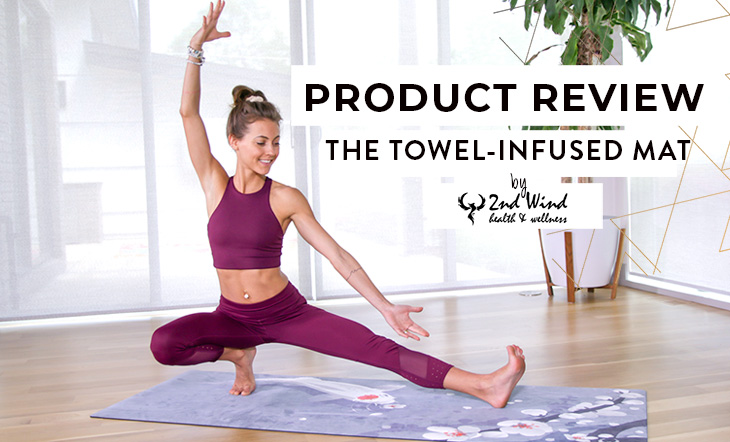 We Review the Towel-Infused Yoga Mat From 2nd Wind (Product Review Video)
When it comes to product reviews, we don't mess around. All of the items we review are put through the ringer of everyday use. You can trust that our reviews are non-biased and completely honest. Full-disclosure: we don't publish negative reviews. If a product doesn't live up to our standards, we won't promote it. Everyone has their opinion, this is ours – let's get started.
In this product review video, we check out the Towel-Infused Yoga Mat from 2nd Wind. We will also share the top things to look for if you're on the market for a towel-infused mat.
2nd Wind Health offers a small collection of high-quality yoga mats and yoga props. To us, this brand brings quality over quantity.
The Towel-Infused Yoga Mat is one of the three main types of yoga mats from 2nd Wind's yoga mat collection.
Towel yoga mats originated from the need to have a yoga mat and towel for a hot yoga or sweaty yoga class. In essence, towel yoga mats are a yoga mat and yoga mat towel in one.
This eliminates your need to carry a yoga mat and towel to class and also stays in place more than placing a towel over your mat that can shift during your practice.
Yogis like to use a yoga mat towel in hot yoga or any format that makes them sweat because towels offer better grip and traction when you're sweaty.


We Review the Towel-Infused Yoga Mat by 2nd Wind
What Makes 2nd Wind's Towel-Infused Yoga Mat Unique?
This towel-infused yoga mat is machine washable, which makes cleaning a breeze! And if you're sweating a lot on your mat, you do want to make sure that you're washing it regularly. Just be sure to wash this mat on the gentle cycle (and always air dry).
Another perk of this towel-infused mat is that it's made with antimicrobial material that's also odor repelling. A unique feature of these mats is that all of the prints are limited-edition with many beautiful designs to choose from.
This mat is great for hot yogis and any yogi that tends to sweat a lot during their practice because the microfiber material gets grippier as you sweat. You can also spray it with water where your hands and feet go for optimal grip.

Other Details to Know About 2nd Wind's Towel-Infused Yoga Mat
The microfiber material can also be the draw-back on the Towel-Infused Mat because if you don't tend to sweat a lot, this mat does not offer the best grip.
That's why this mat is great for hot yoga but not ideal for other forms of yoga (except for a gentle, more restorative practice with predominantly seated and supine poses).
This yoga mat is on the thinner side at 3mm thick. If you like lightweight mats, then that's a great feature, but if you're wanting a thicker mat, you'll probably want to look into other options.
The towel is actually baked into the natural rubber base (meaning there are no glue or toxins), and the materials in this mat are eco-friendly and biodegradable. The designs are all made from water-based inks.

What to Look for If You're On the Market for a Towel Mat
Since towel-infused yoga mats are ideal for hot yoga (which means you'll be sweating a lot on the mat), make sure any towel mat you're interested in is machine washable for easy cleaning. And if you're going to be sweating a lot on your towel mat, look for one with antimicrobial and odor-repelling materials.
You also want to look for a towel mat that's made with sustainable, eco-friendly materials to avoid glue or other toxins in the mat.
Finally, since towel mats are not as versatile in the types of yoga you can practice, you want to find one with a lower price point.


The Verdict On This Towel-Infused Yoga Mat From 2nd Wind
While a towel-infused mat is not our first choice when it comes to all types of yoga mats on the market, we know that certain yogis love towel mats.
If you're looking for a towel-infused yoga mat, this particular mat checks all the boxes: odor-repelling and antimicrobial material, machine washable, biodegradable and eco-friendly (plus the bonus of unique limited-edition prints).
For these reasons, this mat is 100% YouAligned™. If you want to learn more about this brand, you can check out 2nd Wind here.
Have any questions or comments about this product review or brand? Reach out in the comments below, and be sure to subscribe to our YouAligned YouTube channel so you can stay up to date on all of our latest videos!
This article has been read 576 times. Share it and spread the love!

YouAligned
YouAligned is an online yoga, health and wellness publication for your life on and off the mat. We are here to help you live happier, healthier, more fulfilled lives. Yoga is our passion. Your healthy lifestyle is our obsession!
You may also enjoy

In this product review, we check out the Sticky Mat by 2nd Wind. This sticky yoga mat has been tested and the results are in! Here's what you need to know.

YouAligned