8 Yoga Tanks That Keep Us Happy and Inspired

The clothes we wear are an expression of who we are. They become an extension of our identity, a way to let our freak flag fly, so to speak. We all know how clothes can boost our confidence, because when we look good we feel good. We have compiled a list of our favorite tanks that are comfortable, durable and stylish. Yes, we own each and every one. To ensure their long life and staying power, we suggest washing all of your workout clothes in the washing machine on the delicate cycle, and lay or hang them to dry.

Buddhi on The Mat racerback tank ($28)
The buddhi on the mat racerback tank by Buddhibox is an excellent inspirational tank that will encourage you to keep up your practice. Every time I wear my soft cotton tank, I cannot help but smile at the punny phrase. You can pair the gray tank with any yoga pants without clashing colors, and the loose fitting tank creates a flattering profile in your midsection.



Yoga Now Wine Later ($25)
The Yoga Now Wine Later Tank by Organic Wine Lounge is an excellent shirt that keeps me on track of my weekend priorities: Yoga? Check. Wine? Check, check! The comfortable tank (polyester, ring-spun combed cotton and rayon) is fits nicely, without being too tight or drawing attention to the midsection, and it is offered in four other variations aside from my heather gray color to meet your fashion needs.



I Saw That ($32)
While the I Saw That Karma tank by Honu Yoga is made of a comfortable polyester/cotton material, the tank is form fitting and semi-transparent, making me feel a little extra sexy while wearing it. For me, when I know I look good, I feel better on the mat, so this tank is a go-to item to make me feel better on days when I need an extra boost of confidence. During my practice, I love looking down at my happy Buddha, who is keeping an eye on me and my actions.


I Love You ($45)
The "I Love You" cropped Kali-fornia Chakra Tank by Aziam is the perfect tank to get your in touch with your heart chakra. While the message of love is delivered to all who see you and your shirt, for me this tank is a positive reminder that my yoga practice is a form of self-love. My favorite part of this polyester/viscos tank is the back, which has the words "I AM LOVE" as well as the Sanskrit symbol for the heart chakra.



The "All Good Things" tank by us, YouAligned.com ($24)
This list wouldn't be complete if we didn't offer you our very own YouAligned – designed with love – yoga tank. This flowy racerback from Bella clothing is by far the softest tank you'll own. Everyone could use a little extra protection from negative vibes. We hope you like it!



Be a Warrior Not a Worrier ($29.95)
I wear the Be a Warrior Not a Worrier Yoga Tank Top by My Inner Fire on days when my to-do list feels a little overwhelming and my head is filled with worries. Available in seven colors to match your personal preference, the tank is made in America with polyester, cotton, and rayon and screen-printed with eco-friendly water based ink.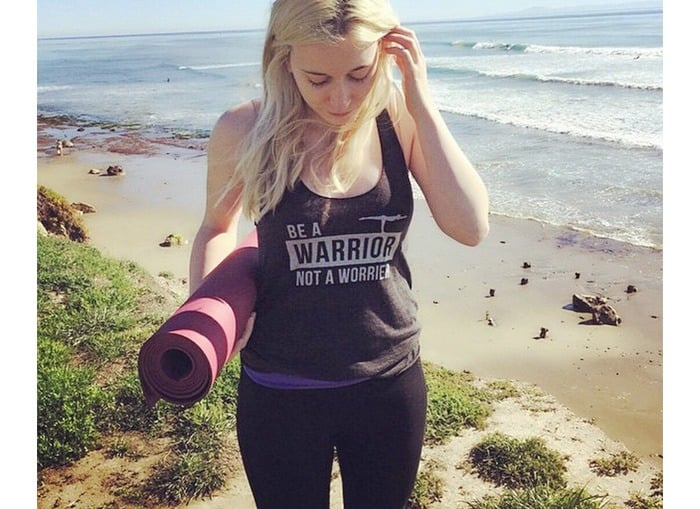 Dudes need shirts too. This is one of my favorites from Inner Fire. "FreedOM!"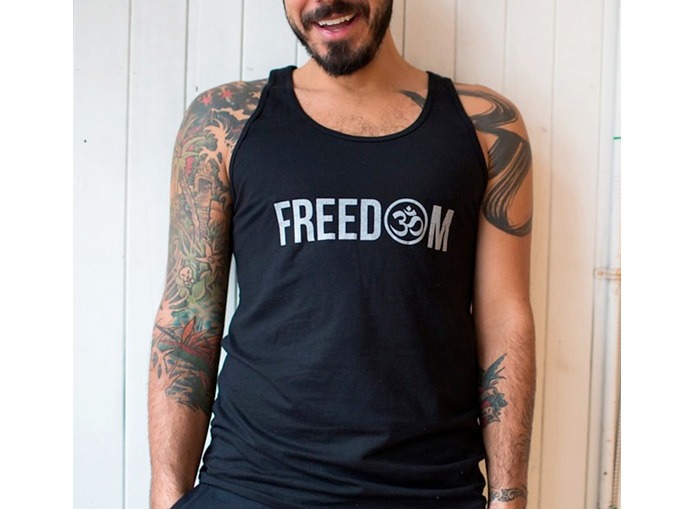 Heavily Meditated ($26)
The Heavily Meditated tank is our favorite from EverFitte's large line of punny workout and lifestyle line. This racerback tank is supper comfy! We love the raw hem edge, the old school vintage look, and of course the adorable saying, "Heavily Meditated!"

Image Credit: MyInnerFire.com
This article has been read 9K+ times. Feelin' the love!