Potty-Mouthed Princesses vs. The United State of Women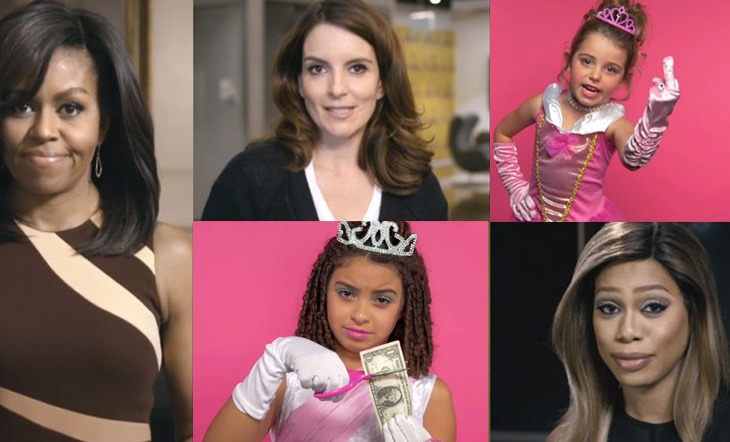 You may be one of the nearly 3 million people who have seen them on YouTube . . . the makeup-clad, bubblegum-pink little girls . . . spewing profanities. The Potty-Mouthed Princesses video went viral last year, garnering millions of views and loads of [mostly] negative responses. Their cause, claiming to be quite noble, stirred up a whole nasty pot of controversy and left a lot of us scratching our heads, muttering "What the fuck did I just watch?"

In case you missed it, here it is for you to see.


The author of this video poignantly (and exploitatively) uses little girls snapping their fingers and dropping F bombs to draw attention to the fact that there is STILL gender inequality in this country.

Did the video achieve that goal? Doubtful. Did it get a lot of people talking? You bet! Unfortunately, they weren't talking about this very real problem, because divisive videos don't bring people together and they aren't a platform for change.

You see, these in your face, rile em' up, viral videos have infected the internet and frankly, the conversations need to change.

The conversation that needs to happen is not about what's vulgar or offensive, it's not about who's right and who's wrong, it's not about morality . . .

The only conversation should be HOW can WE make change.

We are talented, intelligent, creative beings and we simply can do better than putting out a sleazy 3-minute video and calling it change. This video, and videos like it, are not empowering, they're not inspiring, and they will not encourage a much-needed change.

WE CAN DO BETTER.

I know we can do better because we've done it before – with STRONG, BOLD, POWERFUL voices that demanded to be heard from women who demanded to be seen.



Photo Credit: bozemandailychronicle.com

I know we can do better because so many women today ARE doing better – educators, authors, mothers, nonprofit organizations, grassroots campaigns, women politicians and judges, and women CEOs who are all actively working to change the world for women.



Photo credit: Orion Brooks

And when we raise strong, bold, empowered children who don't see race, gender, ethnicity or sexual orientation . . . when we raise children who understand the power of kindness, meditation and acceptance, THEN we secure a better future for EVERYONE.

Recently, First Lady Michelle Obama got together with Oprah Winfrey to talk about the next generation of women. And what a powerful conversation that was! The First Lady gives us the full scoop on her background as a working professional, wife and mother raising two small girls.



The advice and wisdom she shares on how to maintain a balance and how to make yourself and your own time a top priority is truly inspiring. This approach to understanding and accepting our inherent VALUE and self-worth as women is how we should convey this message to the masses in a relatable, non-aggressive way.

You can watch the full 43-minute video here (and trust us, it's worth the time to watch!!)



In the words of Maya Angelou, "You alone are enough." It really can be as simple as that.

Don't get sucked into the social media drama of viral videos like Potty-Mouthed Princesses. THINK! What can you do to PROGRESS gender equality? Let's get a CONSCIOUS, ELEVATED, POSITIVE, and CONSTRUCTIVE conversation going.

Want to learn more about how we ARE doing better? Watch this short yet incredibly compelling video on The United State of Women.



This article has been read 329 times. Share it and spread the love!