Want a Moving Meditation? Here Are 4 Different Forms of Walking Meditation to Try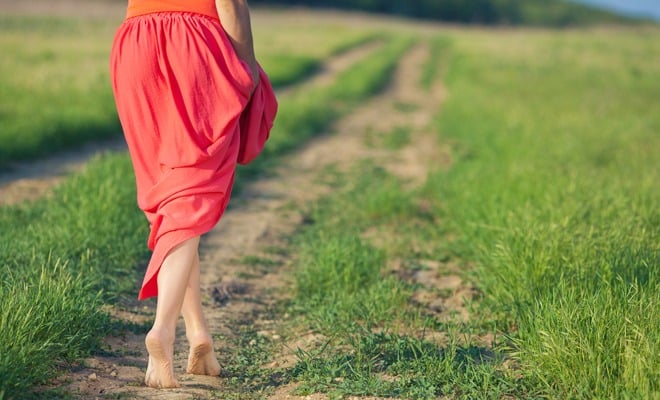 When most people think of meditation, they picture a yogi sitting quietly chanting "OM" in a deep stillness.
But the good news is you don't have to sit to find that inner stillness. Meditation at its base is any method of quieting the mind. Walking meditation offers a moving alternative to a classic practice.
It allows you to get outside and reconnect with the rhythms around you. Adding a different method of meditation to your practice may allow you to reach a new level of calm simply by changing up your routine.

Meditation at its base is any method of quieting the mind.

Walking meditation provides many of the same benefits as sitting meditation like increasing mental clarity, stress reduction, lowering anxiety and blood pressure, and immune system support. 
But walking meditation can also offer other benefits like building stamina, aiding in digestion, invigorating the body, and improving overall fitness. It offers an effective alternative for those who struggle with sitting meditation but still seek the benefits of a mindfulness practice.


Here Are 4 Types of Walking Meditation:
There are many different types of walking meditation. Here are four unique and easy-to-follow options to give you a well-rounded scope for your practice. It's time to get outside!

1. Traditional Walking Meditation
Traditional walking meditation requires you to walk back and forth, along the same path, giving your mind the single-pointed focus of each individual step. 




This style of walking meditation makes it easier to keep the mind focused by eliminating the distractions you are likely to experience on a normal walk. Experiment using labeling techniques to help maintain your focus.
These labels are generally descriptive of the action like "stepping, stepping, stepping" or "lifting foot, moving foot, putting foot down."

2. Breathing-Centric Walking Meditation
A less formal type of walking meditation involves a strong focus on your breathing as you walk. Simply exhaling for twice as long as you inhale (inhale for a count of 4, exhale for a count of 8) while you walk can have meditative benefits. 
Conscious breathwork in yoga and meditation is referred to as Pranayama.
There are many forms of Pranayama, or breathing techniques, that you can employ. If there is a particular breathing technique you enjoy, try using it during your next walk and have fun experimenting with works best for you.
New to Pranayama or interested in learning more about the different forms? Check out Pranayama Explained + 5 Techniques to Get You Started

3. Mindful Observation
Another option is mindful observation. Beginning with how your body feels, you shift your attention through a series of focus points, checking in with what you are experiencing as you go. 
Begin with how it feels to be in your body. Notice different sensations. Check in with what you are experiencing. Focus on the texture and consistency of your breath. Feel the sun on your face and the wind in your hair.
This mindfulness practice will help keep you focused and present by establishing a mind/body connection.
Interested in learning more about mindfulness? Check out our full Mindfulness Meditation Guide!

4. Mantra Meditation
You can also use a mantra to maintain your focus, control your breath, and keep your mind clear of wandering thoughts. 




A mantra is a word or phrase said repeatedly during a meditation. It could be as simple as saying to yourself, "Inhale" as you breathe in, and "exhale" as you breathe out.
Some find it calming to count with the breath, giving your mind something to focus on. Others say the word they are trying to create more in their life: peace, love, compassion, abundance. SO HUM is a popular mantra easy to remember. It means "I Am That."
Want more mantra inspiration? Here are 3 Sanskrit Mantras to Boost Your Meditation Practice


Walking Meditation – The Takeaway
The key to any successful walking meditation is to choose a focus and then keep your attention centered on that focus while experiencing the various stimuli surrounding you. Walking meditation provides a link between you and the outside world.
As your practice deepens, it will strengthen your ability to tap into that inner calm at any time throughout your day, taking your meditation with you wherever you may go.

Namaste.
This article has been read 10K+ times. Bada bing!