10 Healthy YouTube Cooking Channels to Ignite Your Tastebuds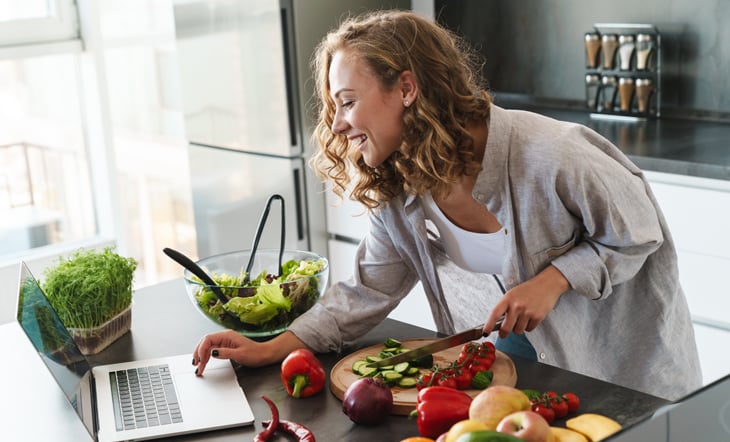 If you want to clean up your nutrition and get cooking in the comfort of your own kitchen, YouTube cooking channels have you covered. We all know the value of good health and what we eat can play a huge role in our overall well being.
Not sure where to start? Keep reading to find some amazing, healthy cooking channels (pro-tip: hit subscribe on each channel to curate a healthy YouTube feed!).


How YouTube Cooking Channels Can Help You Eat Healthier
A study at Johns Hopkins University Bloomberg School of Public Health has shown that those who cook at home tend to eat healthier.
"When people cook most of their meals at home, they consume fewer carbohydrates, less sugar and less fat than those who cook less or not at all — even if they are not trying to lose weight," says Julia A. Wolfson, MPP, lead author.

Cooking channels help you food prep and integrate more healthy options into your day.

Grabbing take out at the end of a long day might be convenient but it can include loads of extra (and often empty) calories that will leave you more unhealthy in the long run.
Why not give these healthy YouTube cooking channels a chance to help you food prep and integrate more healthy options into your day?
For more on how to Meal Prep, check out the article How to Meal Prep Like a Pro


Here Are 10 Healthy Cooking Channels on YouTube:
1. HealthNut Nutrition
Nikole at HealthNut Nutrition brings you the ultimate collection of healthy hacks: snack hacks, cooking hacks, baking hacks, even time saving meal prep hacks.
From organizing your fridge to meal planning for a week, Nikole will help you bring your A-game to the kitchen in no time.

2. Sweet Potato Soul
Jenne is a vegan chef with a passion for all things sweet potato, hence the name Sweet Potato Soul. She has a cookbook of veganized soul food and YouTube playlists full of things like Buddha Bowl recipes and Everyday Easy Meals.
Her cooking channel has helpful series like Vegan on a Budget, How to go Vegan, and her weekly emails include free meal prep guides.

3. Nikki Vegan
Nicole puts together the ultimate cooking channel of easy vegan recipes and meals. She does Grocery Hauls, What I Eat in a Day, and Easy on the Go Lunches to help inspire real life vegan options.
Nikki Vegan even has a Healthy Vegan Comfort Food playlist to make sure you can still indulge in your Mac and Cheese cravings.

4. Pick Up Limes
Sadia is the heart and soul behind Pick Up Limes, a plant based food and lifestyle channel with a very calming, mindful vibe.
There's a little bit of everything on this cooking channel, from How to Stop Binge Eating to Late Night Cravings and Staying Motivated to Eat Healthy. Of course, there are plenty of healthy recipe playlists, like Make Ahead Vegan Lunches and Quick Vegan Breakfast Ideas.


5. Eat Move Rest
Erin & Dusty bring you healthy eating and lifestyle tips for the whole family at Eat Move Rest. They have two little kids and tons of videos about what they eat as a family and how they raise their kids to have healthy eating habits.
They start each day with a bright green smoothie, include tips on how to keep all your fruit and veggies fresh, and talk about what their weekly go-to clean dinners look like.

6. Clean and Delicious
Dani is the creator of the Clean and Delicious cooking channel and comes from a holistic health and wellness background. The channel features an Intuitive Eating series and an Introduction to Clean Eating series.
The playlists cover everything from easy dinner ideas to healthy desserts, salads and dressings, side dishes and baked goods, plus a great How-To series for those new-to-the-kitchen cooks.

7. Mind Over Munch
Alyssia brings a whole lot of personality to Mind Over Munch, where she is redefining healthy eating by letting go of labels and trendy diets. She hosts a series on food freedom, a guide to healing your relationship with food.
The playlists have recipes for all needs and interests: Keto, Low Carb, Vegetarian, including fun things like Bento Box Lunches and How to Be Healthy on a Budget.
Want to read more about healing your relationship with food? Check out How to Have a Healthier Relationship with Food

8. The Happy Pear
Dave and Steve focus on a whole food plant based diet at The Happy Pear, which they refer to as a virtual cookbook.
They host a wide variety of healthy cooking content, including 5 Minute Dinners, a "How to Make" series for things like hummus, sorbet, and sourdough bread. Their 5 Ingredient Chocolate Lava Cake will have you questioning everything you ever thought about healthy eating.

9. Healthy Grocery Girl
Megan is a registered dietitian nutritionist and founder of Healthy Grocery Girl. She aims to keep healthy eating simple with playlists like "Yummy in a Hurry" for busy families who don't have a ton of time to spend in the kitchen.
She does Grocery Haul videos and Healthy Freezer Staples to keep you organized and prepared. The channel has recipes to cover you all day long, from breakfast, lunch, dinner and snacks.

10. Downshiftology
Lisa brings us a refreshing philosophy at Downshiftology of simplicity, focusing on seasonal, whole foods. She has curated seasonal playlists to help you eat with the season. She herself is gluten-free, so most of her recipes are as well.
Downshiftology has something for everyone: Vegetarian, Keto, Whole30, Paleo, Vegan and a Healthy Basics playlist to get you started.


Join the YouTube Cooking Craze Today and Subscribe to Your Favorite Cooking Channels
Eating healthy and cooking your own food are simple concepts that can feel overwhelming to execute.
As you look to these channels for inspiration, be sure to take it one thing at a time. Choose one or two channels to explore this week, experiment with something new and don't forget to have fun!
This article has been read 7K+ times. Feelin' the love!