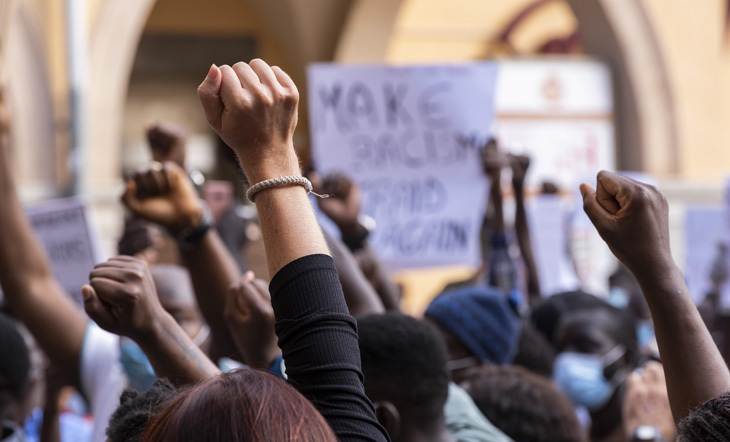 Here Are 6 Racial Equality Organizations to Support and Get Involved With
The Black Lives Matter movement is about fighting racial injustice and has catapulted the US into a revolution demanding change and equity of treatment. Racial equality organizations need our support to help propel this movement forward.
The fight for justice and equality impacts everyone, and can only be achieved when we can all stand together to demand change.
Offer your help and get involved by volunteering with or donating to racial equality organizations that are fearlessly fighting to bring equity to an inequitable society.


Here Are 6 Racial Equality Organizations You Can Support and Get Involved With:
From well-established to brand new, these six racial equality organizations are all fighting for a worthy cause.

1. Grassroots Law Project
Combining the best of grassroots organizing with legal expertise to radically transform policing and justice in the US, the Grassroots Law Project is on a mission to create real, lasting change.
They are pushing for "bold policy changes to dismantle systems of injustice and replace them with policies, committees, and resources that support healing and community care."
This is an organization definitely worth helping. You can donate to the cause or volunteer your services to help their work.


2. Reclaim the Block
Reclaim the Block is a Minneapolis-based operation organizing to redistribute money from the police department into other areas of the city's budget that genuinely promote community health and safety.
Located in the heart of where the protests began and the site of George Floyd's murder, this is definitely a racial equality organization worth contributing to.
If you can, consider supporting their work and the broader movement to abolish police brutality.

3. Black Visions Collective
The Black Visions Collective is an organization committed to not only creating a world where Black lives matter, but establishing a society where Black people can thrive.
This Minnesota-based collective is working hard to dismantle systems of oppression and violence and pursue dignity and equity for all. If you can, consider donating to assist their noble fight.

4. Color of Change
"Color of Change helps you do something real about injustice."
This fearless organization holds corporations and politicians accountable for their actions, commissions research on societal inequality, and promotes real solutions for racial justice. Donate to their cause or join the movement.

5. Know Your Rights Camp
Football player Colin Kaepernick famously took a knee in peaceful protest against police brutality during the national anthem at games. But he didn't just stop there.
Kaepernick founded Know Your Rights Camp as a response to the killing of Black people at the hands of law enforcement.
The camp began by teaching Black and Brown communities how to survive, but has grown to also teach young adults how to thrive and better their futures with access to information, knowledge, and resources.
Join their mission to advance the liberation and well-being of Black and Brown communities and elevate the next generation of change leaders by donating to this worthy cause.


6. NAACP
The National Association for the Advancement of Colored People (NAACP) is an established racial equality organization on a mission to secure the political, educational, social, and economic equality of rights to all people of color.
They're out to eliminate race-based discrimination and ensure the health and well-being of all so that we can live in a world where all people are treated equally and are offered the same opportunity.
Join their organization or donate to help fuel their fight.


Get Involved With Racial Equality Organizations Now (And Always)
This list is by no means exhaustive – there are many more organizations to learn about and support. Don't let the momentum of this powerful movement slow down when the protests end. Continue to offer donations and volunteer services to racial equality organizations whenever you can.
Because no one is free when others are oppressed.
Looking for more ways to get involved? Here Are 10 Actionable Ways to Support the #BlackLivesMatter Movement
This article has been read 595 times. Share it and spread the love!

Leah Sugerman
Leah Sugerman is a yoga teacher, writer, and passionate world traveler. An eternally grateful student, she has trained in countless traditions of the practice and teaches a fusion of the styles she has studied with a strong emphasis on breath, alignment, and anatomical integrity. Leah teaches workshops, retreats, and trainings both internationally and online.
You may also enjoy

#BlackLivesMatter protests are growing and if you're wondering how to be an ally for the cause, here are 9 actionable ways to support.

Leah Sugerman