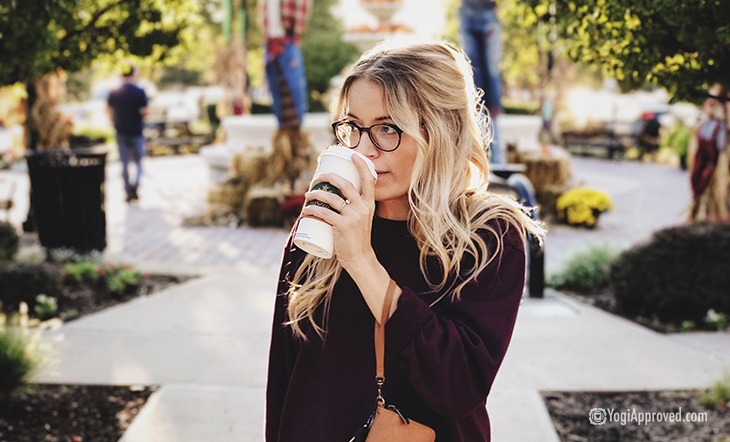 The Superfood That Replaces Coffee + 14 Incredible Health Benefits
Cacao is gaining in popularity as a delicious raw chocolate superfood with an incredible list of health benefits. It tastes amazing, and does amazing things for your health and wellness! Did you know cacao boasts FORTY TIMES the amount of antioxidants than blueberries, and that it's the highest plant-based source of iron out there?!

Cacao is one of the most nutrient-dense superfoods on the planet, with the highest levels of antioxidants, iron, and magnesium of any food.

Here are 14 health benefits of cacao, along with a few fun ways to incorporate it into your daily life:
1. Healthy Heart
Cacao is chock-full of magnesium, which supports healthy heart and brain function. It also contains an abundance of polyphenols which help reduce bad cholesterol and prevent arteries from hardening.

2. Vegan + Dairy-Free Friendly
Cacao contains more calcium than cow's milk, and also substitutes the chocolate flavor and milk froth perfectly for a 'chocolate milk' or 'hot chocolate.'

Bonus: Make your own delicious hot cacao! Here's how:
Combine 2 oz. of steamed Cholaca liquid cacao with 4 oz. steamed almond milk. Option to add 1 tsp. coconut oil. Sip, savor, and enjoy!

3. Appetite + Weight Management
Cacao contains MAO inhibitors which have been found to reduce appetite (which is why they are often included in diet supplements). These inhibitors have also been known to improve metabolism.

4. Aphrodisiac + Increased Libido
A compound known as PEA (or phenethylamine), is found in cacao. PEA releases endorphins and pleasurable neurochemicals that naturally release during sex, creating a feeling of bliss.


5. Decrease Signs of Aging
Cacao contains polyphenol antioxidants that hail from the same group of antioxidants as both red wine and green tea – also known to reduce signs of premature aging.

6. Natural Mood Booster + Anti-Depressant
Cacao contains anandamide, which naturally helps elevate your mood. Anandamide is known as the bliss molecule, because it creates a feeling of euphoria – an excellent way to combat depression.

7. Energy Boost
Ditch the coffee and energy drinks! Cacao contains theobromine, a natural stimulant that releases endorphins and gives you a physical buzz without the caffeine crash or jitters commonly associated with caffeine.

8. Protect Against Health Issues
Because it has a high concentration of magnesium, cacao also helps reduce Type II Diabetes, lower blood pressure, and even help prevent osteoporosis.

9. Radiant Skin, Hair, and Nails
Cacao naturally contains sulfur and flavonals. Sulfur works wonders for strong, healthy, and shiny hair, and it also helps strengthen nails. Flavonals are amazing for your skin and help keep it hydrated, which is key for healthy, beautiful skin.

Bonus: Create your own cacao facial scrub! Here's how:

Combine ½ cup Cholaca unsweetened liquid cacao, 1 tbsp. coconut oil, and 1 cup raw sugar with a splash of olive oil and 1 tsp. honey.

Mix all ingredients in a large bowl. Apply 2-3 tbsp. and apply over face and neck. Let mask sit for 10 minutes. Rinse off by scrubbing in circular motions with warm water. Apply moisturizer when finished.


10. Dental Health
Cocoa powder has been shown to be even more effective in preventing cavities than fluoride, and it also helps harden tooth enamel to keep your teeth healthy, strong, and stop them from decaying.

11. Memory + Cognitive Function
Cacao has been linked to improved memory and cognitive function. It also helps increase blood flow to the brain, which in turn could help to prevent Alzheimer's.

12. Balance Hormones
Studies have shown that cacao can actually boost levels of calming hormones in the brain and increase serotonin, a feel-good chemical that releases endorphins and helps balance out mood.

13. Improve Digestion + Bowel Function
Raw cacao contains fiber, which helps stimulate your bowel function and increase regularity. Cacao also stimulates the digestive enzymes in the intestinal tract so your body is better able to break down food.

14. Natural Sunscreen
Studies have shown that cacao can actually reduce the rate and severity of sunburn and may protect against the harmful UV rays that can cause skin cancer.

With all the amazing and incredible health benefits of cacao, you may want to drink it by the gallon! But it's important to note that you shouldn't consume more than four teaspoons of cacao per day. As with anything, be sure to consult your healthcare provider for any health-related questions or concerns.

If you're interested in purchasing cacao, we recommend Cholaca liquid cacao, which you can buy online or in health food stores such as Sprouts.

This article has been read 2K+ times. Feelin' the love!