An Ode To Nepal
On the 15th of March, my partner and I left England for an 18-day adventure holiday backpacking around Nepal. On the 2nd of April we were back home: happy, exhilarated and excitedly planning our next big adventure. Yet after only 3 weeks of settling back into daily life, the 7.8 magnitude earthquake hit Nepal and within minutes the place we fell in love with was in ruins.
Emotionally, it was hard-hitting because the Nepal we came to know was fresh in our minds. Every evening we'd enjoy flipping through photographs and spend hours talking with friends about the stunning architecture in Kathmandu, the breathtaking jungles of Chitwan, the peaceful lakeside of Pokhara and the beautiful smiles of the people we met. People know of Nepal for it being the sister country to India, a backpacker's paradise, and for it's compelling spiritual way of life. Unfortunately, it is now known for the devastation the 2015 earthquake has caused.
And so, dear readers, I would like to take you on a journey to see Nepal through my eyes: how it was before the earthquake and how it will be one day again in the future. Here is my short but sweet story with stunning imagery to give you a glimpse into this enchanting place.
Kathmandu is hectic but rich with vibrant colors, textures and noises. The vast ancient temples reach towards the heavens whilst locals by the hundreds ring bells, give flower offerings and pray to a deity in the form of an elaborate statue as part of their daily rituals. It is here I meditated on the steps of the temple dedicated to the founder of Hatha Yoga and met the famous Sadhu's (holy men) meditating in the sun. The Sadhu's gave me blessings, whispered in my ear that I was lucky, and chanted in Sanskrit as their palms gently touched my forehead.




Chitwan is a sleepier part of Nepal enveloped by a primordial jungle of wild beasts, exotic flowers, and gentle people of Tharu villages. Here I would wake up early hearing the cockerel's crow and see elephant riders taking their elephants to the river to bathe them only a stone's throw from our eco lodge. It is here I was allowed to be involved in bathing a 29-year-old female elephant named Marikali. This was a happy moment for me because elephants are one of my favorite animals.




In Lumbini, the birthplace of the historical Buddha, an 80-year-old Tibetan Buddhist monk on a pilgrimage asked to have his photo taken with us, which was an absolute honor. In Pokhara, we witnessed a mesmerizing thunderstorm, found the courage to go Paragliding and white water rafting, and leisurely rode a paddleboat across the lake surrounded by the cascading Anapurna mountains embraced in a soft hazy mist.
  "During our time in Nepal, we knew peace."
During our time in Nepal, we knew peace. The Nepali people are extremely resilient and have a wonderful sense of community. Regardless of adversity, the Nepalese prefer to smile and move forward fearlessly. The entire time I was there, I did not encounter a raised voice, anger or malicious behavior. They are a peaceful nation who have this incredible knowledge and deep spiritual connection to the cosmos. My own atheist/realist partner wanted to wear mala beads, and whilst in Lumbini decided he wanted to learn more about Buddhism.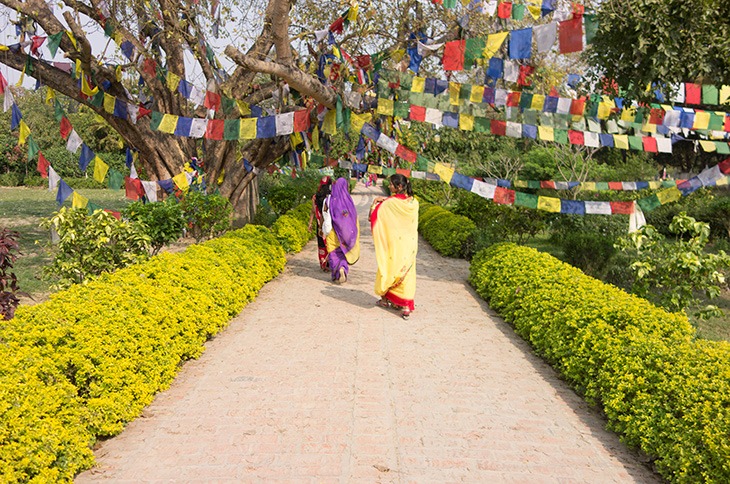 Tragic times like this really shake you up and remind you of how fragile we are and how each moment needs to be cherished because the future is unpredictable, and life is fleeting. My partner was so moved by Nepal, a sadness enveloped him when we left and again when we later learned about the earthquake. He is now creating a short video capturing the beauty of the Nepalese culture for the world to see as a small tribute to his time there. YouAligned will proudly feature this short film upon its completion.
Now, after the second earthquake has hit, the people of Nepal are in even more need of global support. My partner and I are currently donating as much as we can to charities that are sending aid to Nepal, and I urge others to do the same. As a global community, let's help the lovely people of Nepal gain access to shelter, medical facilities, clean water, food, and warm clothes before their monsoon season sets in. Let's help them rebuild their lives so they can regain their peaceful way of life once more.
Here are some charities I recommend:
Save the children: Nepal earthquake appeal
Water Aid: Nepal earthquake
The Disaster Emergency Committee: Nepal Earthquake Appeal

This article has been read 414 times. Share it and spread the love!