Healthy Life Hack! 50 Amazing Uses for Coconut Oil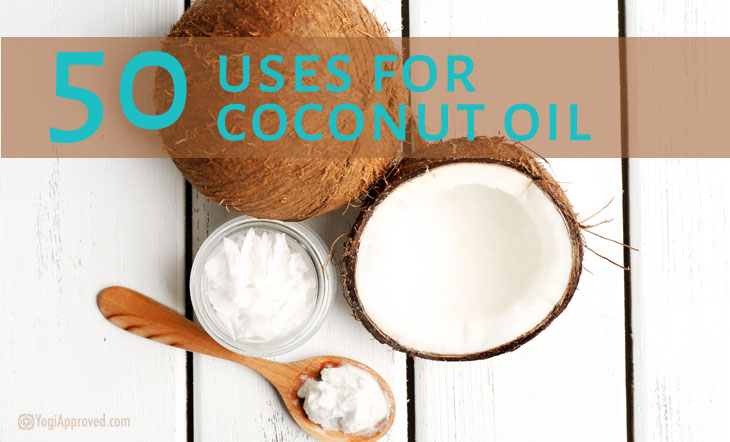 Coconut oil is one of those "it" products that's been trending for a while now in the health and wellness community – and for good reason! There is a huge range of coconut oil uses, from cooking to beauty, skincare and more.
You can purchase this healthy oil at almost any location where food is sold, but there are many varieties and labels to which you should first be aware. If you are looking to use coconut oil just for cooking, you can go with refined oil that is tasteless and odorless and can withstand a higher cooking temperature.

However, if you are looking to utilize coconut oil in the many ways listed below, go with unrefined, virgin or extra virgin coconut oil, such as the extra virgin organic coconut oil from Viva Naturals.
Even comedian JP Sears says coconut oil is like duct tape for your health! Watch his hilarious parody about coconut oil uses here


Here Are Amazing 50 Uses For Coconut Oil:
Food

1. Add a few tablespoons of coconut oil to your food (smoothies, spreads, salad dressing, toast, pasta, pancakes, fondue or anywhere you would add butter) each day to reduce inflammation, hydrate your body and skin, boost your metabolism, and increased energy.

2. Add 1-2 tablespoons of coconut oil and 1-2 tablespoons of unsalted butter or ghee to your morning coffee to aid in weight loss.

3. In baking, you can be vegan-friendly by replacing butter, margarine or other oils as a one-for-one replacement with coconut oil.

4. Another one for our vegan friends – add coconut oil to your next recipe as a thickening agent instead of dairy or eggs.

5. Skip the Red Bull or Monster and eat a tablespoon a day (in your preferred method) for an instant energy boost.


Personal care

6. Calm sunburned, irritated, inflamed and bug-bitten skin with a dab of coconut oil.

7. Replace your chemical-filled lotions with coconut oil for head-to-toe moisture.

8. The appearance of varicose veins can be reduced over time with regular application of coconut oil.

9. In a mason jar, make your own DIY aluminum-free deodorant with 1/3 cup coconut oil, 2 tablespoons baking soda, 1/3 cup arrowroot powder and your choice of essential oils for your fragrance preference).

10. Want something more gentle? Apply coconut oil by itself to your underarms and eliminate any changes of skin irritation from baking soda.

11. Slowly integrate coconut oil into your nighttime skincare routine by adding it to your existing facial serum or moisturizer, and you can see a reduction in age spots, bags and wrinkles in no time. Or, use it solo for a completely chemical free skincare regimen.

12. Make your own chemical-free fragrance by combining your favorite essential oil with coconut oil and applying it directly to your skin.

13. Preggos? Rub some coconut on your belly instead of chemical-filled alternatives to prevent stretch marks during pregnancy. Not preggos? You too can lather it on to create supple, stretch-mark free skin.

14. Mix a ½ cup coconut oil, 1 cup ground coffee, and 1 cup sugar or Epsom salts with essential oils for a cellulite-fighting exfoliator (also see 6 Natural and DIY Remedies for Cellulite).

15. Don't forget to use it during your mani/pedi to promote soft cuticles and nail beds and stimulate nail growth.

16. Ladies and gents, replace shaving cream with coconut oil for smooth, supple, nick-free skin.

17. Just a dab twice a day can kill bacteria and reduce acne.

18. Make your own lip balm by combining 2 tablespoons of coconut oil, 2 tablespoons of beeswax and 1 tablespoon of shea butter, and store in a tin or lip balm container. Add some color with cocoa powder, beetroot powder, turmeric and cinnamon to find your ideal hue.

19. Add coconut oil and essential oils to your next bath for an aromatic and moisturizing experience.

20. Apply a thin layer of coconut oil to your face before you apply your makeup for a natural makeup primer.

21. Use coconut oil to remove grease and grime from hands.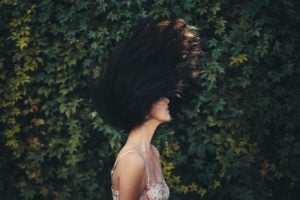 Hair care

22. Reduce the appearance of a dry, flaky scalp with a five-minute coconut oil scalp treatment before shampooing.

23. Combine coconut oil with apple cider vinegar for a cleansing, moisturizing shampoo without nasty chemicals.

24. Condition your ends with an all-natural, chemical-free hair conditioner. Use oil as a deep conditioner and your hair will be soft, full of shine and free of tangles.

25. Smooth some oil on your ends to tame the frizz, flyaways and static.

26. Remove makeup naturally by rubbing melted coconut oil on your face in a gentle, circular motion. Then, wipe away with a facial cloth.

27. Swoosh just a dab on your cheekbones for a natural skin illuminator and highlighter.

28. Dudes – use coconut oil as a natural facial hair shaper and moisturizer.

Want to promote healthy hair growth? Read 10 Tips to Promote Healthy Hair

Health

29. Have a sore throat? Eat a tablespoon of coconut oil by itself up to three times a day to ease the pain.

30. Add a dab to a minor cut or scrape (even ingrown hairs and hemorrhoids) and the oil's natural antioxidants will heal your cut faster than if left untreated.

31. Treat cold sores, canker sores or ringworm by applying the oil directly to the affected area.

32. Make your own toothpaste in a mason far with equal parts baking soda and coconut oil and food-grade essential oil of choice, such as peppermint or spearmint.

33. Ingest daily to lower cholesterol and your risk of heart disease.

34. Use coconut oil as a natural, low SPF (4-6 degree protection on average) for times when you need just a little protection from the sun's harmful rays.



35. Consume 2 tablespoons each day to keep you regular and prevent constipation.

36. You can treat athlete's foot and other fungal infections by applying coconut oil to the affected area until you are symptom free.

37. Use as a natural personal lubricant, when not combining with latex.

38. Use coconut oil as a mouthwash by melting a tablespoon of coconut oil in your mouth and swishing it around for a few minutes to promote fresh breath.

39. Do some oil pulling by increasing your swishing time to 10-20 minutes to detoxify your mouth, kill bad breath and bacteria and promote tooth health.

40. Increase food poisoning healing time by drinking 3 tablespoons of coconut oil in orange juice once a day until symptoms go away.

41. Ingest 2 teaspoons daily to minimize heartburn and acid reflux symptoms without medication.

42. When ingested, coconut oil can balance your blood sugar, and in some cases, prevent diabetes.

43. Consume daily to increase mental alertness and possibly reduce Alzheimer's Disease.

44. Rub coconut oil inside your nostrils to temporarily reduce seasonal and pet allergy symptoms.

45. Apply topically to reduce the pain associated with arthritis.

46. Increase circulation by applying coconut oil topically.

47. Balance hormones and reduce hot flashes by ingesting coconut oil daily.

48. Treat a urinary tract infection or yeast infection by ingesting coconut oil and applying it topically to the affected area.

49. Combine coconut oil with peppermint or eucalyptus essential oil for a quick-and-easy DIY vapor rub that you can apply topically to your neck and chest areas.

50. Prone to chaffing? Apply coconut oil to typically affected regions prior to a workout to reduce skin irritation.

Coconut Oil Uses Are Truly Endless!
The uses for coconut oil can really go on and on, including baby, pet and home care practices. Armed with coconut oil in hand, you can find a way to integrate it into virtually every area of your life as an easy, inexpensive natural supplement to your daily personal care, beauty, health and wellness and dietary programs already in place.

What are your favorite uses for coconut oil? Please share them with the community in the comments below.
This article has been read 2K+ times. Feelin' the love!