These 7 Stress Management Hacks Will Have You Feeling Instantly Calm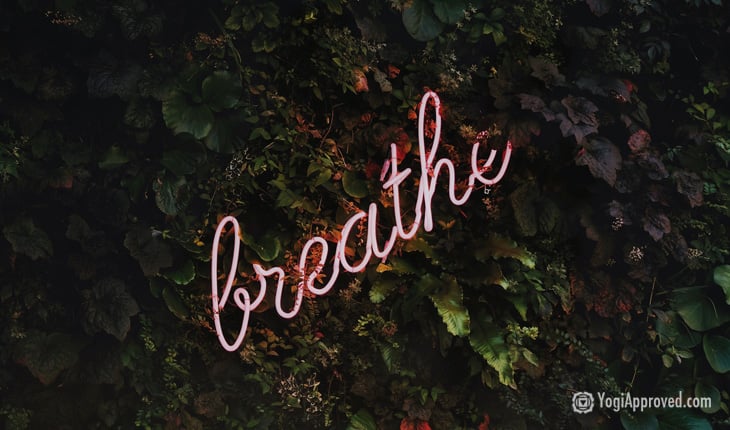 According to recent reports, stress is on the rise and impacting more people than ever before. For many of us, politics, social media, and countless other factors are constantly working against our attempts at stress management.
We all have those days when stress gets the better of us. Our lives are busy, our schedules can be demanding, which can sometimes cause us stress – and not the good kind! While we can't always change our obligations, busy schedules, or other things that disrupt our zen, we do have control over whether we succumb to stress.

"Happiness is a choice. You can choose to be happy. There's going to be stress in life, but it's your choice whether you let it affect you or not." -Valerie Bertinelli
The good news is there are so many resources available to help us cope. From meditation apps to online yoga classes, you can reduce your stress anytime, anywhere. But when you need instant stress relief and easy tips for stress management that really work, then read on for 7 ways to relieve stress today for a calmer tomorrow.

Here Are 7 Simple Tips That Actually Work For Stress Management:
1. One Coffee a Day
Caffeine certainly helps with productivity, but too much of any good thing is nearly equal to its negative counterpart. Caffeine is a neural stimulant. We all crave the temporary effects that make us feel superhuman, but that awakened energy can often lead to the jitters.

The more caffeine you have, the more likely you are to scatter your mind, which can throw off your zen in its entirety. Being thrown off center with racing thoughts and shaky hands will only add to your stress levels.

2. Make Goals and Inspiration Visual
What is your goal this week? What is your favorite inspiring quote? Which book, photograph, or memory brings you comfort? Find something to motivate you and make it seen! Hang it on your wall, write it on a sticky note and stick it to your computer, or make it your phone's wallpaper – whatever works best for you.

A fun and inspiring quote can help you maintain your inner peace during the day, and will also keep you on track if you start to feel stressed. Tell yourself, and truly believe it: You are always stronger than you think you are.

3. Inhale and Exhale
Ever notice how your breathing changes when you're stressed out? The breath becomes shallow, and you take tiny little sips of air. This activates the nervous system's fight or flight response – a direct contributor to the stress you are already feeling!

So when the day gets tough, take a deep inhale that fills your belly all the way up to your collarbone. Deep, conscious breathing helps us bring our minds to a calm and rational state. The breath can help you remember that you are a warrior and you are bigger than your problems.

4. Laughter Is Medicine
You know that giddy feeling after you've had a good, hearty laugh? Yes – we've all experienced that wonderful sensation. Life is always better with a sense of humor.

When we laugh, our bodies feel a sense of ease and relief. We should embrace this, as it is the principle element of achieving a lasting sense of peace and wellbeing while eliminating stress. After all, it takes more muscles to frown than it does to smile!


5. Carve Out Moments
Whether you're on vacation or at work, you can always carve out a moment to close your eyes, relax your entire body, and simply be. Self-care is the most important thing we can do for ourselves, and taking time – even if it's just for a few moments – to sit in stillness, breathe deeply, and relax will go a long way for your peace of mind.

It just so happens that self-care is also one of the most effective forms of stress management. So go ahead and treat yourself to a healthy dose of self-care on a regular (dare we say, daily) basis.

Want more guidance on self-care? Actress Kristen Bell Shares Her Top 10 Favorite Tips For Self-Care and believe us, they're inspiring!

6. Move Mindfully
Mindfulness is the key to staying present, which in turn keeps stress at a minimum. Whether you're washing the dishes or going for a walk, your challenge is to do these activities with acute awareness of the present moment – the smell of the dish soap, the feel of the tiny bubbles, or the sound of your feet walking, the scenery around you . . .

Deliberately pushing your mind to process a difference in surroundings allows you to go inward and spend some time focusing on yourself. The key to avoiding stress is to become mindful in the present moment.

7. Play Those Tunes
Make a playlist of your favorite songs or the songs that make you feel happy and free. In times of need, music is a powerful calming mechanism that helps reduce stress and give you the peace of mind you've been craving. When you need that zen, plug into your headphones and get away for a few minutes, a few hours, whatever you have.

Incorporate These Stress Management Tips For a Calmer Tomorrow
During the day, it can be hard to maintain zen — especially if there are a million things going on at once. Yet maintaining a sense of equilibrium and avoiding unnecessary stress is the most important thing you can do for yourself, your productivity, and the people around you.

If you incorporate some of these playful tips in your day, they can help bring you back to zen. Remember, you always have your yoga mat to look forward to, especially after a long day!

What kinds of things do you do to avoid stress and stay zen throughout your day?

This article has been read 1K+ times. Feelin' the love!