The Food Pyramid Just Got Updated With Harvard's "Healthy Eating Plate" – Here Are the Pros and Cons
For the longest time, we were taught very, very inaccurate information about food. According to the triangular diagram illustrated by a hierarchy of various food groups, a healthy food pyramid consisted of 6 to 11 servings of bread, cereal, rice and pasta. We believed "low fat" and fewer calories meant eating healthy.
Today we know the food pyramid isn't an accurate depiction of a nutritious, balanced diet. In the years following the release of The Food Guide Pyramid in 1992, the United States Department of Agriculture (USDA) has made quite a few updates.
Following this new wave of dietary guidelines, Harvard recently released its Healthy Eating Plate – a set of nutrition recommendations focusing less on food group servings and more on your diet as a whole.
While Harvard's Healthy Eating Plate is definitely a step-up from the nutritional guidelines of the past, there is still some room for improvement.


Before You Try the Healthy Eating Plate for Yourself, Review These Pros and Cons:
Pro: A Much-Needed Update to the Traditional Food Pyramid
Through a great deal of trial and error, we now know (among other things) that grains and carbohydrates should not be the base of your diet.
Thankfully, health experts have stepped in to right the wrongs of the past. According to the U.S. News & World Report, the Mediterranean Diet was voted the best diet in the world in 2019.
Taking all of this information into consideration, Harvard created this guideline to help you understand your nutritional needs and change the way you think about your food goals.




So, what does a healthy food pyramid look like? Harvard's Healthy Eating Plate is 50% fruits and vegetables, 25% healthy protein and 25% whole grains.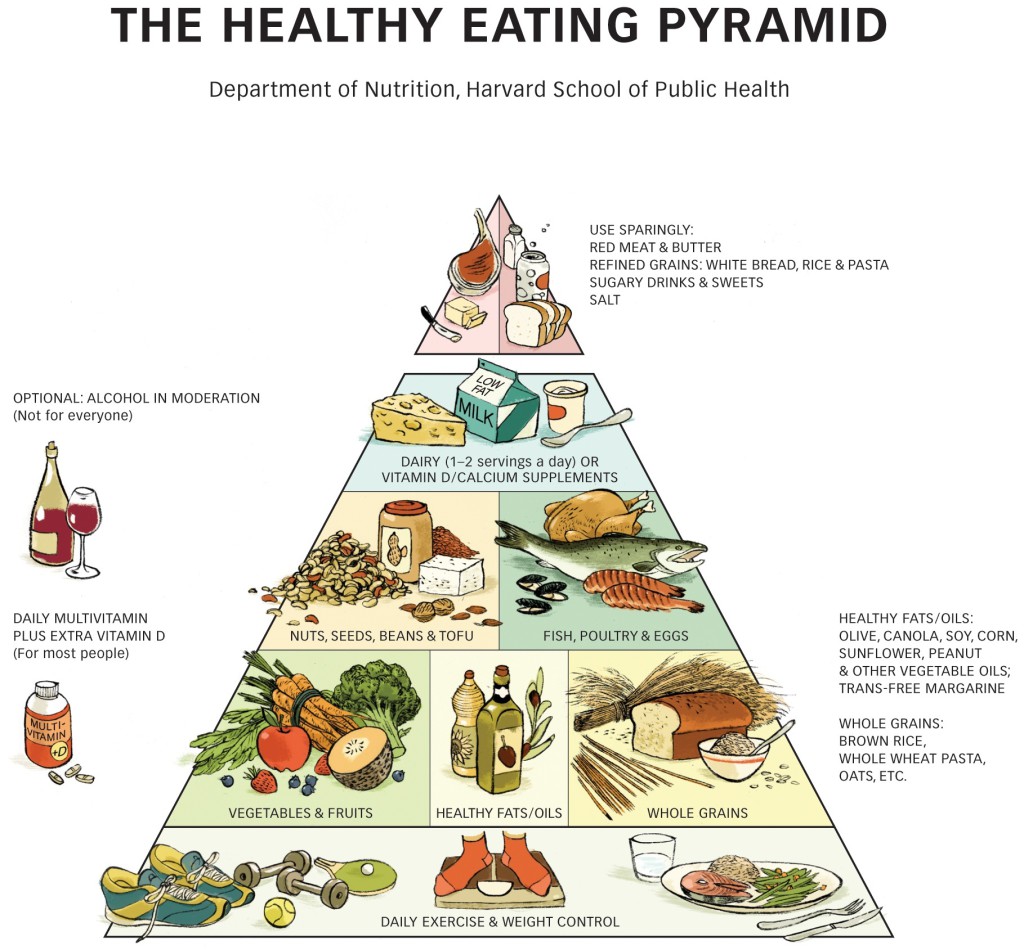 Pro: Backed by Harvard Research
Compiling information from previous studies and new data, Harvard researchers have taken notes on what's worked and what hasn't when it comes to the building blocks of a healthy diet.
They understand the nutritional value of fruits and vegetables, which is why they made these food groups the foundation of their guideline.

Pro: Eliminates Guessing Your Nutritional Intake
Harvard recognizes that a serving size is different for everyone, stating the best way to gauge it is "by using measuring cups or just eyeballing amounts."
While Harvard's guidelines are less strict, they are clear in terms of what foods you should be eating, what foods to avoid, and how to measure your own nutritional intake.

Con: Harvard's Healthy Eating Plate Has No Healthy Fats
Healthy fats are missing from the Healthy Eating Plate, but we know that not all fats are created equal . . .
Unlike foods rich in saturated and trans fats, foods that contain healthy fats can be used as a source of fuel for the body. Healthy fats are found in nuts, avocados, and yes, even dark chocolate!
The next time you have a sugar craving, try this Vegan Dark Chocolate Avocado Mousse Recipe

Con: Recommends Oils and Whole Grains
Many health experts advocate a grain-free and oil-free diet. There are also numerous studies to support to health benefits of abstaining from grains and oils.
For example, people with non-celiac gluten sensitivity saw their food sensitivities improve on a grain-free diet.




With so many healthy diet options out there, it's important to do your homework and figure out which one best suits your nutritional needs.

Con: Long-Term Effects Aren't Yet Known
As with any nutritional guideline, accurate results include data over a long period of time. The true effectiveness of Harvard's Healthy Eating Plate cannot be measured until a few years have passed. So, time will tell.


Does Harvard's Healthy Eating Plate Fit Your Eating Lifestyle?
When it comes to nutrition, knowledge is definitely power, so it doesn't hurt to explore all the options out there. We're not convinced it's right for everyone, but it's important to remember that everyone's dietary needs vary.
Feel like you're Caving to Cravings? Here Are 5 Ways to Return to Your Healthy Eating Habits
Ultimately, practicing healthy eating means loving and respecting your body by giving it the fuel it needs to thrive.
When you become more mindful of your eating habits and make a conscious effort to lead a healthier lifestyle, you will see a positive ripple effect in every aspect of your life.
Have you tried Harvard's Healthy Eating Plate? Let us know what you think about it in the comments below. We love hearing from you!
This article has been read 6K+ times. Feelin' the love!