Harvard Recommends Yoga to Help People Cope with Coronavirus Anxiety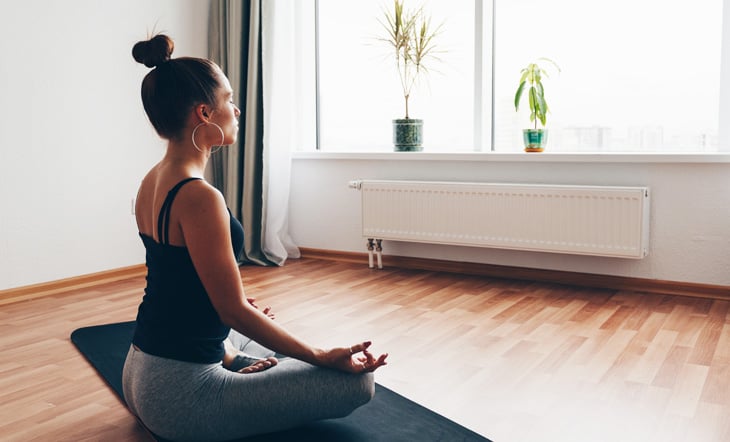 With coronavirus cases on the rise , we're all looking for ways to cope with the stress.
According to the Center for Disease Control (CDC), effective stress management techniques include taking breaks from watching or reading the news, eating healthy and exercising regularly.
This includes deep breathing, stretching and meditation – and yoga encompasses all three.
The poses, known as asanas, can help ease the physical discomfort caused by anxiety. Yoga not only increases flexibility and strengthens your muscles, it also calms your mind and can help reduce stress and anxiety.
Need yoga right now? Practice These 8 Yoga Poses to Calm Your Anxious Mind
Given the wide range of benefits that yoga offers both mind and body, it's no big surprise that Harvard is now endorsing and recommending yoga as a healthy way to cope with the stress surrounding the COVID-19 pandemic.


Why Harvard Health Experts Recommend Yoga for Anxiety and Stress Relief
Harvard's Medical School has officially recommended yoga as one of the "tried and true ways to relax."
"Sometimes trying new things and discovering new activities you can benefit from and enjoy can be a welcome, healthy distraction," says John Sharp, a board-certified psychiatrist at Harvard Medical School.
Ready to feel the stress-relieving power of yoga for yourself? De-Stress With This 30-Minute Yoga Sequence
But one of the main reasons health experts suggest yoga is because it includes components of meditation and controlled breathing, both of which help bring the mind and body into balance. Inhaling and exhaling deeply calms the mind and triggers a relaxation response in the body.




"Most people in this country believe that yoga is just postures which unfortunately is not true today," said Professor of Public Health Indranill Basu-Ray at the University of Memphis. "In fact, a large part of yoga is meditation and breathing techniques that ameliorate stress."
Even Vogue recommends "deep breathing and cardio-based exercises" to maintain a strong and healthy immune system.
The fitness industry is changing rapidly in response to COVID-19, making working out from home more accessible and enjoyable for all.
Take the Panic Out of Pandemic By Incorporating Yoga Into Your Daily Routine
In these challenging and uncertain times, we're all looking for calm and inner peace. One way to find a sense of control and maintain our inner calm is taking preemptive measures to stay healthy.
In addition to practicing yoga on a regular basis, you can also eat healthy, wholesome food to keep your immune system strong, create a solid morning routine to help stop the stress before it starts, and practice other forms of self-care that help you stay grounded.
Eat These 5 Foods That Help With Anxiety and Naturally Ease Stress
While a lot of things are out of our control right now, we should focus on what we can control, like our daily activities, our attitude, and our ability to find outlets for stress.
We are all in this together, and Harvard agrees when we say that yoga can help!

Take a class with us
Start your yoga practice today with hundreds of premium online yoga, fitness, and meditation classes on YA Classes

This article has been read 1K+ times. Feelin' the love!